Gundlach Bundschu Winery Celebrates 30th Vintage Reserve Release (Press Release)
"I believe the 2010 Vintage Reserve is the best wine we've released in our 156 year history." --Jeff Bundschu
Over the past three decades, Vintage Reserve has earned its place as not only Gundlach Bundschu's flagship wine, but as one of Sonoma County's classic collectable bottlings. With the release of the 2010 vintage, sixth-generation vintner Jeff Bundschu and executive winemaker Keith Emerson believe they have crafted the very finest cabernet-based blend in Sonoma County.
In the 1970s, Jim Bundschu, fifth-generation winegrower, identified select hillside portions of his estate vineyard as an ideal site for his vision for cabernet sauvignon.
Like many of the vineyards in southern Sonoma, the site is comparatively cool, affected by coastal fog from the west and the cooling impact of the San Pablo bay to the south. Convinced that the best and most structured cabernets in the world were coming from Bordeaux, Bundschu saw the cooler climate as an asset when combined with the additional sun exposure and dry, rhyolitic ash soils on the steep southwest-facing slopes of the Mayacamas Mountains. The resulting wines proved to be atypical of California Cabernet — higher acid, balanced tannins, and moderate alcohol.
In 1981, Jim Bundschu first reserved the very best barrels from his top blocks of cabernet sauvignon for a special bottling to showcase the best of the vintage. He called it Vintage Reserve, and collaborated with renowned designer Chuck House to create an iconic full-wrap, artist series label.
Today, Vintage Reserve is a cabernet-based blend of fruit from the Gundlach Bundschu estate and top cabernet vineyards in the newly approved Moon Mountain District AVA of Sonoma Valley. "I've always believed Sonoma Valley has the potential to produce truly iconic, world-class Bordeaux-style wines," says Jeff, "and Keith and I are committed to being the ones to make it. I believe the 2010 Vintage Reserve is the best wine we've released in our 156 year history."
Executive Winemaker Keith Emerson returned to Gundlach Bundschu in 2008, after his first stint as Assistant Winemaker a decade prior. As Director of Winemaking at Vineyard 29 and consulting winemaker for Robert Craig Winery and others, Emerson works closely with several highly respected growers to craft some of the most acclaimed cabernets grown in the Napa Valley. He came back to Gundlach Bundschu with a finely honed vision and passion for producing a top-flight cabernet from Sonoma that tells the distinct story of the site.

"These are incredibly unique vineyard sites on the Southwestern Mayacamas which produce a different flavor profile and structure than sites to the east," says Emerson. "We meticulously farm the sites, optically sort for the best berries from the best vines and handle them as little as possible to craft Vintage Reserve."
And the labels themselves have been just as special as what's inside the bottle since day one. Artists are commissioned to create unique art for each vintage.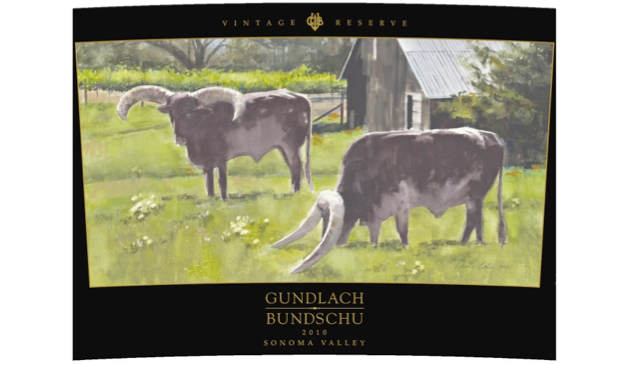 Learn more about Vintage Reserve wine and view all the artist series labels at gunbun.com/vr
About Gundlach Bundschu: Founded in 1858 and wholly owned and managed by the sixth generation of the Bundschu family, Gundlach Bundschu is California's oldest family-owned winery. The family makes small lots of premium terroir-driven wines from its sustainably farmed hillside vineyard in Sonoma and are proud to share their rich, personal relationship with the land on which they live. The winery is located at 2000 Denmark Street, Sonoma, California, 95476. gunbun.com