The Virginia Wine Board Presents Its Second Annual Wine Summit to Be Held In Richmond on October 28
Wine experts and enthusiasts will gather at The Jefferson Hotel on October 28 for an innovative and informative day of speakers, tastings and discussions on the future and current state of Virginia wines.
October 04, 2013
PRESS RELEASE
(October 2, 2013—Richmond, VA) The second annual Virginia Wine Summit—hosted by The Office of Governor McDonnell—will bring wine experts and industry leaders from around the country to Richmond on Oct. 28, 2013 to discuss the exciting state of Virginia's wine and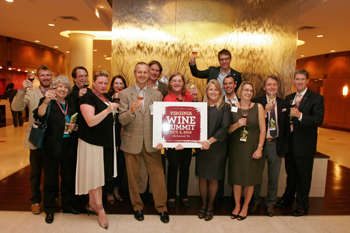 culinary offerings. Panels, tastings, and discussions will be held throughout this day-long event, featuring keynote speaker and British wine authority Oz Clarke.
Clarke will be joined by some of the nation's foremost influential wine professionals, including: Dave McIntyre, wine writer at The Washington Post; Andrew Hoover, a Virginia wine specialist and editor at Wine Enthusiast; Charlie Berg, sommelier at Blue Hill Stone Barns (Pocantico Hills, NY); Michael Madrigale, sommelier at Bar Boulud, Epicierie Boulud & Boulud Sud (New York); Steven Grubbs, sommelier at Empire State South (Atlanta, GA) & Five and Ten (Athens, GA); Todd Thrasher, sommelier at Restaurant Eve (Alexandria, VA); Patrick Cappiello, partner and wine director at Pearl & Ash (New York, NY), Cappie Peete, sommelier at McCrady's (Charleston, SC); Neal Wavra, sommelier at The Ashby Inn (Paris, VA); Spike Gjerde, executive chef at Woodberry Kitchen (Baltimore, MD); Chef Robert Wiedmaier of Mussel Bar and Wildwood Kitchen (Bethesda, MD), Marcel's and Brasserie Beck (Washington, DC), and Brabo and Brabo Tasting Room (Alexandria); Ryan Prewitt, executive chef at Pêche (New Orleans, LA); Linda Murphy, wine writer and author; Kendra Bailey Morris, cookbook author; Patrick Evans-Hylton, wine and food writer; Phillip Zucchino, co-founder of The Wine Feed (Raleigh, NC), Jay Youmans, Master of Wine; Bartholomew Broadbent, wine distributor; Andy Myers, sommelier at City Zen (Washington, DC) and Kathy Morgan, Master Sommelier, among others. These experts will inform an audience filled with winemakers, restaurateurs, sommeliers, connoisseurs, media, wine-shop owners, and other industry professionals.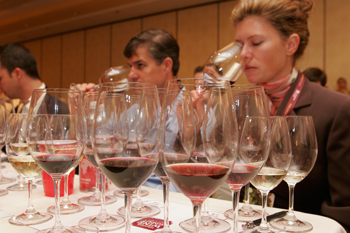 It's been an exciting year for Virginia Wines, with a record-breaking over 511,000 cases sold. Notably, export sales have increased by 74 percent, to more than 5,800 cases from the previous years' 3,300 cases.
Summit attendees will take part in panel discussions such as "Franc-ly Speaking," a comparative tasting of Cabernet Francs, "VA Corks and Forks" featuring pairings of Virginia wines with signature Virginia foods, "Age is Just A Number" showcasing the ageability of Virginia wines, "New Virginia Arrivals" highlighting new and exciting Virginia wines, "Bang for Your Buck" examining the quality to value ratio of Virginia wines, and "Viognier Voyage" a comparative tasting of Viognier. The "Shuck & Savor" panel will feature Virginia wine paired with a variety of oysters from local watermen. It is sponsored by the Virginia Board of Tourism and led by a team of wine professionals that will discuss the paring, as Virginia's oysters have also had a record breaking harvest this year.
A pre-Summit reception will be held on Sunday, Oct. 27 at the Virginia Museum of Fine Arts. Both the Summit and the reception are open to the public. To register for the event and for more information, please visit www.virginiawinesummit.com. Additional speakers and more information will continue to be announced on the site in the coming weeks.
The Virginia Wine Summit will be held on Oct. 28, 2013, at The Jefferson Hotel located at 101 West Franklin St. Richmond, Virginia 23220. To register for the event, and for more information, visit www.virginiawinesummit.com.