Red Carpet Debut for Truett-Hurst's California Square At 65th Annual Emmy Awards' Festivities
September 23, 2013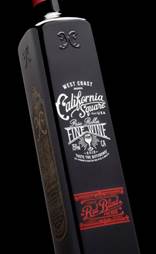 Truett Hurst Inc, based in the Dry Creek and Russian River Valleys of Sonoma County, will release the first retro/chic square wine bottle in national distribution through Total Wines & More in October of 2013. The striking ultra-premium bottle will make a pre-release debut at festivities planned around the 65thAnnual Emmy Awards weekend this Saturday and Sunday, September 21st and 22nd. "California Square" will be presented to celebrities and VIPs throughout the weekend as they circulate through the legendary W Hotel in Hollywood.
California Square, created by design firm Stranger & Stranger's Kevin Shaw, is an elegant package that harkens back to classic spirit bottles with their square shape and memorable art. Embossing, vintage graphics, and lush deep shades of gold, burgundy and cobalt blue are features that were selected to appeal to celebrity's taste and style.
The entire line of California Square wines, crafted by winemaker Virginia Marie Lambrix, will be featured during the Emmy Awards weekend. They include; a Russian River Valley Chardonnay, Paso Robles Cabernet, and Paso Robles Three Red Blend. More information on California Square's release, distribution, website, and wine will be available in the upcoming weeks.
About Truett-Hurst Inc.
Truett-Hurst Inc. (NASDAQ: THST) is an innovative and growing super-premium and ultra-premium wine sales, marketing and production company based in the acclaimed Dry Creek and Russian River Valleys of Sonoma County, California. Our corporate website is www.truetthurstinc.com. Our principal executive offices are located at 4035 Westside Road, Healdsburg, California 95448, and our telephone number is 707.431.4423. We are an "emerging growth company," as defined in the Jumpstart Our Business Startups Act, enacted on April 5, 2012 ("JOBS Act"), a small reporting company as defined by Section 15(d) of the Exchange Act, and a controlled company as defined by the corporate governance rules of NASDAQ.