Calif. Ag Board Examines State Water Issues, Drought Concerns
Vineyard Team Proposes Irrigation Targets/Monitoring Program in Paso Robles Basin
In early September, the California Department of Water Resources (DWR) cautioned state residents to prepare for a possible third consecutive dry year in 2014, as the state moves into winter with little surplus in its reservoirs. If 2014 is dry, its impacts are expected to be more widely felt due to reduced carry-over storage statewide. Such was the backdrop for a joint meeting of the California State Board of Food and Agriculture and the California Water Commission held September 10 at the California Department of Food and Agriculture (CDFA) in Sacramento to look at water use and availability challenges affecting the state's $45 billion agriculture industry.

Representatives of agriculture trade associations, farming companies, irrigation districts, and state water agencies discussed short-term and long-term water issues and goals that included: improving the regulatory process for approval and delivery of water transfers, expanding and improving water banking programs that store water during high runoff years, improving the state's water system operational efficiency, increasing and restoring groundwater storage, improving groundwater quality, and restoring and improving ecosystems. A repeated argument from farmers and water districts who apply for irrigation water allocations from state and federal water projects is that regulatory policies give priorities to water flows to maintain and restore fish populations, but such policies have failed to improve fish populations.

According to Victoria Whitney, deputy director of water quality with the State Water Resources Control Board, "Agriculture uses 70 percent of the water in California, and because they use the most, they have the most to lose." Agriculture has made significant efforts to improve water use efficiency in recent years by upgrading irrigation systems, converting to drip irrigation, and replanting in drier locations to crops that use water more efficiently. In addition, farmers have taken acreage out of production when water supplies are unavailable, or when allocations from the State Water Project are insufficient.

Drought Exacerbates Groundwater Issues

Increases in groundwater use for crop irrigation and overdrafting of groundwater aquifer storage are major issues statewide. Whitney said, "California depends heavily on groundwater, it makes up about 40 percent of the state's annual water supply on average, and is higher during drought years."

Whitney and other speakers noted that groundwater overdrafting was occurring in many areas of the state. In the San Joaquin Valley, some locations are experiencing ground subsidence, and in some sites where the geological structure is clay, the ground has collapsed and impaired the ability to store groundwater in the future. Higher salinity and water quality are also issues with declining groundwater levels.

Whitney advised, "We need ways to use and manage floodwaters more effectively. The time to plan for drought is not in the middle of a drought, it's in the middle of a flood."

Kris Beal, executive director of the Vineyard Team, based in Atascadero in San Luis Obispo County briefed the Board on issues related to declining water levels in the Paso Robles Groundwater Basin. The Vineyard Team promotes sustainable winegrowing and manages the Sustainability in Practice (SIP) vineyard certification program. The Vineyard Team has 300 members in the Central Coast representing 80,000 acres that include 100 growers and 20,000 acres in the Paso Robles area. The organization has increased grower education in the area of irrigation management in recent years, given the status of groundwater in the Basin, and has been participating in a Blue Ribbon Committee of area stakeholders to cooperatively evaluate the Basin's water situation and develop solutions.

Beal lamented the fact that some Paso Robles residents had engaged in "finger-pointing" at the ag community and vineyard owners for causing groundwater declines, but she vowed to move forward with collaborative efforts, and to develop "meaningful and measurable" grower programs with the goal of long-term sustainable water management.

Beal provided an overview of a proposed program, now in draft form and being peer reviewed, to address actual applied irrigation water in vineyards by monitoring well pumping outputs and irrigation applications, and potentially develop applied irrigation targets for subregions within the Basin based on variables such as weather, rainfall, vine spacing and other factors. This would be a voluntary and science-based program utilizing a framework developed by the Irrigation Training and Resource Center at Cal Poly San Luis Obispo. Growers would submit irrigation records to the Vineyard Team to compare actual applied water with irrigation targets, and then be given feedback and technical assistance to improve irrigation management.

The program would also prepare growers for eventual mandated water use monitoring and reporting likely to be required in the future. Beal said the Vineyard Team hopes to be able to provide more details about the program sometime in October, following the peer review process. "We have a chance to do something meaningful if we work together. Finger-pointing doesn't help the process," she said.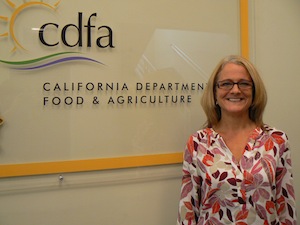 Kris Beal, Vineyard Team executive director, provided an overview on water issues in the Paso Robles Groundwater Basin for the State Board of Food and Agriculture in Sacramento this week, and discussed a proposed program to monitor vineyard water use and improve irrigation management.
Beal also cited an irrigation monitoring study being done by UC Cooperative Extension (UCCE) farm advisor Mark Battany in the Paso Robles Basin. The study has monitored irrigation applications since the 2010 growing season for 84 vineyards. Battany provided an update in the April UCCE Grape Notes newsletter that showed the average annual irrigation applications across all vineyards for the years 2010-2012 ranged from 8.3 inches to 12.0 inches, totals considered conservative for vineyards. But Battany noted that 2010 and 2011 were above average rainfall years in Paso Robles and 2012 was average. The study will continue through 2016 and should provide data for drier years. Battany also posted an informative article September 10, "Reducing vineyard water use: mechanisms, strategies and limitations." While aimed at Paso Robles growing conditions, the article provides useful information for managing irrigated vineyards in any location. Battany's UCCE Grape Notes newsletters are accessible at http://ucanr.org/grapenotes.

Food and Agriculture Board member Dan Dooley, VP of the University of California Division of Agriculture and Natural Resources, commended farming representatives for their programs and conservation efforts, and also noted that millions of dollars have been spent on groundwater recharge programs. However he said, "We still are taking out more water than is being recharged, and this resource may not be sustainable over the long run."

The meeting included a presentation on the Bay Delta Conservation Plan that proposes building twin tunnels under the Sacramento-San Joaquin Delta with the goals of improving water supply and transport south via the State Water Project, and improving Delta ecosystems and fish populations. A final plan is slated for release later this year followed by a public comment period and public meetings throughout the state.

The California State Board of Food and Agriculture advises the governor and the CDFA secretary on ag issues and consumer needs, and conducts forums that bring together stakeholders to discuss issues of concern to California agriculture. The Board is providing input for the California Water Plan and the Bay Delta Conservation Plan. The California Water Commission advises the director of DWR on matters within its jurisdiction, rules and regulations, and the State Water Project.