Steelhead Vineyards Partners with Hall of Famer Joe Morgan on Innovative New 'W1NE For One' Single-Serve Packaging
Patented 187ml Bottles Target Entertainment Venues and Feature Super-Premium Sonoma County Wine
August 23, 2013
PRESS RELEASE

Sonoma, CA (August 23, 2013) – Steelhead Vineyards is partnering with Hall of Fame baseball player Joe Morgan to introduce an innovative new single-serve wine package called W1NE for One, which is designed for convenient service at sporting and music venues, resorts, parks and other public facilities. With the launch of the new W1NE for One packaging this summer, Steelhead Vineyards has the only super-premium Sonoma County wine in a single-serve package.
The compact, self-contained W1NE for One package includes a 187ml patented plastic bottle with a detachable plastic flute affixed to the screw cap. Lightweight and eminently portable, the single-serve W1NE for One package is easy to use and fully recyclable. Steelhead Vineyards holds the exclusive patent for the W1NE for One packaging in the U.S. The winery currently offers Sonoma County Chardonnay and Sonoma County Merlot in its new W1NE for One.
Morgan, whose Hall of Fame career spanned more than two decades and included two World Series Championships, has a long-time interest in fine wine and has become a successful business executive since retiring from baseball. W1NE for One grew out of a conversation Morgan had with Steelhead Vineyards' proprietor Dan Leese over a glass of wine, where Leese raised the idea of an innovative single-serve wine package for making super-premium wines more accessible. Morgan's imagination was sparked as he saw an opportunity to expose more consumers to super-premium wine in casual settings, such as ballparks, through this unique new bottle. From there, the two men developed the W1NE for One concept into a finished product. It is currently being sold at The Great American Ballpark in Cincinnati, Ohio, home of the Reds, with other venues coming soon.
"People want to enjoy good wine in casual settings like ballparks, but currently the option for enjoying super-premium wine is not available," noted Morgan. "This single serving of wine in a package that is easy to open and pour is an ideal solution. I'm excited about the opportunity to expose more people to some outstanding Sonoma County wines and make it easier to enjoy fine wine in casual settings like sports venues."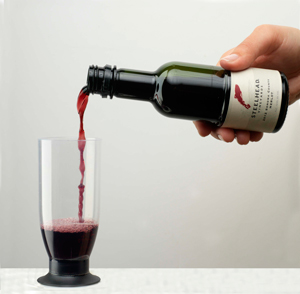 "Our new W1NE for One package breaks new ground and is an enormous opportunity to present wine in a wide variety of new locations and occasions," said Leese. "It's perfect for public entertainment and recreation venues where single wine servings without glass bottles are a priority."
Steelhead Vineyards sees a sizeable market in the U.S. for single-serve wines, as the 187ml category is growing at three times the rate of the total wine category, according to IRI Symphony. The winery also believes it has an advantage by being the first to offer super-premium Sonoma County wine in this type of packaging.
Steelhead Vineyards' consulting winemaker Hugh Chappelle noted, "We have access to some outstanding vineyards for our Chardonnay and Merlot. It's unprecedented to put this level of wine quality in a single-serve bottle."
Based in Sonoma, California, Steelhead Vineyards makes wines from some of the top vineyards and appellations in the North Coast. Through 1 percent for the Planet and Trout Unlimited, the winery donates a portion of the proceeds from every bottle sold to fund water and habitat restoration projects. Additional information on Steelhead vineyards is available at www.steelheadvineyards.com.
About Steelhead Vineyards
Steelhead Vineyards was founded in 1998 to honor the Steelhead trout that are native to Wine Creek and Dry Creek in Sonoma County's Dry Creek Valley. In 2002 the first vintage of Steelhead Red was released – a juicy Zinfandel blend – as a tribute to the restoration efforts and on-going commitment to the biodiversity of Sonoma County. From its beginning, Steelhead Vineyards has had two goals: to use its resources to create outstanding wines and to maintain and restore a balance with the surrounding environment. Steelhead Vineyards crafts wine from Sonoma County and throughout California's North Coast with consulting winemaker Hugh Chappelle. Additional information is available at www.steelheadvineyards.com.