J. Lohr Vineyards & Wines Appoints Steve Lohr CEO And Board Chairman And Jeff Meier, President And COO (Press Release)
Jerry Lohr remains active in his involvement as founder of the internationally heralded, 40-year family wine business
August 20, 2013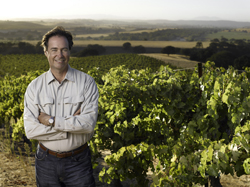 SAN JOSE, Calif. – August 20, 2013 – J. Lohr Vineyards & Wines today announced the appointment of second-generation family member and winery co-owner Steve Lohr to CEO and chairman of the board of J. Lohr Winery. 29-year J. Lohr winemaking veteran Jeff Meier was promoted to president and will continue as COO of J. Lohr Winery. Steve Lohr, who previously held the position of EVP/COO, J. Lohr Vineyards, will assume overall management, including sales and finance of J. Lohr Winery's internationally distributed portfolio of vineyard-driven wines, and J. Lohr's two wine centers in Paso Robles and San Jose, California. Jeff Meier will manage the winemaking facilities in San Jose, Paso Robles and the nearly completed winery in Greenfield, Monterey County, and continue leadership of winemaking quality, innovation and marketing.
As the company's founder, wine industry pioneer Jerry Lohr will manage the company's extensive estate vineyard holdings located in the coveted California winegrowing regions of Paso Robles, Monterey County's Arroyo Seco and Santa Lucia Highlands appellations, and St. Helena in the Napa Valley. Second-generation co-owners VP Marketing Cynthia Lohr and Director of Wine Education Lawrence Lohr will continue to be highly involved in their positions. A sign of Jerry Lohr's confidence in his veteran team and the family's second generation of winery leaders, these appointments cement J. Lohr's long-term viability as one of the world's leading privately held, family-owned and operated wine businesses.
"My outlook on sustainability has been deeply influenced by four decades of winegrowing experience in Monterey and Paso Robles," said Founder Jerry Lohr. "These appointments are about the long-term sustainability of our winery. Jeff and Steve have worked alongside me for a combined seventy years, so passing the baton feels like a natural progression in the evolution of J. Lohr. Together, we have built among our leadership team a culture of trust, respect and excellence in all that we do, which I know will be carried forth among future generations."
"Our industry recognizes Jerry as a champion of our chosen appellations, and as a true visionary whose emphasis on research and education has raised the bar for wine quality all over the world," said CEO Steve Lohr. "Being at the helm of the second generation of owners and leaders is a lot like developing the second generation of vineyards. Whether we are planting new vineyards using cutting-edge viticulture techniques, replanting existing vineyards using better clones, rootstocks and trellises, or farming existing vineyards with more sustainable practices based on what we've learned over four decades, we are carrying on the legacy established by my father, Jerry. Building on the great foundation of what has already been achieved positions J. Lohr for continued success. I could not be more proud to be leading our company forward to its next forty years."
"I have had the pleasure of crafting our wines alongside Jerry for nearly 30 years," said President and COO Jeff Meier. "His knowledge and dedication have played a huge role in my consuming passion for winemaking, and my belief that the pursuit of the best flavors is the ultimate goal in everything we do. I have also been inspired by Jerry's belief in the value of longevity in leadership. Working with Jerry, the Lohr family, our extended family of employees, and our great trade and industry partners, we have helped bring Monterey County and Paso Robles wines to the world. I am proud that this is at the heart of the great J. Lohr story, and I am honored to embrace my new role in the next chapter."
About J. Lohr Vineyards & Wines
Founded four decades ago by Jerry Lohr and still family-owned and operated today, J. Lohr Vineyards & Wines crafts a full line of internationally recognized wines from its 3,700 acres of sustainably-farmed, estate vineyards in Paso Robles, Monterey County's Arroyo Seco and Santa Lucia appellations, and St. Helena in the Napa Valley. Offering an expressive range of styles, J. Lohr produces four tiers of signature wines showcasing its estate grapes – J. Lohr Estates, J. Lohr Vineyard Series, J. Lohr Cuvée Series and J. Lohr Gesture. J. Lohr also produces an array of flavorful wines under its Cypress Vineyards, ARIEL (non-alcoholic) and Painter Bridge labels.