How the French and American Wine Industries are Joined at the Clone and Root
The Concannon and Wente Connection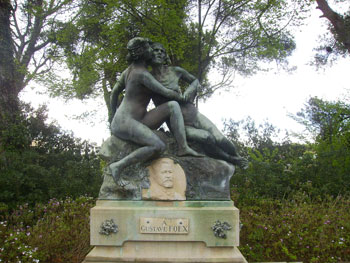 Statue at Montpellier SupAgro University
(Photo by Liz Thach)
In a quiet courtyard at the Montpellier SupAgro University in France there is a haunting statue of an ailing older woman being held and nurtured by a younger woman. While teaching there for a week several years ago, I asked several students and faculty to explain the meaning of the statue, but no one knew. Finally towards the end of the week a professor who had worked there for many years described the significance.
"The statue represents France's relationship with America regarding the wine industry," he said. "The older woman is France and she is sick with phylloxera in the late 1800's, but she is nursed back to health by the younger woman, who is America, and brings American rootstock to revive the French wine industry." He paused, and then with a twinkle in his eye, said, "Of course there are those who say it was America who sent phylloxera infested vines to France in the first place."
The Livermore Connection – Concannon and Wente Clones
Recently I was reminded of the statue when I visited Concannon Winery in Livermore and met with John Concannon, the fourth generation vintner. He described how his great grandfather, James Concannon sailed to Bordeaux in 1883 to visit Chateau Margaux and Lafite in order to purchase cabernet sauvignon budwood from them via the nursery at Montpellier. He brought the budwood back to Livermore and planted 47 acres of vineyards, only to have them destroyed by phylloxera in 1893.
"So he sailed back to France in 1893," explained John, "and purchased more cabernet sauvignon cuttings from Margaux and Lafite." By this time both estates had grafted their budwood to American rootstock, and their vineyards were once again thriving.
James Concannon once again brought the Bordeaux budwood back to his Livermore vineyard. Over the years, the budwood from those vines has been used to graph new vines and eventually became known as the Concannon clone. In the 1970's, UC-Davis took cuttings from the vineyard and heat-treated them. They were then released for sale and are known today as the Concannon clones 7, 8, and 11. They are said to be the most widely planted cabernet sauvignon clones in California, and are used in many famous vineyards including Stag's Leap Wine Cellars in Napa Valley.
Interestingly Livermore is also the birthplace of the Wente chardonnay clone which was developed by
C.H. Wente, and is said to be originally from the Meursault region of Burgundy. This clone is also widely used in California. Paradoxically, the Wente chardonnay clone can be found in the Bacigalupi Vineyard in the Russian River – the same vineyard that supplied a large percentage of the grapes that went into the 1973 Chateau Montelena Chardonnay that won at the Judgment of Paris tasting against white Burgundies.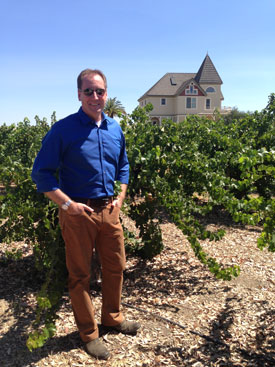 John Concannon in 50 Year Old Cabernet Sauvignon Vineyard with Concannon Clone (photo by Liz Thach)
There are also many other US wine regions that have imported French clones. Though illegal to bring into the country without a permit, there are stories in the 1960's and 70's of American vintners secretly stowing cuttings in their suitcases and bringing them to this country. For example, pinot noir clone 828 was apparently "smuggled" into Oregon; a winery on Diamond Mountain admits they received a "suitcase merlot clone" from a friend that originally came from Chateau Petrus, and an Anderson Valley vineyard owner declares their pinot noir is graphed from cuttings of the La Tache vineyard in Burgundy. These are just a few examples of the many "suitcase clones" that made their way from famous French wine estates to the US.
A Symbiotic Relationship
France and America have always had a close relationship, though at times it has been a bit testy. France will not import American wines if they use French wine regions on the label, and Americans boycotted both French wines and "French fries" over France's position during the Iraq war. However, in the end, it is still a symbiotic relationship. After all, France gave America the gift of the Statue of Liberty, and America helped France regain its freedom during WWII. And it cannot be argued, that from a wine industry perspective, France and America are deeply connected at the root and clone.
About the Author: Dr. Liz Thach, MW is the Korbel Professor in the Wine Business Institute at Sonoma State University in California. She can be contacted at liz@lizthach.com. For more information about the Concannon clone, please see www.concannonvineyard.com