Petite Sirah Symposium: 11th Edition Big and Bold, Petite Set To Take Hold
The 11th annual PS I Love You Symposium, held July 23, 2013, was hosted once again by the Concannon family at their facility in Livermore, and organized by chief Petite Sirah lover, Jo Diaz and her husband, Jose. The homage to the teeth-staining grape brought a bit of historical perspective mixed with some good ideas on how to move the varietal's status upward in the minds of consumers. The theme of the agenda was R-E-S-P-E-C-T, with no apologies to either Aretha Franklin or Rodney Dangerfield.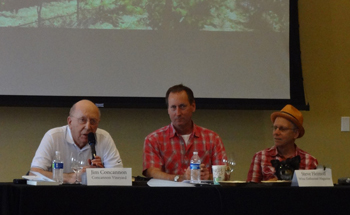 From left to right:
Jim Concannon, John Concannon and Steve Heimoff discuss Petite Sirah.
Attendees from all over California, and one from Oregon, Pat Spangler of Spangler Vineyards, gathered to listen to historians, winegrowers, viticulture experts, marketing mavens and winemakers, all of whom had love in their hearts, and hearts on their sleeves, when it comes to Petite Sirah. There's no reason this dark and delicious varietal can't enjoy the blueberry-blackberry pie love it deserves.
The cold hard facts about Petite Sirah in California are these: In 2002, there were 2,000 acres of Petite Sirah in the ground and 62 growers and wineries listed as producers. In 2013, there are a whopping 9,000 acres of the varietal, and 1,060 producers. Ninety percent of those devoted to Petite Sirah are producing less than 500 cases per year, so they're not threatening to flood the market any time soon.
A keynote by Steve Heimoff of Wine Enthusiast stressed the importance of accentuating the positive. "Let us stop apologizing for it. Let us leave behind us forever the years of disrespect — let us turn Rodney Dangerfield into Rodney Opportunity-field and tell the world, in simple, honest terms, that Petite Sirah is great wine. And let us repeat that message over and over and over, until it sinks in. That is how to convince the world of the truth of a message," said Heimoff.
John Concannon, fourth generation vintner, shared some of the historical documents he's uncovered showing that Petite was first imported to Alameda in 1884, and that an 1885 edition of the Livermore Herald listed Petite Syrah among the Claret varietals for sale at that time. He also recounted the first varietal bottling of Petite Sirah, a 1961 vintage that was released in 1964, at the request of one smart cookie of a wine shop owner in Southern California.
John's father, Concannon patriarch, Jim Concannon, then recounted some of the early days of the PS I Love You organization, which began at the behest of the Foppiano's and Patty Bogle of Bogle Vineyards, among others, back in 2002. The "Blue Tooth Express" brought Petite Sirah to throngs of wine lovers across the country in 2004, handing out toothbrushes as part of the promotion of the teeth-staining varietal. Good times, indeed.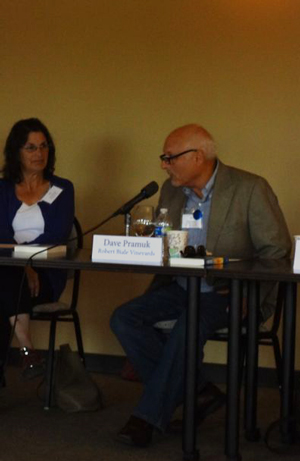 Dave Pramuk of Biale Vineyards
Dave Pramuk of Biale Vineyards—who just named a new winemaker, Trester "Tres" Goetting, to replace Steve Hall after his departure in June—spoke about 129 years of growing Petite Sirah in California, with an emphasis on doing so in Napa. He notes that Petite Sirah is known as "Cabernet's helper," often giving it the stuffing and bolstering it needs to darken color or deepen complexity. He also stated forthwith, "Petite Sirah is the most underrated variety in California," and "Petite Sirah is the grape that Cabernet wants to be." And, for over 100 years, Petite Sirah has been a favorite in the vineyard, loved by farmers, and is almost always found in the older vineyards, along with Zinfandel, Carignane and Mataro.
According to Pramuk, the Cab craze of the 1980s and 1990s, saw nearly 12,000 acres of Petite pulled from Napa vineyards, going from 14,000 in the 1980s to just 2,400 in 1995. Petite Sirah has now surpassed Zin in vineyard acres in Napa, however.
As would be expected, older Petite vineyards are increasingly difficult to find, and are particularly susceptible to Eutypa.
Preserving the heritage vineyards of California, including those with old Petite vines, is a serious effort being undertaken by a group of folks known as the Historic Vineyard Society, a 501c3 nonprofit dedicated to keeping the oldest vineyards alive and well. They seek to document vineyards planted 1960 and earlier, and so far have cataloged 219 vineyards, with 65 of them officially registered under HR 9, introduced by Assemblymember Tom Daly (District 69, Anaheim), and championed by, among others, winemaker Joel Peterson. Historic vineyards registered to date include Fieldstone, Pedroncelli, Parducci, Lytton Springs, Old Kraft, York Creek, Hain, Switchback, Allegria and Michael David. Visit www.historicvineyardsociety.org for further details, and to suggest other vineyards that might fit the profile.
Grower Ann Kraemer, who farms hillside vineyards at 1,600 to 1,800 ft elevation in Amador county, including the famed Shake Ridge Vineyard, shared that her biggest challenges are a short season due to frost pressure in both spring and fall, and intensely hot summer days. She credits Dave Gates at Ridge as her "Petite Sirah Guru," and he advised her to get good tannin development, avoid overcropping, and enhance the light to the canopy while managing the heat to avoid sunburn. To that end, she installed most PS rows in a NE-SW orientation where the geography permitted, and where it didn't, she lets the vines do their California goblet thing. She prunes late into April, just before budbreak, and was just now starting to drop fruit, clipping wings and making sure no bunches touch one another. Dropping fruit also saves on water and she won't irrigate until the final cropload has been established.
"Mucho dinero!" her vineyard workers say, pointing to the forlorn green bunches that have met their early fate, lying on the ground. She explains that it's "mucho dinero" on the other side of harvest for a superior crop.
Winemaker Aaron Jackson, who hails from Cayucos, California, one of the youngest winemakers in the room, began winemaking at age 17, graduating from Cal Poly in 2005 and obtaining his masters in Oenology from University of Adelaide in South Australia. He spent five years at Four Vines, made wines at ONX, and developed his own brand, which was founded in 2002. He focuses entirely on Petite Sirah from the Paso Robles area, seeking to express the overall strength of a regional blend instead of going for vineyard designates. He picks from eight different vineyards on the West side, ferments open top with native yeast, with 5 to 20 percent whole cluster, using some Syrah stems for lift, and usually throws in Viognier to co-ferment. He loves heavy toast French oak, 50 percent new, and leaves his Pet en tirage for 20 months. His front label simply bears his logo, inviting the consumer to pick the bottle up and turn it around to read what's in the bottle. He produces about 700 cases.
The heavy hitting marketing dosage of the day came from Michael Houlihan and Bonnie Harvey, Barefoot Cellars founders, who sold their wildly successful brand to Gallo in 2005. They had some interesting ideas for promoting Petite Sirah, including supporting fundraising and community benefit activities, working with established networks, like firefighters, and partnering with complementary brands like Kingsford and Weber, to build end cap promotions in markets. Their premise is that Petite Sirah loves BBQ and smoky foods, so why not own the summer, and convince consumers that they should buy Petite whenever they are planning to the light the grill.
The proof is in the tasting, though, and among the lineup of Petites that were shared with the media following the presentations, the more impressive examples seemed to be squarely in the camp of elegant, beautifully balanced, smooth of tannin and vibrant with that blueberry-blackberry core, coated in chocolate ganache and a touch of espresso that makes the varietal so fun to drink. Very few "rustic" examples were in evidence, thankfully. Perhaps the mantra of this varietal should be: dark, dense and deliciously intense. Whether it takes hold with consumers or not, one thing is certain: Petite Sirah certainly takes hold of your mouth like nothing else.