Australia's Yalumba Wins BRIT's 2013 International Award of Excellence in Sustainable Winegrowing Competition (Press Release)
Yalumba's continual improvement processes to sustainable winegrowing take top honors
July 25, 2013
FORT WORTH, Texas – Yalumba, Australia's oldest family-owned winery, has become the first non-U.S. winery to win the BRIT International Award of Excellence in Sustainable Winegrowing. Founded in 1849, Yalumba bested a field of international sustainable wineries with its impressive sustainability program consisting of environmental, social and economic activities. The 2013 award recipient was successful due to their business-wide improvement process along with the final (and a very important) judging criteria - wine taste. The awarded wine was the Yalumba Y Series Shiraz Viognier.
Yalumba is a global industry leader in innovation with its sustainability program that has developed over 30 years, and runs through the entire business from soil to grapes, winery to production, corporate citizen to the consumer. Highlights of the program include its Life Cycle Analysis program; Vitis, a viticulture best practice program that focuses on soil, irrigation, biodiversity, and energy management and minimal inputs like pest management during grape growing and calls for land to be set aside for renewal; the Bacchus program for wine production that minimizes greenhouse gasses while engaging employees to protect the environment though minimal use of resources and recycling; its product stewardship program where over 98 percent of Yalumba's packaging materials are recyclable; and its organizational citizenship program which aims at engaging the Yalumba's stakeholders in the pursuit of sustainability.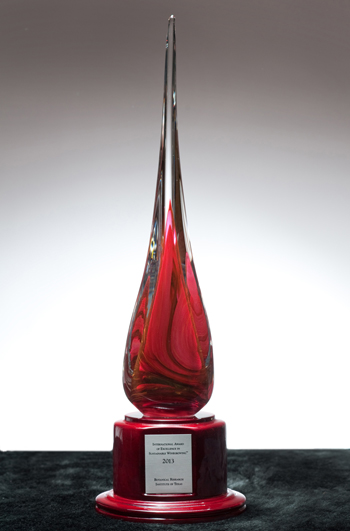 "The fact that Yalumba operates its vineyards as ecosystems where everything is connected to everything else is impressive and truly commendable," said Dr. S.H. Sohmer, BRIT's president and director. "This is the foundational stewardship tenant of conservation and biodiversity."
Originally founded by Samuel Smith, a British immigrant, Yalumba is Australia's oldest family-owned winery. The name, Yalumba is aboriginal for "all the country around." Yalumba's history and proven success is evident across all price points, all wines are created with sustainability in mind.
"Earth, water, air, and energy are the essential elements that make up wine," said Dr. Cecil Camilleri, Yalumba's sustainable programs manager. "Yalumba is proud to be recognized on an international level for our ongoing commitment to sustainable grape growing, winemaking, packaging, and distribution."
In the fourth year of the BRIT International Award of Excellence in Sustainable Winegrowing, Yalumba is the first non-U.S. winery to win. Presentation of the award will be made at BRIT's seventh annual Fête du Vin Wine Dinner and Auction on Saturday, October 5, 2013, at the Fort Worth Club in downtown Fort Worth, Texas.
Award recipients receive BRIT's Sustainable Winegrowing glass sculpture and medal plus the right to use BRIT's sustainable winegrowing logo both in print and electronic formats.
Competition for BRIT's 2013 international award began March 31, when wineries from around the world submitted applications documenting their sustainable programs related to environmental, economic, and social aspects of winegrowing along with their wine samples. The BRIT award is the only international sustainable winegrowing award of its kind.
About the Botanical Research Institute of Texas
Founded in 1987, the Botanical Research Institute of Texas (BRIT) based in Fort Worth, Texas, is an international, scientific research and learning center focused on conservation, knowledge sharing, and studying the diversity of plant life. BRIT conducts extensive global research, including major projects in Texas, Europe, Peru, and the Pacific Islands. In the last 10 years, BRIT scientists have located and described scores of species previously unknown to science. BRIT's herbarium is among the largest in the United States and is the largest U.S. herbarium not part of a university, botanical garden, or broader natural history museum. In the spring of 2011, BRIT moved into its new, U.S. Green Building Council LEED (Leadership in Energy and Environmental Design) platinum-certified headquarters located in the Fort Worth Cultural District. BRIT is open to the public Monday through Friday from 10 a.m. to 5 p.m. and on the first Saturday of each month from 10 a.m. to 2 p.m. Admission is free. For more information, visit www.brit.org.