Niven Family Wine Estates Introduces True Myth Edna Valley Chardonnay
July 23, 2013
July 22, 2013 – San Luis Obispo, CA – The Niven family, pioneers of the Edna Valley AVA, known for successfully creating innovative and timely projects, has announced the launch of True Myth. A rare estate wine at a value price point, this first release is a 2012 Chardonnay made exclusively of fruit from their famed cool-climate Paragon Vineyard. It is SIP Certified Sustainably grown, and made in a full-bodied, oaky, tropical style.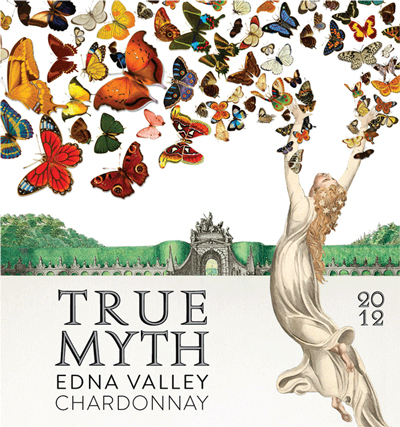 "My grandfather pioneered winegrape planting in the Edna Valley in 1973," said John H. Niven, "our Paragon Vineyard is home to the oldest Chardonnay vines in the region. We have learned over the years that the Edna Valley is truly a special place for Chardonnay. True Myth represents our commitment to this varietal, and to this region moving forward."

True Myth wines are made by Burgundian born and educated veteran winemaker Christian Roguenant. A well-practiced world traveler, he made wine on five continents before settling down in California; he has been with the Nivens for 14 years. This 2012 vintage is 100 percent Chardonnay from Paragon Vineyard, but a blend of fruit from vines ranging from five to 40 years old, and consisting of five different clonal selections including California Heritage and French Dijon clones. The finished wine is loaded with ripe flavors of pear, pineapple, light citrus, vanilla bean, and sweet oak.
The True Myth name and packaging aptly represent Mother Nature, and provide a unique and interesting approach in an otherwise muted Chardonnay set. The Nivens are launching this brand in the fast growing $12-$18 price category, and have the resources and ability to sustain growth while keeping quality consistent. Some of these include an estate vineyard with substantial Chardonnay acreage, a state-of-the-art winery, 40 years of experience growing Chardonnay in the Edna Valley, long-time relationships with a national network of family-owned distributors, and a highly experienced and dedicated growing and winemaking team. These factors combine to give True Myth a real edge in the marketplace.
Paragon Vineyard earned the Sustainability in Practice (SIP) Certification during the pilot program in 2008. A project of the Central Coast Vineyard Team, certification of these vineyards proves the Niven family's collective commitment to environmental stewardship, economic viability, and equitable treatment of employees.
Release of a 2012 Cabernet Sauvignon from the warmer Paso Robles AVA is planned for next year. Benefitting from the largest swing between high daytime and low nighttime temperatures of any region in California, Cabernet from Paso Robles develops great structure and intense varietal character. Vineyards were carefully researched and chosen; the fruit was purchased under contract from notable growers with longtime ties to the family. The finished wine will be big and bold; the packaging will reflect the wine style with Mother Nature set in a darker, edgier theme.
About Niven Family Wine Estates
NFWE is a true family wine company – Jack Niven pioneered winegrape planting in the Edna Valley in the early 70s, and the second and third generations of his family currently manage the business together. They believe in sustainability, quality, community, innovation, tradition when warranted, and keeping consumers interested in the ever-changing world of wine. Recognizing the diversity of their SIP Certified Sustainable estate in the cool-climate Edna Valley, they make an extreme range of wines in a wide array of carefully focused styles. No other wine company, whether corporately held or family owned, grows grapes and makes wines of such diversity from a single cool-climate estate. Rather than group all of these efforts under one wine brand, the Nivens have strategically positioned them as six separate projects: Baileyana, Tangent, Trenza, Cadre, Zocker, and now True Myth.For more information, visit www.truemythwinery.com and www.nivenfamilywines.com.