A Legendary Vineyard: Source of Chardonnay That Helped Win Judgment of Paris is Still Thriving
Most American wine lovers are familiar with the story of the 1976 Judgment of Paris in which two Napa Valley wineries won top placement in a blind-tasting of California wines verses famous French wines. However, what few people know is that the majority of the grapes that went into the top scoring chardonnay came from Sonoma County.
The two Napa Valley wineries were Stag's Leap Wine Cellars and Chateau Montelena. Stag's Leap took top place in the red wine tasting with their 1973 Cabernet Sauvignon that was made from grapes in their Stag's Leap Vineyard. Chateau Montelena, which achieved the top white wine award, beating out wines from Puligny-Montrachet, Mersault Charmes and Batard-Montrachet, purchased 85% of its grapes from Sonoma County. Of these, large percentages were from the Bacigalupi Vineyard in the Russian River AVA. Planted in 1964, the nearly 50 year old vines stand 8 feet tall on huge shaggy trunks and still produce an impressive 1 to 2 tons of grapes a year.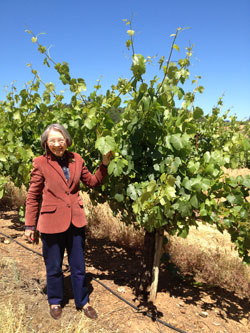 Helen Bacigalupi in Paris Tasting Block (Photo by Liz Thach)
How Bacigalupi Chardonnay Grapes Arrived in Paris
"We call it the Paris Tasting Block," says 87 year old Helen Bacigalupi, co-owner with her husband Charles, of more than 90 acres of Russian River grapes in Sonoma County. "We still have the original 4 acres of chardonnay that Mike Grgich, the winemaker, selected to go into the 1973 Chateau Montelena Chardonnay, but it is producing less and less, and some of the vines have died."
Helen stands in front of one of the huge chardonnay vines on a tall trellis system that she refers to as 'modified California Sprawl.' The vine is almost twice the height of her 4 foot 10 inch frame, with long cane-pruned shoots filled with abundant grape cluster in full bloom. Helen is considered to be one of the cleverest grape sellers in the county, and has negotiated hundreds of grape contracts over the years. Age has not dimmed her sharp mind, or her warm smile and sparkling blue eyes.
"One day in late summer of 1973, I received a phone call from Mike Grgich," recounts Helen. "I don't know how he heard about our grapes, but he made an appointment to visit. When he arrived, he walked around and tasted grapes from a couple of blocks, but when he got to this one," Helen waved her slender arm at the Paris Tasting Block, "he tasted a grape and then smiled and said, 'boy, these are the most beautiful grapes I ever saw in my life.'"
Helen negotiated the contract with Mike, and reported that he showed up every few days to taste the grapes until he decided they were perfect for harvest. "We picked the grapes at around 23 brix, and I drove them over the hill to Napa in a trailer attached to that Volkswagen van." She gestures to an old rusty Volkswagen parked in a wooden shed. "It is a 1973 Volkswagen, which was new back then, but it doesn't have much guts. I took Highway 128 through Alexander Valley and had to gun it to get over the hill and hope no one was in front. Fortunately back then, there wasn't much traffic. Later we got a used Chevrolet and it had a lot of power. It actually 'growled' in low gear."
Learning the 1973 Chateau Montelena Chardonnay Won
Helen hadn't heard of the Paris tasting and the great honor her grapes had won until Mike Grgich telephoned her in 1976 after the event.
"He asked me if I had heard the good news," reported Helen. "When I said no, he told me how the Chateau Montelena Chardonnay had won, and then asked if I would sell him more of the grapes. But I had to tell him no, because they were already under contract to sell to someone else."
Preserving the Historic Paris Tasting Block
Today all of the chardonnay grapes from the historic Paris Tasting Block are still under contract with a different Napa winey. The vineyard continues to produce high quality fruit, but at a lower yield.
"Last year it produced quite well for its age – 2 tons per acre, but the previous years were not so good." Helen sighs and looks at the huge old vines. They seem to stand tall and proud on a hillside covered with golden Sonoma County grasses and red volcanic clay soil. "I am not sentimental about vines," she continues. "They are not people. This is still a business and we need to make money."
But Helen's son, John, who has taken over the responsibilities of farming the vineyard is doing everything he can to nurture the historic vines. "The vineyard is important to us now and in the future - in part for the genetics of the vines. We have propagated several blocks of younger vines by using bud wood from selected vines in the vineyard. We are also beginning the process of replacing vines that have died over the years."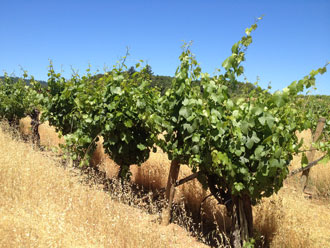 Chardonnay Vines in Paris Tasting Block
(Photo by Liz Thach)
Should Historic Vineyards Be Protected?
Traditionally most commercial wine grape vineyards are pulled out and replanted every 30 years. This is because a grapevine usually slows down in production at this age, and from an economic outlook, they do not provide as much return on investment.
However, there are many winemakers who prefer grapes from older vines, because though they produce less, they often produce fruit of a higher quality. For example, grapes from old California zinfandel vines often achieve a higher price per ton than grapes from younger zinfandel vines.
Some producers have actually made a conscious decision to protect old vines, such as E&J Gallo who owns the historic Monte Rosso Vineyard that has zinfandel vines dating from the 1890's, and Hanzell Vineyards, which has the oldest continually producing pinot noir and chardonnay vines in North America. In addition, the nonprofit Historic Vineyard Society has been formed with a mission to preserve antique vines. The belief is that historic vineyards, like old forest groves, should be protected.

About the Author: Dr. Liz Thach, MW is the Korbel Professor in the Wine Business Institute at Sonoma State University in California, and is writing a new book on famous vineyards of Napa and Sonoma. She can be contacted at liz@lizthach.com. For more information on the Bacigalupi Vineyard please contact kateyb@johntylerwines.com.