Environmentally Designed Carlton Winemaker's Studio Turns Ten
Carlton Winemakers Studio, the first earth-friendly and green facility of its kind, celebrates its tenth birthday this year, marking a major milestone for the boutique co-op where eight high-end producers sustainably make their wine. The facility is the brainchild of Oregon winemakers and husband and wife team of Eric Hamacher of Hamacher Wines and Luisa Ponzi of Ponzi Vineyards—the studio was the first of its kind and served as a model for other, similar projects. Today, the Carlton Winemaker's Studio is populated by a fixed group of small, highly rated wineries: Hamacher Cellars, Lazy River Wines, Andrew Rich Wines, Brittan Cellars (which moved out to a permanent facility last fall), Kelly Kidneigh's Trout Liliy Ranch and Dukes Family, Joe Pedicini's Monte Bruno Wines, Mark Wahle of Wahle Vineyards and Cellars, Aaron Hess of Utopia, and soon Omero Cellars and Merriman Wines.
Envisioning a New Kind of Studio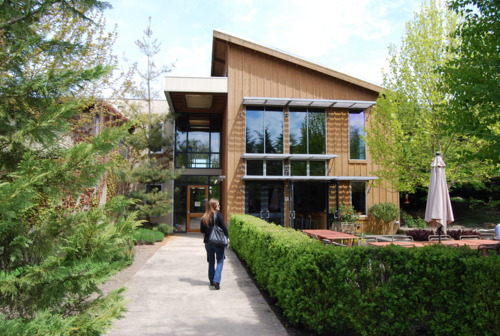 The Yamhill County studio was created with organic values and beliefs in mind. "I want a healthier family, a healthier environment and wineries are high profile; this was an opportunity to build for influence," said Hamcher. "I have a natural podium due to wine. I can educate about sustainability as an option for the future." But first he needed a place to make his wine.
Hamacher partnered with Seattle developer and Oregon vineyard owner Ned Lumpkin and his wife Kirsten to build an environmentally-sound facility and set the record straight. "I wanted to prove that small wineries can realize the efficiency of a larger operation without sacrificing quality, " said Hamacher. The partners believed in the organic concepts, but did not know how to approach that kind of design and construction, so they turned to Seattle's Boxwood Design and Joe Chauncey AIA for guidance. Chauncey remembers the "light bulb" moment—when they were walking through the Lumpkin's Lazy River Ranch vineyard, and looking at the home that was under construction.
"Eric and I made our way up the ladder to the second floor and were standing between the rafters of a new dormer when he began talking about organic farming processes, so I asked him if he would be interested in building a sustainable winery. His eyes lit up as he exclaimed, 'Yes! How do we do that?' At the time our firm was involved in an increasing number of sustainable projects, using recycled materials—high fly ash concrete, enhanced daylighting, natural ventilation, rainwater harvesting and green roofs. I began explaining the concepts behind sustainability and Eric's enthusiasm increased. In that moment, our collaborative team was born. We seemed to have a contractor/vineyard owner who recycles and reuses as a matter of lifestyle and conviction, a winemaker who believes in all organic processes and a design firm with a passion for sustainability and excellence." For them, it was a winning combination.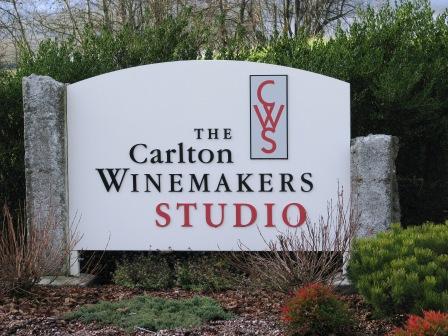 The First of its Kind
The Studio is now registered with the United States Green Building Council and was the first Leadership in Energy and Environmental Design (LEED)-certified winery in the United States, accompanying Oregon's Sokol Blosser Winery's LEED-certified barrel aging building. Some of the innovative building practices they installed included lowering the greenhouse gas mix in the concrete that serves as the primary building material; using aluminum rather than wood to form the concrete; using natural light to offset the use of electricity; and using high-grade insulation throughout the building.
The design of the exterior walls creates a natural temperature control—a column of air space between the interior and exterior concrete walls is open at the top and bottom, allowing air to rise within the wall space and serve as natural heating and cooling. Recycled materials also played a large role in its construction. The counters are made of recycled plastic, the carpets are made of plastic bags, wheat board walls were installed, sails taken from 10-meter sailboards were used to divide barrel rooms, glass garage doors close off the individual winery pods and all other materials were purchased used.
The economies in the Studio also extend to the production side. While the building is only on two levels, Hamacher says that a simple gravity flow process works well. "Holes in the floor accept hoses to drain wine from the fermentation level into barrels below; a fork lift is then used to move barrels and, voila, the Studio becomes gravity fed." Two custom built portable, immersable heating and cooling units replace individual tank heat exchangers. "Heat is not lost on the tank jacket," he said. "The portable units are more efficient and save energy."
Instead of péage, the Studio employs pneumotage, injecting low pressure, high-volume gas (oxygen, compressed air, or nitrogen) through inlets low in the tank, which sends large bubbles up opposing sides of the tank, thereby causing the cap to fold in half and sink. "We can still punch-down, but it will take less effort as the cap has been broken by the gas," Hamacher noted.
An Evolving Co-operative
While the core beliefs have not changed, Carlton Winemaker's Studio has grown over the decade to bring in more helping and experienced hands. They found they needed a more experienced cellarmaster for logistical reasons and hired Lance Paolazzo to the position, who had run custom crush facilities and is a winemaker. Ellen Brittan, who ran the wine department at Dean and DeLuca in Napa and is married to Winderlea winemaker Robert Brittan, joined the team as the general manager.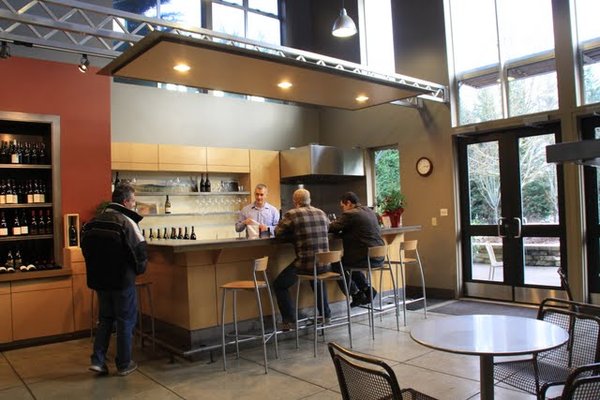 In the tasting room, Jeff Woodard was brought in to focus on tasting and buying as opposed to entertainment and food and now serves as wine director. He instituted a new wine club in 2009, where members never get the same wine, using the various wines from the 12 wineries and eight winemakers are producing. The tasting room buys all the wines from the producers as well. The three permanent members of the Studio are Lazy River (The Lumpkins project), Hamacher, and Andrew Rich. The other five winemakers rotate in and then out.
The group still maintains a collaborative focus; sharing ideas, participating in blind tastings and using collective input to better their wines.
This co-op style winery showed Oregon a new way for smaller wineries to make their wine by using economies of scale and shared equipment. Few of the wineries (except Andrew Rich and Eric Hamacher) stay forever, so it encourages wineries to find their own spaces and be creative during their time at the studio. It was a novel concept, and to this day still allows an easier start-up for small wineries in Oregon. The Studio is a temporary, supportive home for those looking to make a name for themselves.
Oregon had about 170 wineries when the studio opened in 2002; now Oregon can boast close to 500 wineries. As Oregon grows, the Studio will become home to a number of wineries in their infancy—it will not fade in importance.