Lot 18 Reinvents The Wine Club With Launch Of Tasting Room By Lot18 (Press Release)
First Wine Club Allowing Customers to Taste and Give Feedback on Wines Creating a Personalized, Ever-Evolving Wine Profile
May 07, 2013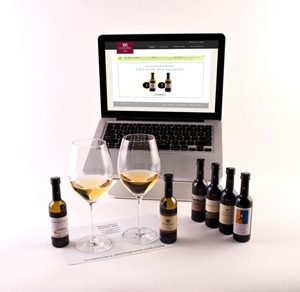 On Friday, May 10, Lot18 will launch a first-of-its-kind wine club, Tasting Room by Lot18. The club eliminates the guesswork and uncertainty of shopping for wine.
Tasting Room brings an unprecedented level of customization and personalization to the wine club market. The customer starts by tasting a range of wines (from a light, crisp white to a full-bodied red) in mini-bottle format and then gives feedback online through an innovative yet simple, guided comparative tasting. This process generates a wine profile that allows Tasting Room to capture the nuances of each customer's palate. Tasting Room then uses this information to provide a specific selection of wines in standard-size bottles to match.
"While many people may have an idea of the types of wine they enjoy, they feel overwhelmed when it comes to finding new bottles that appeal to their palate," said Lot18 Chief Executive Officer Jay Sung. "This new club allows our customers' tastes to directly pinpoint the types of wine they naturally enjoy the most. Tasting Room fills the gap between the online wine world and the local wine store, removing the stress and confusion of the wine-buying process."
How Does Tasting Room Work?
Tasting Room sends consumers a Wine Sampler Kit, which contains six 50mL miniature bottles of wine – two bottles of white and four bottles of red. Members then log on to TastingRoom.com for simple instructions on how to taste and rate the wines. The member's ratings of the wines allow Tasting Room to capture the nuances of the member's taste and generate a unique wine profile – which Lot18 calls a 'WinePrint' – that gives a detailed but easy-to-understand explanation of the types of wine that match the member's tastes. The resulting WinePrint will not only generate personalized club shipments (12-bottle cases, four times a year), it will also provide general helpful insights, including advice on what types of wine to ask for at a restaurant, food pairing tips and other regions and grapes worth exploring. Soon after the member tastes and rates the miniature bottles, Tasting Room will send him or her a case of wines – 12 standard-size 750ml bottles – that match the member's WinePrint profile.
How Much Does Tasting Room Cost?
The initial charge to join Tasting Room is $9.95, which covers the mini-bottle tasting kit as well as its shipping cost. The first club shipment of 12 bottles is $84.49 and shipping is included ($7 per bottle). All following club shipments, sent every three months, are $149.99 plus $19.99 shipping and handling ($13 per bottle). Tasting Room has an open cancellation policy. Users may cancel at any time, and there are no cancellation fees.
About Tasting Room and Lot18
In early 2013, Lot18 acquired the assets of Tasting Room, including its state-of-the-art bottling system that transfers wine from standard-size 750ml bottles to miniature, sample-size bottles. Lot18 joined its ability to select and source some of the world's high-quality wines with Tasting Room's technology to create this wine club. Lot18 will continue to operate Lot18.com, which provides limited-time access to high-quality, hard-to-find wines at attractive prices. Members of Tasting Room who discover a particular wine they like will be able to order more bottles of that selection through Lot18.
Follow Tasting Room on Facebook and on Twitter.