News Release: JUSTIN Vineyards & Winery Debuts Progressive Wine Labels
Paso Robles Winery Launches Next Generation of Packaging
April 29, 2013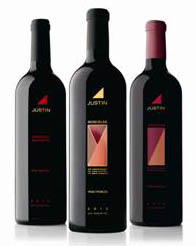 JUSTIN Vineyards & Winery, the pioneer in Paso Robles of ultra-premium wines based on Bordeaux varieties, revealed a new line of bottles and labels that debuted with its 2010 Cabernet Sauvignon. JUSTIN's other signature red wines now feature labels silk-screened directly onto custom-molded bottles using organic inks, real gold detail for JUSTIN's iconic wine, ISOSCELES, and platinum for the limited production ISOSCELES Reserve.
For the new design, the winery has kept its internationally recognized ISOSCELES triangle logo and incorporated other distinct design elements from the previous labels for each wine. The new labels have a clean, understated presence that mirrors the elegant, hand-crafted nature of the wines. JUSTIN began the redesign by enlisting top glass designers in France to create exclusive custom bottle molds. After two years of development, JUSTIN's packaging transformation was unveiled in June 2012 with the release of the 2010 JUSTIN Cabernet Sauvignon, followed by the 2010 JUSTIFICATION in August 2012, and continues in 2013 with the Spring release of the 2010 ISOSCELES. The recently released 2012 Chardonnay and 2012 Sauvignon Blanc also feature a new, elegant white label that speaks to JUSTIN's quality in white winemaking as well.
"The decision to update the design of JUSTIN's iconic packaging was not made lightly, as reflected in the two years we invested in this effort," said David Bowman, Vice President of Marketing. "The success of JUSTIN Vineyards & Winery is deeply rooted innovation. With these new, progressive designs we are preserving important links to our history while honoring this commitment to evolve."
JUSTIN's exciting evolution continues with transformative upgrades to the guest experience at the winery. The property's newly restored tasting room, award-winning restaurant, luxury guest suites and Wine Society Member lounge will be unveiled in June 2013.
About JUSTIN Vineyards & Winery
Located in Paso Robles, JUSTIN Vineyards & Winery was founded in 1981 and is known for crafting world class wines using Bordeaux grape varieties. Widely recognized for its iconic ISOSCELES Bordeaux blend, the wine that arguably put Paso Robles luxury winemaking on the map, JUSTIN is also known for its Cabernet Sauvignon. The property at JUSTIN features a tasting room, luxury suite accommodations and a restaurant – making it the only winery on the Central Coast to offer all three options. In addition to its stellar hospitality offerings, JUSTIN consistently receives top honors and awards around the world as a leader in luxury Bordeaux variety winemaking. JUSTIN wines are available through discerning fine wine retailers and restaurants throughout the United States, or directly from the winery via JUSTIN's tasting room, on-line store or to members of the exclusive JUSTIN Wine Society wine club. Visit www.JUSTINWine.com for more information.