Building a Better Wine Event: Advice from Marketing and Event Planning Professionals
Every year members of the Union des Grands Crus de Bordeaux present wines in San Francisco, Chicago and New York. Their visit is one of the high points on calendars in major markets and is jammed with portfolio showings, regional and individual winery tastings.
The promotion by the premier growths of Bordeaux comes after months of preparation by staffers at Balzac Communications and Marketing in California. Organizers follow a 10-page battle plan that covers client goals, site selection, budgets, consumer and charity partners, invitations, tasting books, stemware, badges, trade and media lists, staffing and a long roster of peripherals. Many planners work with similar templates, smaller or equally detailed.
The success of a wine event starts with planning and a clear understanding of goals. The failures can often be traced to poor advance work and faulty follow through. The pitfalls are many, and catastrophes can happen. Here, marketing and event planning professionals offer their wisdom on planning the perfect wine event:
Things Do Go Wrong
All too frequently, wines, particularly those that must clear customs, are not available though they are listed on the program. Sometimes exhibitors do not know the wholesale or retail prices, speakers talk too long, or event sites are not ready on time. Melanie Young of The Connected Table in New York offered a litany of things that can make a presentation go sour.
"When you enter a poorly organized event, the room lacks professional ambiance. Registration is in disarray, there is no one to greet and direct guests and no helpful signage. No spit buckets. Cheap glassware that smells like dishwasher fluid. Tasting books that lack critical information or lines for writing notes, seminar handouts with no suggested pricing, poorly prepared literature that will only be tossed out afterwards," she said.
Wines of Portugal

"I've been to tastings with fragrant flowers and pourers wearing perfume. I've seen events where no one understands the need to serve product at the right temperature—white wine too cold or too warm and red wine that needed to be decanted—servers not briefed and unable to answer basic questions," said Young.
Sam Folsom of Folsom Associates in San Francisco recalls arriving at a restaurant where the room was not prepared. "Our guests stood around waiting for staff to arrive and watched while they scrambled to set tables," he said.
Be especially wary of large amounts of alcohol available at big consumer events, warns Aileen Robbins of the Dunn Robbins Group in New York. "When people pay to attend a tasting they really don't want to ask questions about the terroir, they want to drink and eat as much as possible in the allotted time," she observed. "I've seen inebriation, people who've fallen down stairs, passed out and wine glasses shattering after being dropped from upper floors.
On the other hand, having too few patrons can cause its own problems. "On another occasion, so few people showed up at a tasting that I was tempted to have waiters put on their street clothes and come back as guest," Robbins said.
"Long ago," comments Marsha Palanci of Cornerstone Communications in New York, " I learned not to take anything for granted. We organized a vertical tasting at a Manhattan hotel and were assured that we did not need to rent stemware. When we arrived, we found a mix of six Riedel stems and six margarita glasses. We got rid of the Margaritas, and had guests empty, rinse and reuse their original glasses after the first go-around."
Robbins added. "Once, a site manager locked us out because the client hadn't paid the balance of the bill. Management refused to open the doors at starting time until we found a valid credit card to cover the amount."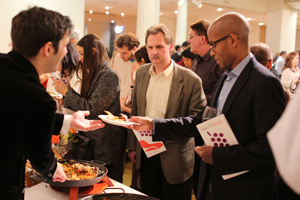 Wines from Spain
When Planning Works
Former sommelier Evan Goldstein directs Full Circle Wine Solutions. At a recent Full Circle tasting for Argentine wines at Cork Buzz, a popular venue in New York, guests first attended a seminar led by presenter Keith Goldston, master sommelier. Goldston lectured on Argentine wines, conducted a sampling of selected bottlings and orchestrated a lunch with matching wines, followed by a walk around tasting.
Each guest received a pamphlet detailing the wines and the wineries, harvest report, bottling details, tasting notes and suggested retail prices as well as the menu for the luncheon. The preparation was complete, down to spit cups for each participant, often an overlooked, emergency entry at tastings. Goldston had toured Argentine wine country, knew the wines and the vineyards and was able to answer all questions with ease.
"Planning is a complicated dance—you have to balance what you know will work with what your client wants and can pay for," says Honora Horan, principal of HH Communications in Manhattan. "You have to get 'good' attendees: accredited, knowledgeable writers and appropriate wine buyers, sommeliers and retailers. There has to be something for the journalists to write about and wines that will appeal to the trade."
The Right Place
The first priority in choosing a venue, says Gino Colangelo of Colangelo and Partners in New York, must be a pull for attendees. "It should be a space that has not been overly used, one that would be interesting and different," he said.
The site itself, should be an attraction, Goldstein agrees. "It should be sexy and intriguing enough so that people will want to come, either for its reputation, or because it is not usually open for lunch, has a hot, new, killer chef or that the people involved are excited and desirous to put on great events. You've got a recipe for disaster when you go into an establishment that makes budgetary sense, but is inflexible and really has no desire to work with you," he said.
Horan said it is valuable to patronize places where the client has good customers. "Somewhere they can get a break on prices and, at the same time, throw them some business, sometimes this works well, but I've also seen some really dreary, dark, odoriferous restaurants where I wouldn't stage a tasting for my worst enemy."
It's fine to seek out novel sites, but convenience must be part of the package, she warns. "We thought a tasting on a boat in Boston Harbor would be a draw, but attendance was poor. We realized that many people didn't come because they did not want to be trapped on a boat with no easy exit."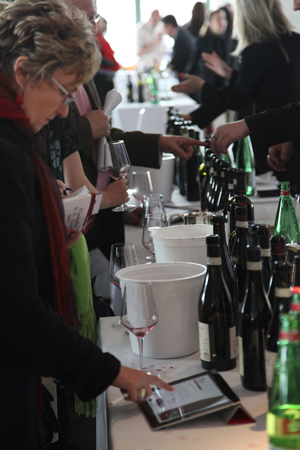 Vinitaly NYC
The Food and Wine
Working with chefs to find the right pairings is essential. "Whether it's passed appetizers at a function for 300 or the right dishes at a luncheon for 30, you want them to be workable and memorable. Budgets have to be considered; we love to cater food that enhances the wines being served, but does not become the center of attention Goldstein said.
At a luncheon presentation, says Goldstein, "you try for a balance of wines, showing elegance and luxury, but you need practical and profitable. We try to ensure a good mix that meets price points and the needs of participants, and minimize wines that people can't purchase. Participants feel it is a waste of their time when you show wines that they get excited about and then can't have, whether out of stock or not available in their market. You should focus on wines that people can act on."
"When budgets are rigid, we settle on serviceable food," says Colangelo. "After all, we want attention for the wines, first and foremost."
"We pride ourselves on placing food on the same plane as wine which often isn't the case with wine professionals," said Kimberly Charles of Charles Communications in San Francisco. "We do test pairings as much as possible and encourage chefs and beverage directors to try wines, submit menu ideas and discuss and collaborate. It's a cooperative effort."
Planners agree that the restaurant people should be involved from the start. "Do this," says Horan, "and you have a shot at some great match-ups. One of my most spectacular food and wine marriages was for a 'high tea' menu of sherries paired with sweet and savory foods. The chef really 'got it' and came up with terrific plates. The press liked it and we produced a popular consumer handout."
Handling Invitations and Guest Lists
Much of the drudgery of invitations these days has been farmed out to services such as Eventbrite which handle e-vites and accreditation, and often follow-up. But, presenters warn, the invitation has to be clever and enticing and must clearly outline the format.
In San Francisco, Charles combines mail, technology and personal contact. "We send out printed invitations when time allows, at least two electronic reminders and confirming calls just before an event. People aren't used to being called anymore, so this is a great way to connect and it seems appreciated for the most part."
Veteran event planner Aileen Robbins in New York follows a similar strategy, starting with a "save the date" postcard and an email four to six weeks prior to a tasting, followed by a minimum of two email reminders, the final coming one day in advance.
"If budget permits, we advertise in trade publications and if we are also staging a consumer event, we advertise on websites such as Tasting Table and Thrillist. We post in as many calendars as possible and take advantage of social media such as Facebook and LinkedIn. If there are important people we haven't heard from, I'll send a personal note."
"Ultimately," says Palanci of Cornerstone Communications, "having a good rapport with key members of the press and trade is vital. Nothing beats a personal email or hand-delivered message. We often send teams carrying invitations to key on-and-off premise accounts. I personally make presidential drop-offs, which gets a chuckle from wine directors and store owners." Cornerstone sends electronic reminders and follows up with everyone who has RSVP'd. "We try to be clever with all this as there is a fine line between being thorough and being annoying."
The "Wrong" People
Despite planning efforts, there are often those who try to pry their way into a closed or trade-only event. To counteract these actions, a disclaimer created by Young at the Connected Table has been adopted by others in the field. It reads: "This event is open exclusively to qualified industry professionals who can prove affiliation at the wholesale purchasing level, and to members of the press who report on wine and food. A business card or other professional identification will be required for admission."
Most event organizers endeavor to pre-register attendees. "Even though credentials are required," observes Donna White of Gregory White Public Relations in New York City, "I've known of uninvited guests who've used false or borrowed credentials."
"The true bête noire of all planners, " Robbins emphasizes, "are the freeloaders or "bottom feeders" who must have their own network and somehow manage to creep in, often with false business cards or identification from another era. They tend to position themselves near the buffet and just shamelessly inhale food. The wine is secondary.
"Some even arrive with large bags to carry things home. One came recently with a small wheeled suitcase in order to steal wine bottles," she said.
Charles maintains a blacklist, identifying people who should not attend based on past behavior or those known not to be writing or producing in their field. "We've also refrained from publishing press releases or posting on events sites since it almost always is an open door for people who make a profession of crashing tastings they haven't been invited to."
While her firm attempts to assure that the "wrong" people don't clog the aisles, Melanie Young observes that close checking is not always perfect. "The person you kick out today may become the hottest wine blogger or savviest wine buyer or store owner of our time. Or the guest could be a legend in the business who dresses like a schlump. You need to use diplomacy and know the real players from the hangers on."
Sam Folsom urges tact. "Sometimes there's nothing you can do if the intern shows up instead of the editor. One day that intern might be the editor."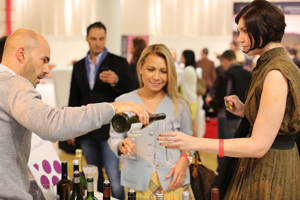 Wines from Spain
Measuring the Success of Your Event
Every tasting is different, and success or failure will vary based on the goal of the program.
"For producers seeking importers, the answer is obvious," says Paul Wagner of Balzac Communications. "If they find an importer, it's a success. During one tasting, I asked a producer how things were going and he was very negative. He told me there were no buyers at all. I was worried and asked a producer at the next table the same question. He told me he just sold two containers.
"In the end we want the right people, and the right number of people, so that everyone feels the event is worth their time. At our best events, I've overheard members of the trade on their cell phones, urging their colleagues to get over to the tasting right now."