Eastern Winery Exposition Breaks 1,000 Attendance in Second Year (Press Release)
Registration, booth sales both up about 30 percent from 2012; 1,498 total 2013 attendance
March 13, 2013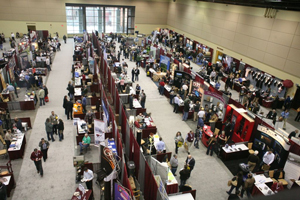 The Eastern Winery Exposition (EWE), which took place March 6-8 at the Lancaster County Convention Center in downtown Lancaster, Pennsylvania, persevered over a regional snow storm to experience a roughly 30 percent increase in both booth sales and show registration over 2012. EWE 2013 had 177 exhibitors, up from 130 in 2012 or 28 percent, and 1,063 paying attendees, up 33 percent from 717 last year. Accordingly, the exposition will likely become the largest such trade show and conference for the wine industry on the East Coast. This is particularly impressive as 2013 is only the second year of the conference.
The Eastern Winery Exposition is an Eastern-focused wine industry trade show and conference designed to provide the Eastern U.S. and Canadian wineries and vineyards with an easily accessible, low-cost professional meeting with a large number of winery and vineyard suppliers, at the right time of year. A strong conference program featured 22 sessions plus a half-day workshop on hard cider Friday, March 8, and 37 speakers. The exhibit hall featured 177 suppliers relevant to the region's business of winemaking, networking events and sponsorship by 18 state and regional associations.
The Second Annual Eastern Industry Celebration Dinner and Award Ceremony took place Wednesday, March 7 and honored Douglas Moorhead of Presque Isle Wine Cellars with a Lifetime Achievement Award for his work laying the foundations of today's post-Prohibition Pennsylvania wine industry with spearheading legislation for small family wineries, as well as his own winery and winemaking supply businesses.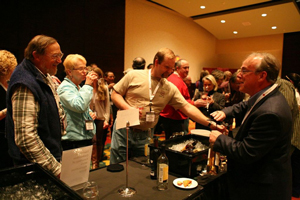 Eastern Winery Exposition brings together the combined expertise and experience of Bob Mignarri (show manager), Richard Leahy (conference manager) and events professional Marcia Gulino (operations manager), and two knowledgeable and actively engaged advisory boards. Mignarri has over 30 years of successful trade show management experience and has earned a reputation among exhibitors as someone who recognizes and understands their needs and concerns. Leahy is a renowned wine industry expert with 16 years of experience in developing quality conference programs. Together they have a proven track record in helping other eastern wine industry shows to grow and become more successful.
Explains Mignarri, "When I began the planning for the Eastern Winery Exposition, I wanted to create a focused trade show and conference that would bring the Eastern wine industry together at a central location, in a first class facility, yet at an affordable cost. Furthermore, I wanted to cultivate an atmosphere where wineries and vineyards would feel that this show is truly their event.
"Last year, I believe my vision was achieved at the first Eastern Winery Exposition. This year I worked to exceed attendee expectations."
Full conference details including a list of exhibitors, speakers, sponsors and conference sessions, are available at www.easternwineryexposition.com. The 2014 Eastern Winery Exposition will also take place at the Lancaster County Convention Center March 5-7.