Consumer Wine Trends: Americans Drinking More, "Better" Wines
The fundamental consumer base has and will continue to change, and wine marketers and makers can not ignore the new way people drink wine, according the research presented at the Wine Market Council Update on Jan. 18, 2013. Consumers are finding more reasons to "celebrate" with a bottle of wine or drinking more wine when a bottle is opened, and in some cases doing both—a very good sign for an industry that posted $13.3 billion in off-premise sales last year.
Of all wine drinkers, 57 percent are now considered "core" drinkers, meaning they drink wine on a fairly consistent weekly or monthly basis, and they account for 25 percent of the United States' adult population. This group consumes an astounding 93 percent of the 175 million cases of wine sold off-premise last year.
"When Wine Market Council did its first survey in 1994, only 34 percent of all wine drinkers were cores. The reversal of fortune for us today is remarkable and it really is in my mind, the truest sign of the acculturation of wine into American society," said John Gillespie, president of Wine Market Council.
Part of that growth is due to the fact that "occasions"—events worth purchasing or opening a bottle of wine for—are increasing in popularity.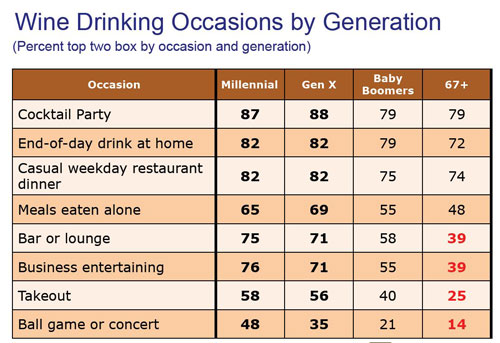 Source: Wine Market Council
A trend of drinking more for the simple reason of making it home after a long day at work has produced a corresponding rise in table wine sales, which are up 4.6 percent in dollar sales and 1.7 percent in volume, compared with last year, according to Nielsen-tracked data also presented at the conference. The average price of table wine sold reached $6.30, up 2.7 percent since 2011, nearly matching inflation rates.
In addition, new items saturated the market, accounting for 34 percent of wines in the $10 to $15 price range, and 30.7 percent of those sold in the $6 to $9.99 range. But the rise in "occasion" wine hasn't just added up to stronger table wine sales. Consumers are still wary of economic conditions, but it seems that they're tired of feeling poor.
"Consumers continue to drink a little bit more and they're drinking better, and that's across the board—beer, wine and spirits," said Dale Stratton, vice president of Constellation Brands.
This is perhaps best demonstrated by recent restaurant purchasing habits chronicled in Wine Market Council's most recent survey. On an average weeknight dinner, 48 percent of respondents will spend less than $10 for a glass of wine and 29 percent are willing to spend anywhere from $10 to $12. However, if that same consumer were to buy wine by the glass on a weekend when out with friends, 30 percent will pay more than $15, 24 percent would pay between $13 and $15, and another 29 percent would order a glass that cost $10 to $12.
The same holds true for bottle purchases at restaurants. A staggering 45 percent would not spend more than $30 on a bottle for a weeknight dinner, but 34 percent would spend $30 to $49 and another 35 percent would spend $50 to $74 dollars if they were out with a group on Saturday night.
| | |
| --- | --- |
| | |
| Source: Wine Market Council | |
The Generational Challenge
It's no surprise that the largest amount and most frequent buyers are Baby Boomers (ages 49 to 67) and Millennials (ages 19 to 36), who either have enough money to purchase or now accept wine as part of their culture. Both groups are finding more occasions to drink wines, and their influence on the market continues to grow.
Of the 70 million Millennials, there are still 8 million who have yet to reach legal drinking age. As they do, the older Millennials will become more settled in their careers, homes, and purchasing habits, leaving the door open for an even larger number to learn to love and appreciate wine.
"The Millennial share of core wine drinkers continues to grow, not only because 4 million of them turned 21 this year, but also because more Millennials are in their late twenties and early to mid-thirties, a stage in life where wine consumption often rises, as we have seen with the Baby Boomers and Gen X-ers before them," said Gillespie.
By sheer numbers alone, Millennials have the potential to shape and influence the evolving American perception of wine. "Millenials are significantly more likely to believe that an open bottle of wine stays fresh for two to three days," he said. "If they could just pass that data along to their elders we would be in much better shape."
Boomers are getting older, however, and as they do they are less likely to spend money on wine as issues such as retirement and fixed income become more prevalent.
Hispanic Headwinds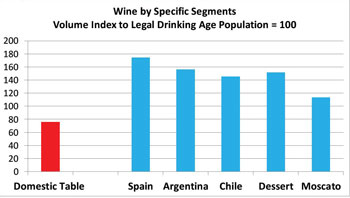 Source: Nielsen
The Latino population is one of the largest untapped markets for wine. As a group, Hispanics only account for 16.3 percent of today's population, but it is estimated that by 2050, they will be the majority, nearly doubling in size to reach 30.8 percent of the population, according to Nielsen data. Their core values coincide with that of many wineries—family comes first, food and drinks are for bonding, and language is a connecter—but the group is still largely ignored by wine marketing efforts.
While Hispanics typically are consumers of beer and spirits, those that do drink wine aren't simply content with table wine. Perhaps unsurprisingly, they prefer wines sourced from Spain, Argentina and Chile, in that order. It seems they also have a bit of a sweet tooth—dessert wines and Moscatos were the most popular varieties of choice.
"This is going to change the footprint and change really what we're doing and how we're going to go forward," said Stratton.