New Georgian Wine Director Seeks to Increase Exports to Traditional, Non-traditional Markets
Georgia's Ministry of Agriculture has appointed Levan Davitashvili (pictured below) to direct its National Wine Agency, a post left vacant a year. Formerly marketing director for the country's German-owned Schuchmann Wines, Davitashvili will focus upon the competitiveness and quality of Georgian wine and develop new markets such as that of its formerly dominant Russian neighbor.
The Nat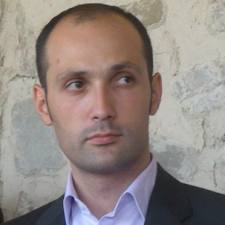 ional Wine Agency implements quality controls, supervises the application of Georgian wine law, protects appellations, conducts vineyard data basis and prepares statistics for vineyards, grape varietals, wine consumption, exports and more. In cooperation with growers' organizations, it will build marketing and branding strategy for Georgian wines and finance activities to increase Georgian wine awareness in selected markets, including the US.
"For the US market, in particular, we plan to form our strategy, planning accordingly to promote our wines and expand our presence to include a PR campaign, social media activities, etc.," Davitashvili said. He indicated an agency restructuring would occur to increase flexibility and functionality by forming a separate marketing board with the Georgian wine industry to make a country-wide marketing plan.
Emphasizing his hope that Davitashvili would follow through on his commitment to the US market, Keith Johnsen of Seattle's Daqopa Brands said his contemporary's "thoughtful, efficient style shows that he understands the workings of the US three-tier system and how it affects end pricing and distribution." He noted, however, there have been "false starts getting this ancient wine-producing region into a position of broader recognition and acceptance in the US and in many other countries where the Georgians have been attempting to increase export volumes during the last 5-plus years."
Return to Russian Market
Davitashvili confirmed that Georgia's return to the Russian market was strategic, saying: "The agency will be working towards the return to the Russian market, beyond comparison with any other by its potential."
However, Georgia wineries have since found buyers in other countries. Thus, Georgia has partly succeeded in establishing itself in various European markets while Russian wine drinkers have learned to enjoy the fruits of its European trading partners.
While Johnsen praised Davitashvili for his "extensive wine knowledge and industry experience without any biased connection…an appreciation for what it really takes and means to get significant traction in the US," he thinks that renewing exports to Russia may simultaneously be a "gigantic distraction" from the interests of his and other non-Russian importers.
Yet, it may also be "the brass ring by pushing some needed revenue into their accounts while allowing them to spend a little as a group" on their northern neighbors. The Russian palate traditionally had appreciated what for generations were Georgia's medium sweet reds, a style not in keeping with broader international expectations.

Georgia's 2006 military conflict with Russia brought a ban on Georgian wines with Russian officials citing "poor quality standards" as its reason. However, following Georgia's recent government elections, Russian Foreign Minister Sergei Lavrov said recently, "When they tell us Georgia wants to further improve relations, we are ready to discuss resuming imports of Georgian agricultural products as well."
Lavrov said a meeting with Georgia's commercial envoy to Russia will soon occur. The Russian news agency Interfax reported that following recent Georgian applications to Russia for its return to the Russian market, officials are ready to meet with Georgian businessmen to discuss the resumption of Georgian wine imports.
"We are fully convinced that our wines meet food safety standards and our quality control system is advanced, so that Russia can accept Georgian wines to their market," Davitashvili said.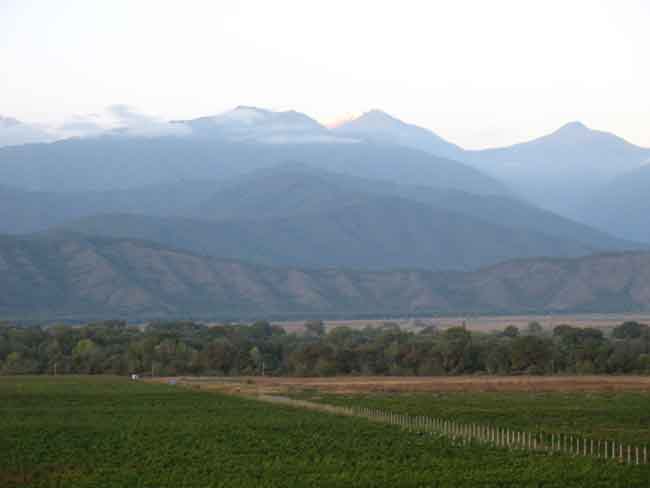 Pictured is a Georgian vineyard with the Caucasus Mountains in the background.
Photo by David Furer