Appellation Update: Alsace, Beaujolais and Chile
Alsace
Alsace has two new communal AOCs, Alsace Bergheim and Alsace Coteaux du Haut Koenigsbourg, bringing the total to 13.
The National Committee of the INAO agreed to add these last two complementary geographical names with Christian Paly, the Chair of AOC wine for the INAO, saying that "there is now no intermediate stratum between AOC Alsace and Grands Crus," claiming with the addition of Bergheim and Coteaux du Haut Koenigsbourg this has been completed.
But, noted biodynamic vigneron Jean-Michel Deiss of Bergheim's Domaine Marcel Deiss said the process is "a gigantic mess. The adoption of two new geographical indications in Alsace will not change the face of the world because like the other 11 they have only varietal definition," with Bergheim able to apply its name to Gewürztraminer as Rouffach, Otrott, and Wolxheim are able to only affix their village names to Alsace AOC in the making of Pinot Noir.
Pascal Schielé, export manager for Bergheim's Gustave Lorentz winery, believes that "Alsace wines are not always easy to understand for consumers and, by adding new stratum, it just makes it even more difficult." The Lorentz winery had argued unsuccessfully for all four noble grapes--Pinot Gris, Riesling, and Muscat--along with Gewurztraminer to be allowed this new stratum.
The INAO also approved the draft for AOC Côtes de Provence Pierrefeu to include red and rosé wines, making it the fourth name for additional AOCs Côtes de Provence.
Beaujolais
Antony Collet, head of marketing for InterBeaujolais, has affirmed that 60 percent of its 42,000 acre area has had its soil analyzed with the remainder scheduled for completion in 3 to 4 years. The research is being done with the intent of establishing a vineyard-based system of classification akin to that associated with its Burgundian neighbors in the Cotes de Nuits and de Beaune. "The goal is also to define differences within Beaujolais and Beaujolais-Villages to really show that our wines can be considered seriously, to increase the value to the trade and to consumers beyond merely being good value. Perhaps in 5 to 10 years we may be able to create a 'premier cru' system for the appellation, from which Beaujolais and Beaujolais-Villages might benefit," Collet said.
Beaujolais's top export market remains Japan though that is predominantly with Nouveau, but here Villages accounts for nearly half of what's sold with Nouveau second. While Beaujolais exports grew 2.8 percent last year, U.S. sales were on the ascent for several years until 2011 when they began to dip.

Chile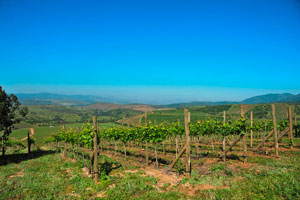 Chile has added three new broad-based, complementary appellations--Costa (coastal areas), Andes (mountain areas) and Entre Cordilleras (between Chile's two mountain ranges). The new areas' statuses were added to its 1994 wine law on Sept. 29, 2012 by Chile's Ministry of Agriculture. The overarching concept was founded upon true climatic parameters rather than topography and latitudinal positions which tend to help areas with greater topographical diversity. Commonly thought of as very warm, Colchagua contained all three areas while regions like Aconcagua, mostly known for its reds, until the new ruling didn't have all its vineyards planted within the necessary topographical variations to qualify for appellation status.
Errazuriz winery's recent coastal plantings of Pinot Noir, Syrah, Sauvignon Blanc, and Chardonnay stand to benefit from the new 'Costa' assignation. According to Carolina Herrera, Viña Arboleda's winemaker, "as our vineyard is located only six miles from the sea, the vines grow under a powerful maritime influence." Wines of Chile's Lori Tieszen told Wine Business Monthly, "the new complementary appellations are voluntary but will begin appear on Chilean wine labels soon."