Wine Business Monthly Launches Online Unified Guide
WBM's comprehensive list of vendors will help you organize your time on the tradeshow floor.
There will be over 500 exhibitors at the 2013 Unified Wine & Grape Symposium in Sacramento this year. This will be the most ever for this trade show, making it even more difficult to locate companies that sell the products you are looking for.
Behavioral research shows trade show attendees will only visit an average of 25 booths a day. To make the most of your time at the most important trade show of the year, you will need to make a list of which booths you'd like to visit. To help you do that, Wine Business Monthly has created the online Unified Guide.
For the winemaker and vineyard manager with limited time between seminars and breakout sessions, the online Unified Guide will be a big help in organizing your time and quickly getting you to the vendors you need to see. The most popular list adds spontaneity, and as a real-time, crowd-sourcing feature, directs you to products other attendees have determined as a "must see."
To get started, simply visit www.winebusiness.com/unifiedguide/2013.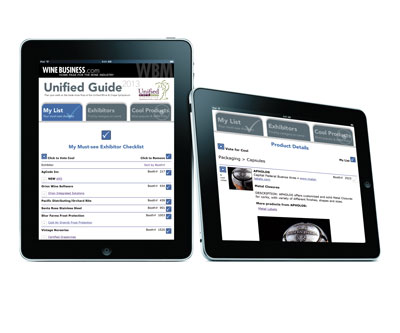 My List: Create Your Personalized Shopping List
The Unified Guide was created to help you build your own personalized list of booths you'd like to visit while walking the trade show floor. Access your personalized shopping list at any time by clicking on the "My List" tab to find all the exhibitors you've selected.
You can sort your list by vendor name or booth number, then plan your route on the trade show floor. To find booths to add to your list, click/tap on the Exhibitors tab or the What's Cool tab.
Exhibitors
Under this tab you can search for exhibitors by product category or by company name. Categories are listed alphabetically, and within each category are corresponding subgroups directing you to specific products. Under the cooperage category, for example, will be barrels, bungs, barrel washers, barrel alternatives or racks.
You will also find specific information on products from vendors that responded to our survey. Information here will include company name, home location, website, product description and the all-important booth number. Many also include photos and videos of products.
After you've researched the categories and products on your wish list and decide which booths you'd like to visit, you click/tap the box on the right hand side of the vendor listing to add it to your personal shopping list.
To help you select which exhibitors to visit, you can see how many people have selected each product as a cool product while browsing through each category.
Cool Products
The Cool Products tab includes two lists: (1) a list of the most popular products/booths, as voted by you and other attendees and (2) a list of products that myself and senior technical editor Curtis Phillips have chosen from the past two years. If you see a product that looks interesting from either of these lists, click/tap the box on the right hand side of the product vendor listing to add those products to your list of booths to visit.
At the Show
Once you've finished adding all the booths you want to visit, from either the Exhibitors tab or What's Cool tab, you will want to be able to bring the list with you to the show. If you created your list on your computer, print it and bring it with you.
We recommend creating your list on your smartphone or iPad so you can access and use it to your advantage while navigating the trade show floor, by voting for your favorite booths and products or updating your list on the go. You also can remove a booth from your list by tapping the box on the right.
You can vote for booths/products you find most interesting by clicking/tapping on the box to the left of a vendor/product name. The box turns blue once you've voted.