How Off-Premise Hiring May Be Evolving
Some stores are tailoring the holiday, and year-long, shopping experience.
According to Winejobs.com, the research and recruiting website run by Wine Business Monthly, seasonal wine retail hiring has been experiencing a consistent uptick, both this fall season and in years past. The Winejobs.com Index shows wine retailer job postings in October 2012 increased 27 percent from its level in October 2011, and were 69 percent higher than October 2010.
What is intriguing about the data is that the jump in retail hires frequently dates back as early as August and spikes in October. In August of this year, 202 retailer job postings were listed on the site, up from 157 in July. That number increased to 235 in October. From 2009 to 2012 the total number jobs listed per month from July to October has also steadily increased.
Bringing on additional sales staff for the holiday season is fairly standard; however those hires are rarely made before Thanksgiving. The Winejobs.com data doesn't document how many new outlets may have been opened by retailers during this period, if the wine retail business is experiencing more turnover or how operators are trying to improve the consumer experience in their stores.
New Patterns of Growth
A handful of solid chain stores have continued to open new locations, both in adjacent areas and former control states like Washington. The Concord, California-based BevMo! and the Potomac, Maryland-based Total Wine & More, have both jumped on the opportunity to open new stores in Washington State. Executives from both operations shared insight for this story and often attributed the increase in new hires to their need to staff up new locations.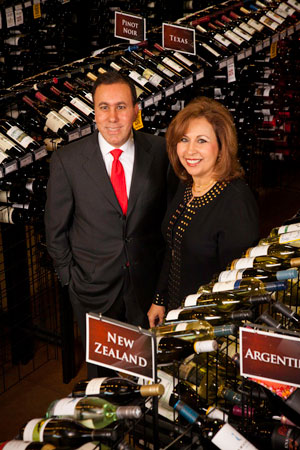 David Jabour, on left, CEO of Twin Liquors.
David Trone, founder and CEO of Total Wine & More, who currently operates 86 stores nationwide and hopes to open another two before the end of the year, noted that, "Yes, business is growing and we are positioning ourselves for future growth." While he confirmed that the chain routinely brings in more staff for the holiday season, he added that some of the increase in hiring was also because many local consumers were showing greater interest in both the beer and the spirits categories, items not always purchased from fine wine retailers.
David Jabour, on left, CEO of Twin Liquors.
David Jabour, CEO of the 74-location Austin-based Twin Liquors, confirmed this. "We have hired more associates to support store growth," he said. He added that his stores also bring in extra seasonal help between Thanksgiving and the end of the year.
At BevMo! Maria deVries, senior vice president operations, confirmed that recent seasonal hires could be attributed to both new store openings in California and Washington, as well as new hires for the holiday season. However she added that the chain was also able to transition approximately 400 of last year's seasonal hires to full-time employment and as a result there weren't actually more new holiday hires brought on board in existing stores in 2012.
Better Guest Experience Can Mean More Hands on Deck
Many of the retailers interviewed said they often welcomed new sales staff throughout the year to steadily improve the shopping experience for an ever-savvier customer base. Knowledgeable and attentive retail staff can often make or break a sale in both a high- and low-season.
"ABC is committed to improving the shopping experience and we're concentrating on raising the level of guest service," noted Michael Willis, ABC Fine Wines & Spirits' Orlando, Florida-based human resources director for the 144-location chain. "In order to sustain growth we need additional staff to properly serve our guests," he said. Jabour concurred that year-round hiring may also be on the rise as customers "demand added levels of wine expertise."
So a long-term focus on improving the consumer experience may not just lead to an increase in holiday hiring, it may also result in a steady increase in job opportunities all year long. Or it could have just the opposite effect as some stores choose focus more on ramping up the skill set of their current employees. "Because we want the best-trained employees available, we'd rather expand the hours of our currently trained employees than hire temporary or part-time employees," said Willis.