Envolve Winery Wraps Up "Real Men Drink Pink Campaign"
A $3,452 donation was made to the Sonoma Valley Hospital Foundation to support free mammograms.
November 09, 2012
Envolve Winery wrapped up its "Real Men Drink Pink Campaign" with a $3,452 donation to the Sonoma Valley Hospital Foundation and its offering of free mammograms during Breast Cancer Awareness Month. For every bottle of 2011 Envolve Sonoma Mountain Rosé, $5 was donated to the charity, alongside 50 percent of ticket sales and funds collected at the "Real Men Drink Pink" event through raffles and donations.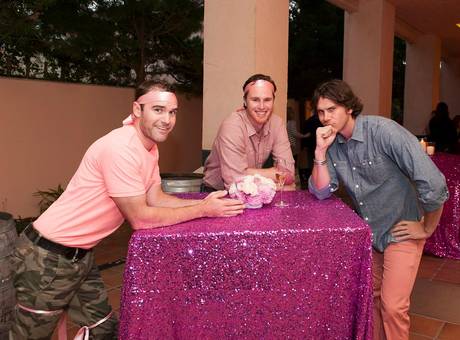 Envolve partners Danny Fay, Mike Benziger and Ben Flajnik.
Envolve presented the check to SVHF on Nov. 2 at the hospital's Diagnostic and Imaging Annex.
"We are incredibly grateful for Envolve's generous donation to our Foundation-sponsored mammogram program," commented SVHF's executive director, Harmony Plenty. "Thank you to everyone who participated in their Real Men Drink Pink campaign in October. Special thanks to Ben, Danny and Mike and everyone at Envolve for their generous support of Sonoma non-profits. Support like this truly makes a difference in the community."
Envolve Winery Partner Danny Fay said, "We would like to give a huge thanks to all the people who came and contributed to this foundation and supported the women in this community. Each of us have had our own experiences with a relative or friend suffering from breast cancer so it is important for us to help in any way we can to the local Sonoma community, even if only in a small way. We look forward to hosting this as an annual campaign going forward."
The campaign and event was made possible by A Savvy Event, which styled the tasting lounge for the event; Dockers, which styled the winery partners in pink; and Alpha Camo, Danny Ronen and Combier Distillery, Epicurean Connection, Murphy's Pub, Restaurant Rudy, Toss Designs, Ike's Place SF and Massage Envy Sonoma.
About Envolve Winery
Envolve Winery was started in 2008. The wines are Sonoma appellation driven, made by three great friends, with a sustainable, organic and biodynamic farming approach. Partners Mike Benziger, Danny Fay and Ben Flajnik believe wine is made in the vineyard, and more natural philosophies produce better quality wines.