Governor Brewer Proclaims Arizona Wine Week
November 09, 2012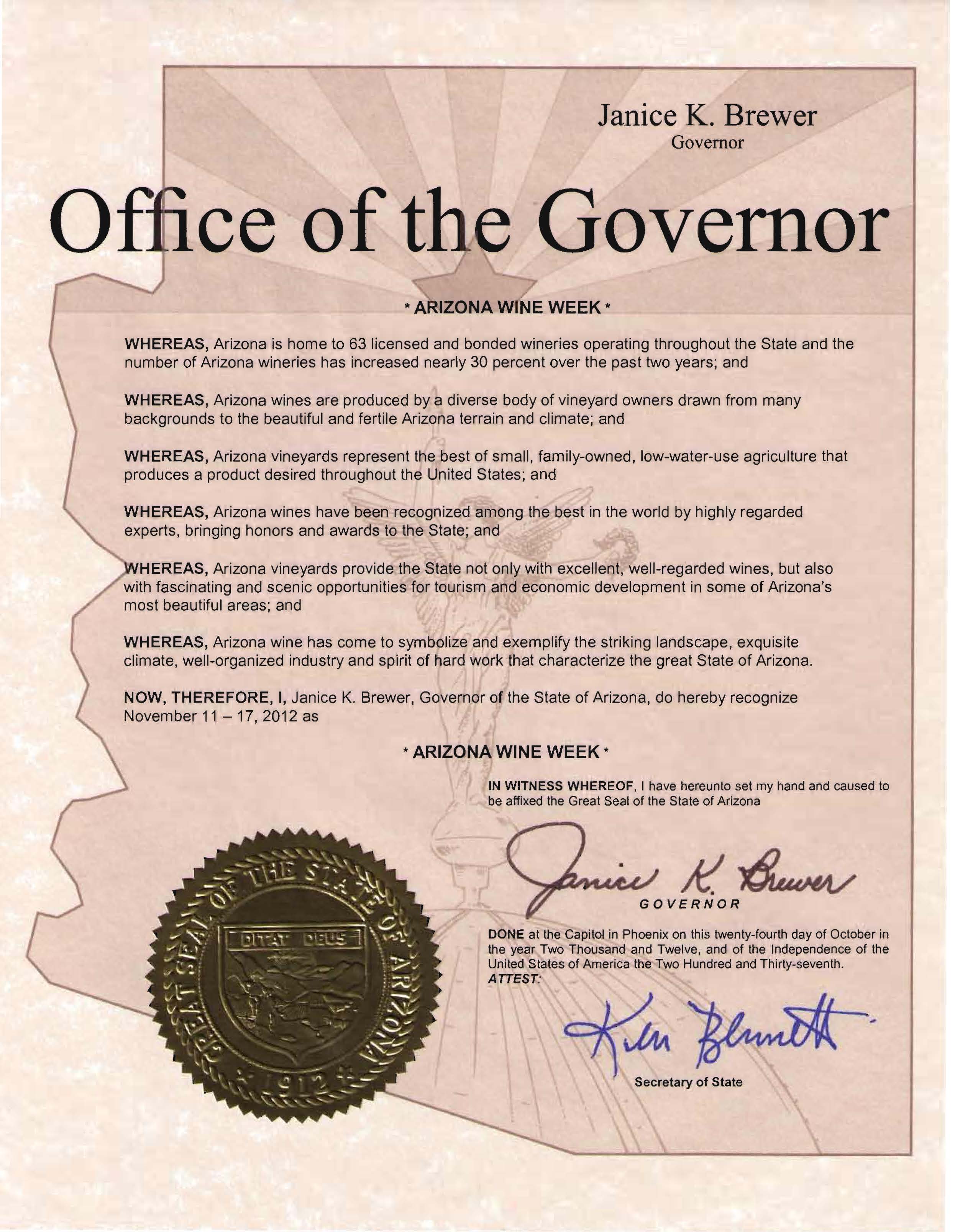 Governor Janice K. Brewer announced that Nov. 11 to Nov. 17 will be Arizona Wine Week with the signing of a recent proclamation. Arizona is home to 63 licensed and bonded wineries operating throughout the state, and vineyards represent small, family-owned, low-water use agriculture, the proclamation states. "Arizona vineyards provide the state not only with excellent, well-regarded wines, but also with fascinating and scenic opportunities for tourism and rural economic development that create quality jobs and generate revenues in some of Arizona's most beautiful areas," Governor Brewer proclaimed.

Over 30 wineries will celebrate the best Arizona wines on Sat., Nov. 17 for the fourth annual Festival at the Farm. The event includes wine tasting, lunch in the Pecan Grove, live music, live/silent auction, locally-grown food tastings, wine judging and educational seminars. The money raised from the Festival goes to the Arizona Wine Growers Association's commitment to advancing with integrity the sustainable growth and production of authentic Arizona wines. The industry creates jobs and keeps dollars in Arizona.
"The Arizona wine industry continues to grow and expand at a rapid rate despite the sluggish economy. Every year, more Arizona wines are being recognized for their outstanding quality and uniqueness. There is a growing buzz that Arizona is becoming the next great wine region in the U.S." said Peggy Fiandaca, president of the Arizona Wine Growers Association.