Laetitia Vineyard & Winery Utilizes Night Harvest Practices and Sees the Benefits
October 10, 2012
October 9, 2012 – (Arroyo Grande, CA) Laetitia Vineyard & Winery plans to complete a majority of the 2012 harvest efforts at night. Vice President of Vineyard Operations Lino Bozzano and Head Winemaker Eric Hickey have found benefits in the vineyard and winery that continue to support the odd hours of this practice.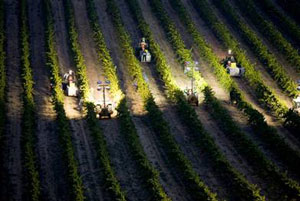 "Working at night has offered many advantages for vineyard crews," noted Lino Bozzano. "The area's cool nights create better working conditions – not only is the temperature more tolerable, but bees and rattlesnakes stay away at night; we have repeatedly found processes are completed more efficiently when we avoid the heat of the day," he said.
The virtues of night harvesting are not limited to the vineyard and its watchful crew. "We also prefer grapes that have been picked at night once they arrive in the winery," said Eric Hickey. He further explained, "when picked during the 50 degree temperatures, grapes are firmer, making them easier to work with, particularly facilitating de-stemming. Additionally, lower temperatures allow Pinot Noir grapes to arrive near the same temperature necessary to begin cold soaking, the first step in the production of these wines." Having to cool the grapes through a cold bath takes extra time and energy, something Laetitia, a SIP-certified winery, doesn't like to waste.
Cold soaking is a winemaking method popular in Pinot Noir production. By keeping the grapes cooler and delaying the initiation of fermentation, winemakers have found they can cultivate richer colors, distinct aromatics and softer tannins in the flavor profiles.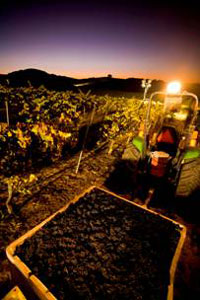 From vineyard to winery to bottle the benefits are mutual. Harvesting under the floodlights amongst the vineyard nightlife offers a plethora of opportunities that lend to great wines. The late hours and long days have begun, bringing the winemaking team into the first stages of production for the 2012 vintage of wines from Laetitia Vineyard & Winery.
Since 1982, the Laetitia Estate Vineyard & Winery has produced elegant wines that champion the exceptional character and diversity of the Arroyo Grande Valley AVA. Originally founded by an established French Champagne house, the Laetitia estate carries on in the longstanding traditions of Burgundy and Champagne with a focus on small-lot Pinot Noir and sparkling wines. Valuing legacy, balance, innovation, and sustainable practices from harvest to glass, the Laetitia team works meticulously from vintage to vintage to ensure that every bottle of Laetitia wine is as expressive as the land from which it originates.
For more information about Laetitia Estate Vineyard & Winery please call (805) 481-1772, (888) 809-VINE, or visit www.LaetitiaWine.com. Laetitia Estate Vineyard & Winery is located at 453 Laetitia Vineyard Drive, Arroyo Grande, CA 93420.