The Guinness World Record® For the Longest Relay Wine Toast Is Set in the Napa Valley
The Napa Valley Wine Wave beats the previous world record with 487 Participants
October 08, 2012
St. Helena, CA, October 7, 2012—The United States is now home to the Guinness World Record for the longest relay wine toast. Today, 487 people gathered at Charles Krug Winery in St. Helena for the Napa Valley Wine Wave and set the new world record. Participants defeated the previous record of 321 set by Guangzhou, China, in November 2011.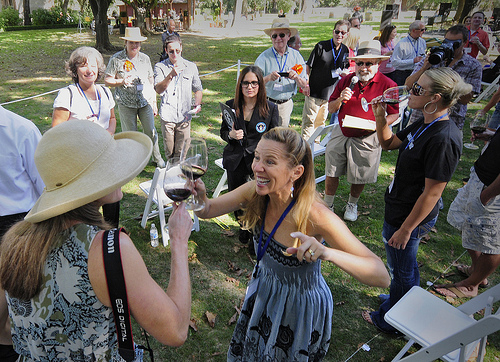 Photo credit: photo by Charles O'Rear)
"We brought our community together and we set a Guinness World Record," said St. Helena Mayor, Del Britton. "This unique world record now resides in the Napa Valley, the heart of the wine experience."
Guinness Adjudicator, Johanna Hessling, oversaw the event. Upon completion of the record she announced that the new world record of 487 had been set. The longest relay wine toast is a sequential toast where participants clink glasses in order, from start to finish, rather than the more common toast where everyone clinks glasses simultaneously. Participants received a world record medallion to commemorate the event.
Food was offered by local food trucks Marks the Spot and Awful Falafel and was paired with wines from Appellation St. Helena including Ballentine Vineyards, Charnu Winery, Chase Family Cellars, J. Lohr Vineyards & Wine, Raymond Vineyards, Robert Biale Vineyards, Rutherford Grove, Salvestrin Winery, Trinchero Family Vineyards, Tudal Family Winery, and V. Sattui Winery.
At 1:30 p.m. participants lined up in the 'Clink Arena' and prepared for the Guinness World Record attempt. Line Captains guided their groups in the "clink, sip and clink" process which eventually won the record. Passed appetizers were served by CIA (Culinary Institute of America) students, as well as local businesses French Blue, Sorenson Catering and Armadillos. The official wine for the Guinness World Record Event was the 2009 Charles Krug Zinfandel. At approximately 2:30 p.m. on Sunday, October 7th, 2012, St. Helena broke the Guinness World Record.
The Napa Valley Wine Wave was created by the St. Helena Kiwanis Club, in partnership with the wineries of Appellation St. Helena, CHEERS! St. Helena and the St. Helena Chamber of Commerce, as a way to raise money for scholarships. Proceeds raised from the event go towards scholarships in the agriculture, viticulture, winemaking, business and hospitality industries. For more information visit the Napa Valley Wine Wave NapaValleyWineWave.org // @NVWineWave