Interview: David Freed on 30 Years in the Industry and The Wine Industry Financial Symposium
On California's Share and Market Concentration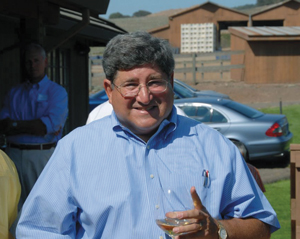 David Freed is chairman of Silverado Wine Growers and Silverado Premium Properties, privately held real estate investment funds with more than 10,000 acres of vineyard holdings in California, selling grapes to more than 100 wineries. Freed helped bring new sources of capital into the industry at a time when there wasn't much capital available by co-founding the annual Wine Industry Financial Symposium 21 years ago. Marking the 30 years since the formation of UCC Vineyards (the original company) and ahead of next week's symposium, Freed spoke with Wine Business Monthly:
WBM: How did you get into the vineyard business?
DF: I was practicing corporate and tax law in San Francisco and got bit by the wine bug. I started drinking finer wines and one thing led to another. We'd been doing some real estate investing and all of a sudden (the late) Gary Andrus showed up one day with a proposal to invest in a vineyard. We purchased a 50 percent interest in a vineyard in Carneros with Pine Ridge, which we held for the next 27 years. Based on that auspicious start, we're now in excess of 10,000 acres.
WBM: Where are you investing in vineyards now and why?
DF: We have our largest concentration in Monterey County. It's an area that is right at the $12-$14 or $12-$15 price point and is very popular. Demand has been good. Most recently, we've been building our position in Paso Robles in response to demand for Cabernet, Cabernet, and Cabernet.
WBM: What sort of deals have you been doing on vineyards?
DF: We've been buying in Napa. We've been buying in Sonoma. But what's the headline? We're in Monterey and Paso. We're net buyers but are constantly looking at the portfolio. If something has achieved our objectives then we do a little harvesting on the capital gains side as well as on the income side.
WBM: You're in the wine business now too.
DF: We backed into the wine business after the humungous 2005 crop. We had some opportunities to take grapes off of vineyards that were excess to the contracts. Our choice was: drop the fruit on the ground or take it and process it into wine. That was the original motivation – to save the grapes and generate more income. In that regard, we associated a winemaker, Alison Crowe, and started focusing on private labels and negociant brands or virtual winery brands that wanted specific blocks of grapes but wanted them in the form of wine. Four Vines is an example. We supplied a lot of their Naked Chardonnay and delivered in bulk. They'd arrange for bottling or we'd take it all the way and bottle it.
WBM: How much wine do you produce?
DF: It's about 5 percent plus or minus from our entire portfolio.
WBM: How do the businesses compliment each other?
DF: This year is not typical. Typically, you go into harvest and you're about 90 percent contracted. Then you have the vagaries of the amount of grapes you ultimately harvest, regardless of how many times you count the clusters. Having that capability gives us another 6-8 months on whites to market the grapes – except you're marketing them in the form of wine. The negociant labels, virtual labels, and even big wineries will say, "Look, we will come tell you how to make the wine. Make it for us." They don't tie their money up in the grapes. They don't tie their money up in the wine. We've been able to use custom crush space, so it compliments our grape business. The wine business gives us flexibility. Every harvest presents a different set of challenges.
WBM: How much mechanization do you do?
DF: We are harvesting most of our non-Napa and say, a pretty good percentage of Sonoma and all of Monterey, Paso Robles, and Santa Barbara using harvesters - close to 80 percent.
WBM: How has that changed in the last couple years?
DF: It's mainly a battle convincing winemakers that it doesn't negatively impact the quality. We've had tests where we blind taste hand harvested versus machine harvested. They can't tell the difference, and in some cases, machine harvesting is cleaner and comes out better. The trend is toward mechanical harvesting. There's an issue that people have talked about for years - labor. This year we are constrained for harvest labor as we've never been before. The battle with mechanical harvesters has been determined, except with high-priced Napa grapes. Mechanical pruning is the next frontier.
WBM: People stocked up early on their grapes this year. What do you see happening?
DF: One of the topics of my talk (at next week's symposium) will be, how does California maintain it's position or market share in terms of the U.S. wine market and U.S. consumption of wine?
I don't see that California growers are going to be able to maintain their position going forward as a percentage of overall U.S. consumption. That's from an examination of the potential and the likelihood of growers and wineries responding to a tight grape market. The last time we had this situation was in 1995 and 1996. If you look at planting in 1996, 1997, and 1998 in the acreage reports, there was a huge growth spurt. Napa put on additional acres; Sonoma went up 60 percent or more; Monterey had a big growth spurt; San Louis Obispo County came out of nowhere; Paso was planted; Santa Barbara was planted.
That was a response to shortage and tight markets and increased grape prices. Significant plantings occurred between 1996 and 1998. I don't see that happening this time. People are trying to put deals together and to make acquisitions and to get vines into the ground. I don't see it happening on a scale that's going to make much difference to California maintaining its market share of wine consumption.
In Napa and Sonoma there is limited land and significant environmental constraints. You have land prices, development prices, and political risks. There aren't a lot of people in a position to respond and build those markets. In Monterey the land is there and in most cases water is there, but you're competing with vegetables. Those guys get 2-3 crops a year and can afford to pay more for land than grape growers can. It gets better in Paso Robles, but there's a water problem in East Paso Robles. In Santa Barbara, the environmental situation is very constrained. In Lodi, there is still land that can be converted to vineyards. Then you go down to the Central Valley: One of my charts will show there's been a 30 percent growth in Merced County and 25 percent growth in Fresno County: That seems to be the area that can still accommodate vineyard conversions and vineyard growth. The negative is that because of almonds, pistachios, and all the other crops, the price of land in the Central Valley is the highest I've seen it.
Couple that with the fact that since there was negligible planting going on during the last four or five years, the nurseries weren't ready. We pre-ordered vines through 2014 – and at this stage some of our development has been put off for 2013 and 2014 just because the vines aren't there.
The other part of my presentation is what I call the big getting bigger. If you look at the top 3: Gallo, Constellation and The Wine Group – and look at gross sales numbers per Gomberg-Fredrikson for the last couple years - that group's been growing at an eight percent clip. Go down to the next five including Trinchero and K-J and that group has been growing at four percent a year. In next group down there are eight wineries that cluster at about one million cases of production. That's been growing at two percent a year. Below that it isn't growing. The larger you are in case sales, it would seem, the more you are picking up market share and growing your brands.
Eighteen months ago Joe Gallo got up in front of the Fresno Growers and asked people to start planting grapes. It was the first time a Gallo had ever appeared in public and given a presentation. He was basically begging growers to go out and plant grapes. The rest of the industry didn't quite get that message for another twelve to fourteen months.
Another development we paid attention to was when The Wine Group, through a guy named Richard Shell, went out and leased a bunch of property in Monterey County, a property a RIET bought and leased back to The Wine Group. It caught our attention. It was way early in the game and we were wondering why they were doing it. They were worried about price increases and about supply. Most recently Gallo bought one of our properties in Monterey. They also bought Courtside Cellars.
These people are thinking. Watching their moves 12 months and 18 months before anybody figures it out is very instructive. What I see is an industry concentration towards larger sizes. And with a shortage, they're in a much better position to survive and maintain their volumes.
I think California is going to be more like France. Burgundy is Burgundy. Bordeaux is Bordeaux. The Rhone Valley is not growing. Production is fairly stable. Guess what? Prices go up, and profits go up.
WBM: So the industry losing market share isn't necessarily a bad thing?
DF: I don't think so. Don't tell Nat Dibuduo that but I think there's going to be two wine industries: The wine industry of the Top 30 – and everybody else. Everybody else ought to ask themselves, "Do I really need to grow?" If you've hit a plateau with winery that has authenticity and you keep working on your story, you're going to be more profitable and survivable in the long run.
The 21st Wine Industry Financial Symposium takes place September 24-25 in Napa