Number of Wineries in Canada -- 2012
The number of Canadian wineries increases 15% in the past year
February 01, 2012
The number of Canadian wineries has reached 432 as of November 1, 2011, according to the Wine Business Monthly proprietary database. Canadian wineries increased in number in 2008 (31 added) and 2009 (36 added) then slowed in 2010, adding only 10 wineries, then picked up considerably in 2011. British Columbia and Ontario lead in total number of wineries, with BC at 212 and Ontario at 130 (see Table). These two provinces are home to 79 percent of all Canadian wineries.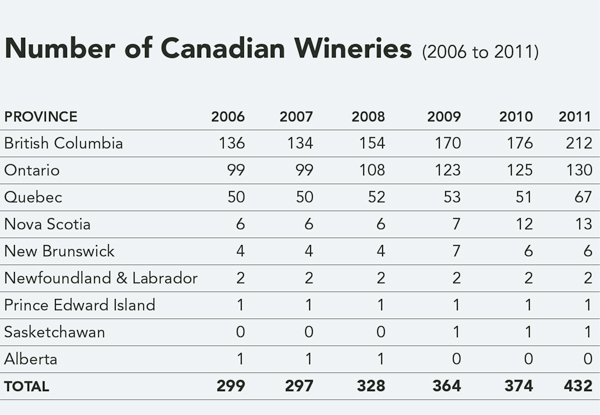 In British Columbia, the number of wineries continues to increase, which speaks to the health of the industry, said Miles Prodan, executive director of the British Columbia Wine Institute. "Many wineries continue to invest despite high land prices and the economic climate," he said. "Additionally, winemaking expertise has increased, along with quality of product, thereby attracting world-class winemakers." Prodan also feels that longtime local growers are becoming more confident in the quality and value of BCWA (British Columbia Wine Authority) wines and are, therefore, venturing into the retail side of the business.
As for sales, BC wineries report less traffic than in previous years, but sales are up at the cellar door, notes Prodan. Value-priced imports continue to be aggressive in the Canadian market, "but they're not eroding our local wines, which are holding their own," he said. In addition, the price of BC VQA (Vintners Quality Alliance, the region's designation of quality, authenticity and origin) wine is up, and the local market is paying. The BC Wine Institute reports that at fiscal year ending March 31, 2011, BC VQA dollar sales were up 6 percent from 2009/2010.
Canadian Wineries
While there are many non-grape wineries in Canada, only grape wineries have been included in this count. Pending licenses have also not been included in this count. Unlike U.S. wineries, Canadian wineries are not broken into bonded and virtual categories because of their differing licensing regulations.
WBM