Recap from Hospice du Rhône in Paso Robles, 2011 Edition
The retail sales were as brisk as the pollen-laden breeze
Drinking wine at 9am on a workday? Well, the French, which were in great abundance this year at Hospice du Rhône in Paso Robles (way more than last year), seem to have been doing it all night, from the look of them. Nothing quite like the combo of aftershave and a bracing white that smells like Sauv Blanc, but was clearly not. Turns out it was 95% Grenache Blanc, with Viognier and Roussanne, and was stunning in its grapefruit, honeysuckle, juicy pineapple and lush minerality. Ah, the breakfast of Rhônedom: bring it on! I was hoping for a sea of whites at the early morning seminar, but the world was seeing red on this blustery 46-degree morning, that found the AZ contingent (among them Kent Callaghan of Callaghan Vineyards and of Dos Cabazos) buying jackets and sweatshirts. There is an undeniably "groupie" component to HdR, as it is fondly known among its devotees, and the retail sales were as brisk as the pollen-laden breeze.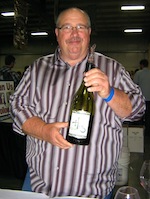 Augie Hug with his first vintage of
Alban Syrah
Frost was on everyone's lips, literally and figuratively, as the worry continued over the significant crop loss that had already occurred in Paso Robles, southern Monterey and parts of Santa Maria Valley. Asked about the potential threat to Arizona's crop, Kent commented that the forecast for the coming week included a potentially serious frost: "There goes another crop!" he shrugged, referring to the devastation of 2010, pretty much a total loss. "It would be nice to have a harvest, again, soon," he said, with a bit of a sigh. The 2005 "Claire's," a blend of Mourvèdre, Syrah and Petite Sirah, had enough stones to tide one over during a very long winter, or a very tense spring, at 15.9%.
You won't find many French Rhônes in this nose-hair singeing territory.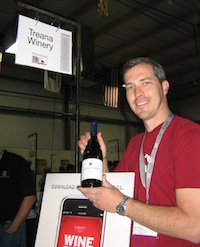 Joel Peterson, Hope Family Wines

For people with too many winemaking rules, they seem a happy lot. The three vignerons (they are universally reluctant to call themselves winemakers) on the panel on Rhône Valley wines, moderated by the ebullient Christophe Tassan, sommelier at MIX in Las Vegas, exuded a blend of pride, humility and optimism. The Avignon native often asks people where they're from, and when they reciprocate, he says, in his charming French accent, "I am from New Jersey: I have a bit of an accent." We were reminded that the Rhône Valley was named "Wine Region of the year for 2010" by Wine Enthusiast, and after all, it would be very hard to have Rhône varietals without the Rhône Valley, and after all, the French invented winemaking. And don't forget zis, you ungrateful Americans!
A quick look around the world shows 1M acres of vines in the US, .5M in Chile, 4500 in NZ, 388K in Australia, 300K in South America, and 182K in the Rhône Valley, the second largest in France. There are 6k vineyard owners, 1550 private wineries, 96 co-ops and 55 negociants. They export a lot of wine to the UK and US: Rhône wine consumption went up 22% here in the US between 2009 and 2010.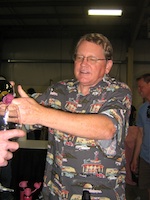 Ken Volk
The wines the three panelists, Michel Gassier of Chateau de Nages, Costières de Nimes, Nicholas Haeni, Domaine de Cabasse, Côtes du Rhône Village and Gigondas, and Alberic Mazoyer of Domaine Alain Voge, Cornas, shared, along with their unique family histories, demonstrate why.
Their love and respect for their land is paramount: they have not grown up with the concept of "Wild West," where the land and the views stretch on forever, and undiscovered, or at least unplanted, territory still exists. Not so in the Rhone, where all the land is known, owned and classified. You know exactly where you stand before you even produce a vintage: but mostly, you've been around for over 200 years, so you have history on your side. Unless you want to compete with the rest of the winegrowing world, where innovation and pleasing the next generation of would-be wine drinkers is as critical now (in the US), as it was in the early '80's, when Sutter Home introduced the concept of White Zin to attract a new generation of wine drinkers, at the same time, saving acres of old Zin for posterity.
In France, they have what they have in the ground, and irrigation is not allowed (nor are other frequently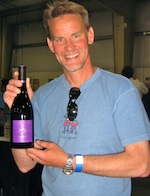 Kevin Jussila of Kukkula
employed western adjustments), so they make wine like you might make dinner from the pickings of your cupboard, were you to be without power for a few days, and suffer the loss of your refrigerator.
The Stages of A Vigneron
It's not easy to make wine under the best of circumstances, even if the vintage was "epic." Michel Gassier summed up it best with his "three stages of a vigneron." Stage 1 is the "focus on the juice" stage. It is like a boy trying hard to be a man. Trying too hard. It is the stage of trying to make "the ultimate wine:" the stage when, as Gassier says, "A young winemaker thinks that too much of a good thing is a good thing. This, of course, is foolish."
Stage 2 is the "focus on the vine" stage, or the "coming of age." Here, you recognize and respect the terroir, and realize in an ego-crushing moment, that the terroir is more interesting that your winemaking gymnastics. So very, humblingly true.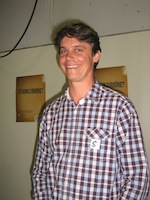 John Cabot of Cabot Vineyard, Humboldt
Stage 3 is the "focus on the dirt" stage, or "the age of reason." Now, you have realized that dirt is everything. Earth is your mother, and all things come from it and return to it. This simple, hard-earned philosophy should give encouragement to those Paso winemakers who are learning to grow and make what the dirt decides, not necessarily what they like.
Nicolas Haeni echoed this, saying, "You have only so many vintages in your lifetime. I try to forget enology. I take a lot of decisions spontaneously." He added, "Some things you have to believe without seeing." That sense of mystery guides truly inspired winegrowing. Note, I did not say winemaking.
Top Ten of HdR 2011
A Hospice du Rhône tradition is to name the top ten best things about the event at the traditional rose luncheon, to which someone had the temerity to send Riesling (oops, it was corked, shame upon the maker for not bringing a screwcap). The list is pretty much an inside joke, and weak at that. Here, instead, are the top ten wines that truly left their mark.
1. Ken Volk's 1996 Wild Horse Syrah from the James Berry Vineyard in Paso Robles. This was for me the most memorable wine of the day: simply fantastic Syrah, powerful, elegant and built to last. Ken's 2007 Mourvèdre under the Kenneth Volk label, from the Enz Vineyard in Lime Kiln Valley, is also stunning, with mesmerizing flavors of honey, mulberry, prosciutto and white pepper: it comes from head trained vines that grace the oldest vineyard on the Central Coast, planted in 1922. Talk about terroir.
2. Kukkula's 2009 Pas de Deux, a divine blend of fourth leaf Grenache & Syrah from Kevin Jusilla's dry-farmed vineyard on Chimney Rock Road, in the far westside of Paso Robles. Ooh, la la! Dense, sinfully dark chocolate, unctuous anise and spicy cherries make this a truffle of delight. The cat's meow in every way.
3. Augie Hug's very first vintage of Syrah, 1994, from John Alban's vineyard. Shows the staying power of a well-made, well-structured wine.
4. Tensley Wine's 2009 Turner Vineyard Syrah from the Santa Rita Hills, a stunning powerhouse of peppery goodness, made with 25% whole cluster, and exuding Ancho chile pepper in a fleshy, extreme wine of great depth.
5. 2008 Anglim Grenache, a Cherry Kiafa explosion of sensational fruity goodness. Says Steve Anglim, "It took us a while to figure out we had to farm Grenache like Pinot Noir." He nailed it.
6. 2006 Cabot Kimberly's Vineyard Syrah, Humboldt county, a huge, powerful, intensely self-sufficient wine which John Cabot says was "a gift from the grape gods." It's like blueberry waffles with blackberry syrup, another breakfast of champions wine.
7. 2010 Dragonette Cellars Rose, Santa Ynez Valley, a summer love affair of 40% Grenache, 40% Mourvèdre and 20% Syrah. This whole cluster pressed paragon of pinkness is racy, lithe, texturally perfect watermelon and strawberry candy.
8. 2009 el Pape from Hug Cellars, made from 70% Grenache, 25% Mourvèdre and 5% Syrah. It oozes the juicy, free-flowing good intentions of Grenache, with the subtly conspiratorial undertones of mysterious Mourvèdre and the spicy jamminess of Syrah. So drinkably delicious, it takes your breath away.
9. 2001 Austin Hope Syrah, a beautiful blend of earthy chanterelles and magnificent meatiness, still available at $38, and only 14.5%, which from Paso, is considered restrained. In fact, this wine is both restrained and elegant in a way few Syrahs from this region achieve.
10. 2008 Venteux Vineyards Mourvèdre, from the Never Idle and Cass Vineyards of Paso Robles. Scott Stelzle, winemaker, coaxed spicy layers of violets and cherries out of this otherwise meaty and slightly earthy wine. Very impressive. Another tasty reason to say Merci Beaucoup to the vignerons and vineyardists of the Rhône Valley.