Arizona's First Viticulture Begins with Ancient Italian Varietal
Arizona is on the verge of becoming a serious wine destination. Actually, it already has become one. A recent visit to one of the growing number of tasting rooms in the Verde Valley of Northern Arizona (about 25 miles from Sedona), among them Javelina Leap, Arizona Stronghold, Alcantara, Page Springs Cellars Pillsbury Winery and Caduceus, turned up tasters from places like Tucson, Phoenix, Iowa, Kansas and Texas. Well-heeled young Texans have discovered that there is some truly great wine here and were seen paying Napa-style prices at Caduceus for some pretty righteous-tasting Rhones. At present, there are four wineries actively producing wines from estate grapes grown in the Verde Valley: Alcantara, Javelina Leap, Page Springs Cellars and Oak Creek Cellars.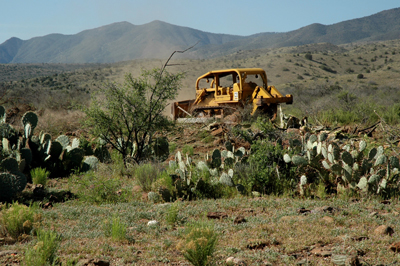 A bulldozer prepares to turn high desert cactus field into vineyards.
Much experimentation has taken place in this not very California-like climate for growing grapes. It's not the heat that throws down the gauntlet: it's the cold—and the altitude. As in New Mexico, Arizona's grape growers are having a wee bit more luck maintaining vineyard vigor and ekeing out a consistent crop in the southern part of the state. In Cochise County, east of Tucson, Arizona Stronghold, owned by Eric Glomski and Maynard Keenan, has the largest commercial plantings of vines in the state, with more acreage being planted.
But why do things the easy way when you can often pack many more lessons into an experiment by taking the higher, less traveled road? And so, Arizona's first viticulture program got its start in the north, at Yavapai College, in the shadow of Jerome and at the edge of the beautiful Verde Valley, which is as green as its name sounds, except in autumn, when it is positively golden with cottonwoods and, increasingly, the glow of fall-hued vineyards.
Tom Schumacher, executive dean of the Verde Valley Campus of Yavapai Community College, oversees the nascent viticulture program, which is among a few in the country. He notes that the program takes many cues, in the great tradition of "curriculum borrowing," from successful community college programs in Walla Walla and Yakima, Washington, and Alan Hancock, California. Encouraged by the extensive community interest in wine appreciation classes offered by the college, they moved forward with the viticulture curriculum, which received certification in October. Right from the start, says Schumacher, they've been able to fast-track the classes and look forward to an enrollment of nearly 60 students for the first official semester, which begins in January of 2011.
Arizona's inaugural viticulture program came about as a confluence of parallel interests in land stewardship and agricultural development. It began with a meeting of community leaders in the Cottonwood-Clarkdale area, held by the college to discuss the use and development of its 120 acres of local land holdings. Out of that meeting came three visions: one was agriculture-focused and incorporated the idea of vineyards and viticulture. It was this concept that took imaginative root.
Shortly thereafter, a visit by Dr. Robert Wample, professor and chair emeritus, Department of Viticulture and Enology 2000-2009, as well as director emeritus, Viticulture & Enology Research Center, 2000-2009, at Cal State Fresno, helped inspire the program to fruition. The visit was arranged by Jim Wallace, a head judge with the New World International Wine Competition, who spent many years in the wine industry in California before moving to Prescott, Arizona. Wallace contacted Paula Woolsey, who was then owner of the Verde Valley Wine Company in Cottonwood, to arrange winery appointments for Dr. Wample and included Schumacher of Yavapai College. Inspired by Dr. Wample, Schumacher began to lay the foundation of the program.
Excitement built when plans were put in place for an initial planting of Negro Amaro grapes in a 16-acre plot that will eventually sport many more varieties.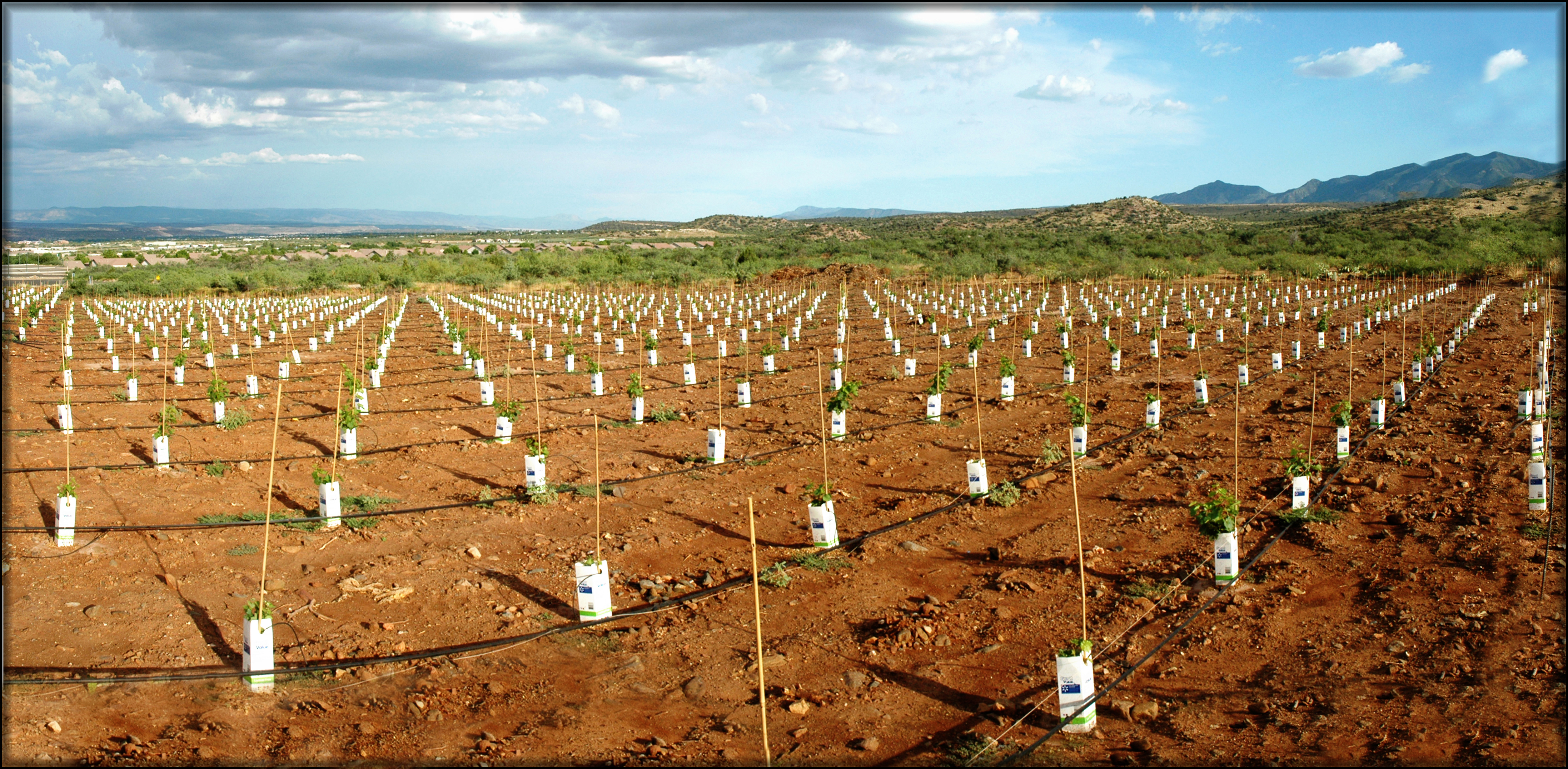 Panoramic view of the newly-planted Negro Amaro Vineyard at Yavapai Community College in Clarkdale, Arizona
In the summer of 2009, the initial one-acre test plot went into the ground with financial assistance and labor by Merkin Vineyards Green Management, which will assist the students in maintaining the new vines. The selection of Negro Amaro grapes, from the Puglia area of Italy, was chosen by Merkin because Clarkdale and Puglia (which is on the boot heel of Italy) both share a desert climate with similar soils. That notwithstanding, one wonders about the influence of altitude as Clarkdale is at 3,580 feet and Puglia, about 253 feet. Says Schumacher, "It is still amazing to me how they put dead-looking sticks into the ground and a year later, they had grown five feet and looked amazingly healthy! We will probably plant more of it, as well as Rhones, which seem to thrive here also."
Merkin Vineyards is one of Maynard Keenan's many ag-ventures: the front man of Tool fame has invested heavily in providing Arizona the tools it needs to become a serious wine-producing region. That he has put so many personal stakes in the ground with this nascent viticulture program by undertaking the initial vineyard planting shows his faith in the long-term future of the Arizona wine industry. This far, probably the most significant and successful tool in his chest is Eric Glomski, winemaker behind a number of the more prominent labels the state boasts. It's one thing to grow the right grapes: it's another to make decent wine from them. Many Arizona wineries are still working on that elusive combination.
Schumacher knows he has a big challenge on his hands to make this work with no public funding. "It would be unique," he admits, having just come from a meeting of area wineries and vineyards where they were asked for help in raising money to build a functional winery campus at Yavapai College. "We're asking for in-kind donations of equipment and expertise. We're essentially asking for RFPs for people who want to plant additional vines here at the college." He hopes some kind of quid pro quo arrangement can be made to work. Meanwhile, he notes that the University of Arizona is now talking about a viticulture program. "That's a feather in our cap," Schumacher says, noting that several people already drive 100 miles each way each week from Phoenix to take viticulture classes at his campus. "In my 30 years in higher education, I have never seen such a program move ahead so quickly, with such enthusiastic support."
He'll need that and more. Winemaker Eric Glomski thinks the viticulture program is a great idea and had just attended the meeting, which Schumacher had organized. "It's pretty exciting, and I honestly wonder if it is a too early (in the evolution of our state's wine industry development) to be building something of this nature. Don't get me wrong – I love the idea – and I have to wonder if there will be enough demand for the classes, and as importantly, jobs for those graduates. Tom Schumacher s certainly a visionary. He sees into the future, and there are vineyards all over the valley. I'd like to think he is right."
Time will tell if this vision fast-tracks into something as successful as the programs upon which it is modeled—and if a spate of Italianate wineries will follow in its wake: Alcantara has already begun the trend with an Italian-style B&B, event center and grand plans for what looks like an Italian village. Some day, you may be sipping Negro Amaro while rafting down the Verde River, dreaming of Puglia while you gaze at the Tuzigoot ruins and reflect on your recent pink Jeep tour of the red rock vortex of Sedona. There's a lot more to love about Arizona, especially since it got grapes.