Press Release: Abacela Syrah Is Southern Oregon's First 95-Point Wine
2005 South Face Reserve Scores with Wine Enthusiast
March 09, 2009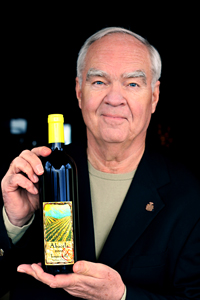 Earl Jones, proprietor of Abacela Vineyards
Roseburg, Ore. -- March 5, 2009 -- What was a self-described "tempranillo guy" doing when he planted a few select blocks of syrah in southern Oregon's Umpqua Valley? Simply trying to match another variety to his site climate in order to produce the best grapes and wine he could -- and it worked.
The April issue of Wine Enthusiast has awarded 95 points to Abacela's 2005 South Face Reserve Syrah and designated it an Editor's Choice. That syrah and two other Abacela wines are reviewed in the publication mailed today to subscribers. Reviews also will appear on Wine Enthusiast's website (www.winemag.com) beginning April 1.
95 points EDITORS CHOICE: Abacela 2005 South Face Reserve Syrah, $45
92 Abacela 2005 Estate Syrah, $30
91 Abacela 2006 Estate Tempranillo, $35.
In an historical perspective, 95-point wines are rare. An online examination of data from wines reviewed in the Wine Enthusiast and Wine Spectator revealed that together these two highly respected magazines have tasted approximately 10,000 Oregon wines of which they rated only 20 wines from just 12 Oregon wineries at 95 points or higher. None of the fruit for these wines was sourced, nor were any of the producing wineries located south of Oregon's famed Willamette Valley, known for world-class pinot noir.
"We're thrilled to have grown and made Southern Oregon's first 95-pointer," said Abacela proprietor Earl Jones. "The rocky, south-facing slopes represent 42 percent of our estate vineyards contribute greatly to wine quality."
Abacela (www.abacela.com) is a family-owned and operated vineyard and winery with more than 60 acres under cultivation and annual production exceeding 10,000 cases. Earl and Hilda Jones's names have always been closely linked to Iberian varietals such tempranillo, albariño, and garnacha. These wines and styles have earned the winery numerous regional, national and international awards. Some other varieties grown at Abacela, in addition to syrah, include malbec, dolcetto, and viognier.
"Obviously, this enhances the reputation of Oregon and establishes a new high watermark for southern Oregon," said Ted Farthing, executive director of the Oregon Wine Board. "The wines coming out of the Umpqua and Rogue AVAs just get better every year."
As a timely bonus, Wine and Spirits magazine recently recommended three additional 90+ point Abacela wines in its April issue, on sale March 10.
Abacela will hold a "95 Point Red Carpet Reception" exclusively for its wine club members and invited guests on March 14th. This celebration will take place in the first year barrel cellar where a Spanish guitarist will play while tuxedo-clad servers pour the reserve syrah and select other 90+ point wines all carefully paired with special tapas for the occasion.
In the early 1990s, the Joneses purchased 500 acres of rolling oak savannah in the Umpqua Valley and established the vineyard and winery. The name comes from the Spanish/Portuguese word abacelar, which means to plant a grapevine.