Water supplies come under scrutiny in British Columbia
An internal report drafted by Environment Canada a year ago and obtained by Canadian Press warns that climate change and population growth will drain Canada's water supplies. The warning is already being taken very seriously in the province of British Columbia where almost a third of the country's grapes are grown.

B.C.'s Ministry of Agriculture and Lands has started to look at water usage by sector to determine exactly how much is consumed for most every activity. The data will benchmark use before the province embarks on information campaigns and other efforts to make B.C. 33 percent more efficient in its water use by 2020. The province also wants 50 percent of new municipal water needs to be acquired through conservation by that same year.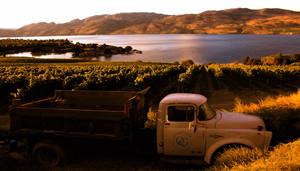 Quails' Gate converted to drip irrigation and is making other changes to use less water to produce wine and run its facilities.
"The water inventory will probably surprise quite a few people in terms of how little water vineyards and other agricultural enterprises use because of our emphasis on conservation," said Lisa Cameron, communications director of the British Columbia Wine Institute (BCWI). "In 2006, authorized agricultural water use was 0.17 percent of the water used in the province, and a vineyard uses about half of what an orchard does. The biggest use is for watering lawns."
Water availability varies significantly in different regions of a province about the size of France, Germany and the Netherlands combined. The Okanagan -- B.C.'s most prominent wine-producing region -- is also the driest area in Canada. Located about 185 miles from the Pacific Ocean, the long and narrow valley bordering Okanagan Lake extends almost 100 miles from the American border at 49 to 50 degrees north. Its southern area between Oliver, B.C. and the U.S. border is the northernmost tip of the Sonora Desert.
Its location within a rain shadow between the Coastal and Monashee mountain ranges means the region gets only an average of 21 inches of precipitation a year. Hot sunny days contribute to about 80 percent of this rainfall evaporating. Of the 20 percent remaining, about 70 percent is used for grapegrowing and other agriculture.
"About 15 percent of that amount is probably used to grow grapes," estimated Hans Buchler, who chairs the BC Grape Council. He sees Okanagan vineyards use between two and 20 inches of water annually to irrigate their vineyards depending on their location and soil conditions. "One vineyard manages not to irrigate at all," he said. "It's possible if the soil is heavier and located close enough to a water table."
In most cases, some irrigation is essential to grow grapes in the region's primarily coarse gravel soil.
"During an average year, there's enough water for everyone," Nelson Jatel, water stewardship director at the Okanagan Basin Water Board, told Wine Business Monthly. "The question is what should take place during a drought year."
Growers in Summerland (on the western side of the Okanagan Lake between Penticton and Kelowna) had their access to water cut off in 2003 when a major drought hit the area. The provincial Fisheries ministry used its overriding authority to prevent farmers from drawing water in order to preserve the region's fish and their habitat.
With climate change bringing about a greater likelihood of droughts, grapegrowers along with other stakeholders thought it was time to give water's future management a lot more serious thought. "It's really important to talk about some of these issues before we hit a drought year and the situation becomes dire," said Jatel.
Okanagan Sustainable Water Strategy
A stewardship council of 27 experts from various backgrounds volunteered to meet regularly for almost three years to explore the various issues regarding water supply and uses in the Okanagan region. "In some cases, there were specific questions that the Okanagan Basin Water Board referred to this council for advice," Jatel explained. "In other cases, the council identified issues that it wants the water board to consider."
The result is The Okanagan Sustainable Water Strategy that was presented to the water board at the end of October. The document identifies 45 actions to improve the management of the region's water resources. It also contains 12 principles designed to maintain the enviable quality of life that currently exists within the Okanagan.
One of those concepts proposes linking existing agricultural land with an equivalent water reserve. "It's to ensure there's water to supply land that is either currently farmed or has the potential to be farmed," Jatel said.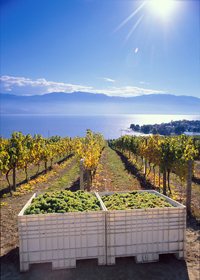 Quails' Gate converted to drip irrigation and is making other changes to use less water to produce wine and run its facilities.
Water is plentiful in the spring but much of it evaporates or flows all the way down to the States by August or September. To ensure adequate supplies, quite a lot is already stored in upper reservoirs. Recently the water board was asked to grant permission for the sale of land surrounding drinking water reserves. The council advised against this. "We don't know whether we'll need to raise the levels of those reservoirs over the next few years, especially with climate change and increased population," Jatel said.
The council also urges smart growth policies in terms of residential and other construction, especially if a proposed development reduces the region's ability to grow food in the future.
"We are recommending densification so that if you're going to develop a plot of land, it makes a lot of sense to build upwards," Jatel said. "Secondly, there are many steep slopes that aren't good for agricultural use that might be a better location for a home to be built."
The report suggests it might be time to reconsider the "first in time, first in right" licensing system that dates back to the 19th century. With the notable exception of the province being able to protect endangered species and habitat, the licensing system grants priority to whoever first obtained water rights (usually the earliest landowners) regardless of how they're going to use the water. The volume of water that can be used is also dictated by these licenses.
"We feel there has to be some thought to how the importance of water is weighted within the agricultural community," Jatel said. "For example, a grapegrower with 30-year-old vines should perhaps get priority water in a drought year over a hay farmer who has planted an annual crop even if the hay farmer has licensing priority because of the grapegrower's investment in infrastructure."
One idea is to establish some kind of marketplace that would enable a grapegrower, for example, to purchase the use of water from a hay farmer during a drought. "This would allow the hay farmer to be compensated for both the water use and the loss of any hay production that year."
"I think the document shows some leadership in terms of putting on the table what has value," Jatel said. "How's it's received by the agricultural community at the end of the day is what's absolutely critical in this process."
Buchler, who represents the BC Agriculture Council on the stewardship council, agreed. "The test will be in how many of the recommended actions are implemented and we know some of them will be very controversial," he said. "We have to get support from the user groups within the region, realizing it will be a bit of a struggle with some of the more traditional agriculturists probably being less than enthused by what we're recommending."
Living Water Smart Strategy
What the provincial government decides will also have bearing. Its Living Water Smart strategy contains similar language about the need to establish agricultural water reserves. It's also investigating how to regulate the use of groundwater, something that would fall under its jurisdiction. A major concern is people drawing groundwater faster than it naturally replenishes.
"The stewardship council is asking for groundwater wells to be licensed, which again will be controversial," said Buchler. "The stewardship council will have a big role to play to explain why we think our recommended actions are so important, but it will ultimately be up to the water board or the provincial government, depending on jurisdiction."
Throughout the province, vineyards are making a steady conversion to drip irrigation to slash this water consumption by 50 per cent on average. In fact, vineyards are among the 30 per cent of all agricultural water users in B.C. that have made the switch to drip irrigation over the past five years, according the B.C. Ministry of Agriculture and Land.
"Vineyards are converting, despite the major expense," said Cameron. "Some are doing sections of their vineyards as they can afford it."
Quails' Gate, near Kelowna, B.C., switched to drip irrigation even though it looks as if there's plenty of water for its 125-acre property along Lake Okanagan. "Our drip irrigation uses only 8 percent of the water that a conventional irrigation system would," said communications coordinator Lindsay Anders.
Last year Quails' Gate installed low-flow toilets in a new building containing its wine shop/tasting bar, private dining room and administrative offices. The winery has formed a "green team" to follow other recommendations made by a sustainability consultant. The process will result in less water and other resources being used to produce its annual 55,000 cases of wine and to run its other enterprises, including a restaurant already featuring locally grown food.
---------------------------------------------------------------
Wine Business Monthly is publishing a special in-depth report on water in its December issue. To read "The End of Cheap, Plentiful Water," subscribe by December 1 by clicking
here
.
by Julie Gedeon Julie Gedeon is a freelance writer based near Montreal, Quebec. She specializes in writing about wine, business and the environment.