Branding a Unique Vineyard: The Curious Case of Keknyelu
With continued fluctuations of global wine grape supplies and prices, there is a growing trend of branding vineyards as a means to differentiate grapes. Obviously there are some famous old examples, such as La Tache in Burgundy and To-Kolan in Napa, yet each year more vineyard owners search for ways to "name" their vineyard and provide a unique brand story. Common branding tactics
include a signature grape varietal, distinctive soils and climate, or special farming methods such as organic or biodynamic. These differentiators help to set them apart and thus begin the time-consuming process of creating a unique vineyard brand. However, one of the most unusual vineyards in the world is in Hungary with every right to be famous and revered, yet very few people know about it.
Just as there are endangered animal species in some countries, on the northern shores of Lake Balaton there resides a series of endangered vineyards totaling a mere 40 hectares (90 acres). Here in the Badacsony wine region of Hungary (2 hours SW of Budapest and 6 hours drive from the NE wine region of Tokay) is the only place in the world where the ancient Keknyelu grape is still grown and made into wine. What makes Keknyelu so rare is not only the unique white wine it produces, but because it is still cultivated in the ancient style with male and female grapevines.
Most grapevines today are hermaphrodites, meaning they are self-pollinating because they possess both male and female characteristics. Through centuries of cultivation the vines that exhibited hermaphrodite characteristics were selected for growing until, in most places in the world, they became the dominant vine. The ancient male and female vines were left behind because they were considered too much work to propagate.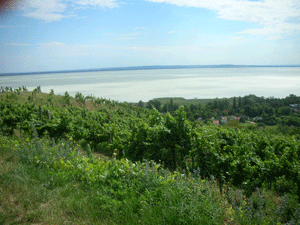 Keknyelu Vineyards with a view of Lake Balaton.
Photo by Liz Thach, 2007.
The Keknyelu vineyards take up twice the amount of land as other varietals -- since both grape sexes are needed. Furthermore, their yields tend to be lower and inconsistent because of the need for the vines to rely on the wind to pollinate. Because of this, many growers pulled out the Keknyelu grape for higher yielding modern varieties that provided better economic returns. Still there are these few rare hectares of vineyards which exist along the shores of Lake Balaton.
Visiting the vineyards is fascinating because you can see that every other row of vines is male or female. They rely on the soft winds that blow frequently in the late spring to spread the pollen between the rows. The female row of vines is actually called Keknyelu and the male row is Budai Zold. Wine can be made from both types of grapes, but the Budai Zold is usually only used for blending. The male vines have small loose clusters, where as the Keknyelu grapes have an unusual blue stem with tightly packed larger clusters of grapes.

The wine made from the Keknyelu grape is usually a pale straw color with a light aroma of spring flowers and young peaches. On the tongue it has a medium-bodied weight and is slightly reminiscent of Riesling with its faint petrol and mineral notes. However, its most amazing characteristic is a piercingly high acidity which rinses the palate clean and is quite refreshing. The Hungarians describe it as having a fiery taste. It is usually not oaked and has a medium-plus alcohol level of 12 to 13%. It pairs well with seafood, chicken, fish, and any cream or butter sauces that need a high acid wine to cleanse the palate between bites. Experts say it can last for up to 10 years in the bottle and grows in complexity.

Since Keknyelu is so rare, it is not inexpensive -- ranging from $20 to $30 a bottle. One of the major producers is Szeremley (www.szeremley.com) located in the small town of Badacsonytomaj. They have a tasting room that is open on the weekends and by appointment where you can taste Keknyelu along with other Hungarian wines.

So why is such a unique grape and its few ancient vineyards still relatively unknown? As the only wine grape in the world that has a sex life, it has a very strong branding differentiator, not to mention its endangered status which should cultivate favor with environmentalists.

Part of the answer lies in the difficulty of branding any product or service -- it takes time and positive promotion of the brand story. The other issue is that Hungarian wines are still struggling to regain their rightful place in the global wine market -- after years of Soviet rule. Even the majestic and royal Tokajis are not that well-known to those outside the avid wine enthusiast segment. According to the U.S. International Trade Commission, in 2006 Hungarian wine imports into the U.S. market were only 785,000 liters. This is quite small when compared to Italy's 228 million liters of imported wine in the same year.

Yet the potential for the Keknyelu vineyards to gain some recognition is strong. With more positive promotion, a chance to taste some of its unique wine, and perhaps a nickname that consumers can pronounce -- maybe "Keke" or even "Kinky?" - these amazing vineyards can obtain the recognition they deserve. As Robert Parker mentioned in his Wine Buyer's Guide - Hungary's potential for high-quality wine could be enormous because of their ancient vineyards and historic tradition of wine appreciation.

In summary, vineyard branding can take on many forms--and more attention should be focused on highlighting unique varietials, regions, and farming methods. This is especially timely given all of the ranting against "international" wine styles and the market dominance of a few varietals such as chardonnay and cabernet sauvignon. Indeed, this situation actually presents small producers with opportunities they wouldn't have otherwise.
by Liz Thach, Ph.D. Liz Thach, Ph.D. is a management and wine business professor at Sonoma State University in California. She recently visited the Keknyelu vineyards in Hungary. She can be reached at Lizthach@aol.com.