5,000 years of Jewish Wine Making
Since Biblical times, the use of wine to celebrate life has been an important part of Jewish traditions. Jews, too, have been a vital link in America, from the "discovery" of the New World in 1492, to America's War for Independence, and into the present age. It is no surprise, then, that Jews have also become an important link to the development of America's best known wine region, the Napa Valley.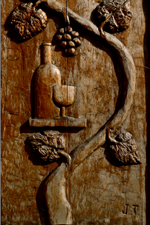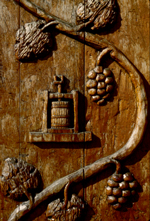 A scene from the Torah is carved on the wine cellar doors at Diamond Creek Vineyards. The Torah is the historic document God gave to Moses on Mt. Sinai, detailing the historic Covenant between God and the Jewish people. It is a key to the 5,000-year history of the Jewish people, a fact that Al Brounstein wanted to convey to his visitors.
There are over 36 premium wineries in the Napa Valley whose owners or winemakers boast a Jewish connection. Some are well-established icons such as Diamond Creek, Franciscan, Robert Mondavi, Silver Oak, and Spring Mountain, while others are more recent, i.e., Atlas Peak, Frank Family Vineyards, Rudd Winery, St. Supery, Clos Pegase, and Judd's Hill. Alpha & Omega opened in 2006, and recently, Bighorn Cellars. They range from small "virtuals" like Covenant-SoloRosa and CoHo, to the world's giant, Constellation.
This wine connection reaches back 5,000 years. It comes with an agricultural heritage that reflects the cultural and spiritual links that vineyards and wine have had on Judaism. "You ask about the Jewish connection to wine, absolutely," said Ernie Weir, a California native who has lived in Israel, and now makes both Kosher and non-Kosher premium wines at his Hagafen Cellars. "Even though our families often came from Eastern Europe, historically we're a Mediterranean people, and have been for thousands of years."
"Grapes were developed in Mesopotamia and the Middle East," Weir said. "Grapes grow everywhere--in stream beds, in gardens, on top of houses. They're used for shade and for food--from stuffing grape leaves, to oil from the seeds. We had been an agricultural people, but for thousands of years we were dispersed, so to speak--landless. When Israel came into being, we were rooted back to the soil again. That's given us a time for reflection--a new chance."
Jeff Morgan, cook, author and a vintner of Kosher wines called Covenant agrees: "We're very historically linked to wine and agriculture. It's there, in the Bible. Noah planted our first vineyards, and he was our first wine maker. Jews also like the art of the table, which is something that fits in well with wine."
Like Weir and Morgan, most of the Jewish vintners are relatively new to wine country, arriving well after the Germans, French and Italians. While not all of them fully share Weir's and Morgan's ardor, and many admit they originally came for social, environmental, and economic reasons, most agree they stay because of a growing attachment to the vine and its traditions. Most agree that the germinal link was established in their youth from the ceremonies in their Jewish life.
While only 2 percent of the population of Napa County is Jewish, whether by religion, parentage, or upbringing, over 8 percent of the wineries have that tie. And of the 2,600 plus people in that small percentage, many work in wine-related fields, such as marketing, restaurants and wine publicity.
Harvey Posert, St. Helena author, vintner and publicist, sees the Jewish connection to wine as a practical and cultural one as well as religious: "When Italian and Jewish immigrants came to America in the late 1800s, they also brought the culture of wine to America, as the Germans and the French did earlier. The Italians were clearly the major wine makers in California from early in the century due to their culture and religion. The Jews were also involved in wine, and for similar reasons, but more so back east where they established wineries even in New York City. The wines were sweet, Kosher-style wines, made from local concord grapes."
That early association with sweet, sometimes mediocre, wines was due to historical circumstances, and the Jewish winemakers in the Napa Valley are clearly changing that image.
"I think we're here, in part, to overcome the Diaspora of the Jews," Morgan said. "As a wandering and landless people for 2,000 years, we didn't have the land to make fine wines, but wine making was always part of being a Jew. We needed wine for our ceremony, and so had to make it with whatever we could find. And a lot of the Kosher wines were pretty awful."
He added: "I guess we developed cellar blindness. A lot of Jews just got used to it, but those wines were nails in the coffin. Making wine was more a drudge and a duty than a joy. We as a culture shot ourselves in the foot and gave Jewish wine a bad name. But with the arrival of Israel, we're having our renaissance."
The Romans, who have been credited with spreading the grape vine and its exceptional beverage, ironically, were responsible for denying this production to Jewish believers. Because of on-going rebellion in Jerusalem, in 70AD the Emperor Titus crushed the Jews. He destroyed their Second Temple (leaving only its Western -Wailing-Wall), and executed, enslaved or exiled any remaining Jews.
Banned from their homeland, they were forced to find other lands and economic means to survive. Some, Sephardi Jews migrated to Spain and Portugal and maintained their agricultural base for 700 years during Moorish rule. With the re-conquest by Spain and the law of 1492 which banned Jewry, the Sephardi had to either disavow their beliefs, or move on, often to the urban centers of northern and eastern Europe.
Grape growing and winemaking for Jews in Palestine did not begin its rebirth until the mid-19th century. In 1860, Sir Moses Montefiore, an English philanthropist of Jewish-Italian heritage provided the first funds to purchase and build a Jewish community in western Jerusalem. Then, in 1882, Baron Edmond de Rothschild of Chateau Lafite contributed 60 million gold francs to develop vineyards and viticulture programs in the Holy Land. The new state of Israel and prize vineyard land in the Golan Heights have brought Jews full circle to their historic legacy, and a rediscovery of the Vitis Vinifera.
Early in the 20th century in America, most Jews settled in urban centers. Some did head west during the Gold Rush-era, and a few found their way to Napa. In 1882, a Jewish vintner named Frederick Rosenbaum planted a 16-acre vineyard north of St. Helena. It is now the St. Clement winery.
In the 1940s, Hans Kornblum (later changed to Kornell), a Dachau survivor, was another settler to the Napa Valley. He bought the old Larkmead Winery (now Frank Family) and become a vintner of sparkling wines.
In the 1960s, Al Brounstein of Diamond Creek was especially instrumental in the rebirth of Jewish premium wine making in the North Coast. A wine country icon, he was a forerunner of terroir, with his focus on a single varietal wine, Cabernet Sauvignon. Brounstein even went beyond single-vineyard designations, carving his acreage to specific soils, microclimates, and even to vintages within his vineyards. On exceptional years, for example, he produced a selected bottling from a plot a mere three-quarters-of an acre in size.
"Al was always very secure about his wines and what he wanted to do," Adelle "Boots" Brounstein said about her late husband. She said it was after a trip to Bordeaux that wine became his passion. "He took wine classes at UCLA, even studied French. When people told him the Napa Valley was the place to plant Cabernet, he came here. He had a successful business in Los Angeles, but decided that making wine was what he wanted to do--sell his business and come here. He loved it. While the formality of religion wasn't important to him, he was very proud to be Jewish. There was never a question of hiding it. It was his idea to put the Torah on the doors of our winery."
Boots' son, Phil Ross, who virtually grew up at Diamond Creek, added, "Al wasn't overly religious, but he studied Hebrew and read from the Torah. He Bar Mitzfahed just a month before he passed away."
More recently Richard and Robert Sands have become a giant connection in Napa. They are better known for their ownership of Constellation brands, the world's largest winery, which now includes the legendary Robert Mondavi winery and Franciscan in Rutherford, and the newly acquired Atlas Peak Winery. Their great grandfather was Elias Sandomirsky, a Jewish merchant who emigrated from Russia in 1903 with his eight sons.
It was at Ellis Island where the family name was truncated to Sands. Their grandfather, Mordecai (Max), distributed bottles to wineries in the thirties. When his son, Marvin mustered out of the navy following World War II, Max urged him to purchase the Canandaigua winery in New York's wine country.
According to company spokesman, Mike Martin, its original offering and grand money maker was a sweet, Catawba-based wine, called Richard's Wild Irish Rose, and was named after Marvin's first son, who is now chairman of the company. From these small beginnings, the company has expanded to include other world known wineries beyond Napa, such as Buena Vista, Clos du Bois, Geyser Peak, Kim Crawford, Ravenswood, Ruffino and Simi.
According to Art Finkelstein, owner of Judd's Hill, the Jewish vintners are, themselves, surprised at their number, and have formed a wine group. "The genesis came when we realized that we were not just a handful of winemakers here, but we had much more. We had people growing grapes, making and marketing wine, that were Jews and proud to be Jews," Finkelstein said. "And from that realization came an organization to bring the group together and to help others in the valley as well."
Last year the group initiated an event called L'Chaim To Life, which allows these vintners to celebrate their Jewish roots and to join together with non-Jews to raise funds for Napa Valley charities. Last year, the event honored Boots and Al Brounstein for their pioneering efforts. This year the honor was given to Finkelstein. The award is now called the "Al Brounstein Meritorious Service Award."
The event includes a fund-raiser to help Jewish and non-sectarian agencies in the Valley, such as the Jewish Historical Society of Napa, the Table, which feeds the hungry in the county, and the Boys and Girls clubs of Napa Valley, and others.
Whether they are Orthodox, Reformed, or Conservative, devout, apostate, or shades in between, the grape is what keeps these Jewish vintners connected.
"How much of my choices in life have to do with my religion, is a difficult question," said Daniel Baron, winemaker at Silver Oak. "In my case, Silver Oak is owned by a Catholic family with the same integral concerns about making great wine that I have. The same ethical values that are present in Jewish culture we've always had at Silver Oak. Wine is an ecumenical collaboration. It has a true unifying effect."
Weir added: "We have a principle in Judaism that we hope to adhere to and follow. We call it Tikkun Olam. That's the translation from the Hebrew. In English it would be translated as "Repairing the World." That pretty much says why you find jews in the forefront of charitable and volunteer organization. Like many other groups, we have this mandate and calling, to not just sit on your butt, but to help others."
For these vintners, the goal now is to not just exercise their historic right to make wine, but to make great wines from great grapes-- to move away from the traditional, sugar-laced, concord-style wines, and focus on ultra-premium vinifera grapes. The vine which actually originated in their historical homeland.
The Jewish Winery connection in the Napa Valley:
Alpha & Omega Winery
Anomaly Vineyards
Atlas Peak
Bighorn Cellars
Calix Wines
Cartlidge & Browne
Chateau Potelle Winery
Cliff Lede Vineyards
CoHo Wines
Clos Pegase Winery
Covenant-SoloRosa Wines
Diamond Creek Vineyards
Don Ernesto Vineyards
Emilio's Terrace
Fort Ross Vineyards
Franciscan
Frank Family Vineyards
Gemstone Wines
Hall Wines
Hagafen Cellars
Herzog Wine Cellars
Honig Vineyard and Winery
Howell at the Moon Vineyards
JC Cellars
Judd's Hill
Krupp Brothers Estate
Match Vineyards
Matthiasons Vineyards
Mendelson Vineyards
Prix Vineyards
Reverie on Diamond Mountain
Robert Mondavi Winery
Rudd Vineyards and Winery
Ruston Family Vineyards
Silver Oak Cellars
Spring Mountain Vineyards
Z-Mor Wines