Light Brown Apple Moth, a New Grape Pest Threat, Arrives in California
The California Department of Food & Agriculture (CDFA) and the US Department of Agriculture (USDA) are working jointly to control a new invasive pest threat to grapes and other commercial crops--the light brown apple moth (LBAM). The first confirmed detection of the LBAM in the US was in February in Alameda County. Since then, 611 moths have been confirmed as LBAM in an area ranging from Prunedale in Monterey County to San Rafael in Marin County. Infested counties include Alameda, Contra Costa, San Francisco, Marin, and Santa Clara. CDFA quarantined a 182 sq. mi. area April 20, affecting nurseries and movements of plant materials, that is expected to be expanded with more recent finds in San Mateo, Santa Cruz, and Monterey Counties. CDFA reported the highest number of finds in Santa Cruz County near Soquel with 399 as of April 24, followed by Alameda County with 100.

LBAM is a leafrolling insect that is native to Australia where it is a major winegrape pest. It is also now found in New Zealand, New Caledonia, the United Kingdom, and Hawaii. It is believed to have been brought into California on infested plant material by private passengers on airlines. To date, the pest has been found in urban landscaping, but not in commercial ag crops. LBAM (Epiphyas postvittana) is in the same family as the omnivorous leafroller and the coddling moth. Adult moths are light brown or yellowish with varying amounts of darker brown with a wingspan of 16-25 mm. The adults deposit 20 to 50 pale white eggs slightly overlapping in masses on leaf surfaces, or fruit, or in the case of grapes, within clusters. Larvae are green and reach about 18 mm long at maturity. The larvae disperse and construct silken structures, often on the undersides of leaves. Older larvae can roll together leaves, buds or fruit with webbing. Pupae are brown and about 11 mm long.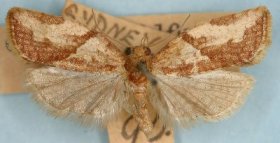 The pest is known to have 250 plant hosts including ornamental plants, oak trees, stone fruit, apples, pears, citrus, and grapes. In grapes and other fruits, damage occurs when larvae feed on the fruit and open it to other infection. The pest can also destroy, stunt or deform young seedlings of host plants.

Members of CDFA's Pierce's Disease (PD)/Glassy-Winged Sharpshooter (GWSS) Board and PD Advisory Task Force were briefed about LBAM activities at a meeting April 23 by CDFA's PD program statewide coordinator Bob Wynn. "The goal is complete eradication over time of this insect," Wynn said. This would probably require at least 3 to 5 years using a combination of chemical treatments, mating disruption, and perhaps parasitoids. The USDA has provided $1 million for control efforts through June, and requests are in for additional funding. USDA is currently responsible for identifying the moth to confirm infestations, but expertise is still not available to identify it by larval stage. The placement of pheremone traps that attract male LBAMs is being piggybacked with CDFA's GWSS trapping program, with the traps placed in nurseries and other locations at the same time that GWSS traps are checked and replaced.
More information on the LBAM, and updates on quarantine areas, can be found on the CDFA website.