2007 Texas Wine and Grape Growers Association Conference Highlights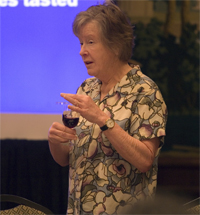 Dr. Ann Noble (Professor Emeritus - UC Davic) speaks at her sensory evaluation seminar.
The Texas Wine and Grape Growers Association concluded its annual conference last weekend in Houston, Texas. The 2007 programs and speakers focused on the fledgling Texas wine industry's tremendous growth. A key ingredient, according to Texas Agricultural Commissioner Todd Staples, "has been the industry's willingness to partner for progress, and by sharing resources they have not only improved the industry but have created new opportunities as well."
The numbers alone prove this point, as Texas Wine Industry revenues have already surpassed the $1 billion dollar mark. Key note speaker Barbara Insel, of IKF Research in St. Helena, California, presented an economic impact study that was commissioned by the wine and grape industry. This study addressed all aspects of winery activity, from the dollars generated by grape and wine production to the "Implan Models," or ripple effects, both direct and indirect, that are generated by the industry. These would include wages paid for support industries, now totaling 8,000 jobs, and revenue generated by tourism and restaurants. Texas is currently fifth in the nation for grape and wine production.
This rapid growth is evidenced by the fact that 56 new wineries have opened their doors since 2004 alone, bringing the total for the state to 133. The precedent set by Texas, however, is the ability to work closely with all levels of local and state officials that oversee the industry. Examples of this cooperation vary from liberalizing restrictive liquor laws to working with the state highway department to create a "Tourist Oriented Directional Signage program" (TODS) that directs travelers to wine trails throughout the states eight AVAs. At the same time, the grape association is being highly proactive by investing their dollars and time into state educational programs to promoting research and training.
This was apparent at the State of the Industry address held on Friday that featured speakers from Texas Tech University, Texas A & M and Grayson Community College, all of which continue to expand their enology programs to develop the next generation of growers, managers and winemakers. According to incoming association president Neil Newsom, "We are Republicans and Democrats during the elections." Jokingly he added, "Once that is over, it is more important which school you went to." The ability to work together is paying off, and according to Insel, "The future for Texas wine is bright, particularly with the increased wine awareness of all ages of consumers, the increasing statewide distribution in larger retail outlets, and particularly the emerging "echo-boomers." If there is anything to limit the growth it will be the availability of Texas grapes.
Simply put, the 220 family-owned vineyards are already incapable of keeping pace with the demand for wine. Aside from the problems growers face with difficult Texas weather, the other issue is developing vineyards fast enough. Estimates suggest that Texas has only half the vineyards needed to support demand. Dr. Ed Hellmann of the Texas Cooperative Extension Service at Texas Tech is addressing this problem and showcased an interactive Geographic Information System (GIS) designed to assist growers in both establishing and maintaining vineyards.
"The GIS will help characterize the different AVAs in Texas and aid in the development of new areas in the future," said Hellmann. Overlaying information grids focus on soils, elevations, mean temperatures, rain and frost. Hellmann said that models are in progress to include profiles for hail, water availability and even PD (Pierces' Disease).
During the conference, Dr. Ann Noble, Professor Emeritus, University of California at Davis conducted two-hour sensory evaluation sessions on each of the three days of the conference. She focused on top defects in commercial wines and taught participants how to identify them. In addition, she emphasized the importance of proper tasting environments, and even lighting, when establishing and administering guidelines for accurate wine sensory evaluation.
According to Association Director Dacota Julson, the 2008 conference will again be in February and will be returning to Austin, Texas.