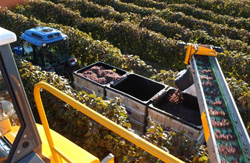 Photo by Randall Tagg Photography
Harvest is starting to wind down in New York, with the exception of some late-season red varieties, as well as grapes left hanging for late harvest and icewine. No wine grapes will be left hanging by the end of harvest, however, as New York is recovering from a shortage caused by two consecutive small crops in 2005 and 2004 due to winter freezes and hurricane rains.
The latest estimate for New York's total grape crop (juice and wine) is about 154,000 tons, down from 178,000 last year, according to Jim Trezise, president of the New York Wine & Grape Foundation. "But that's a bit deceiving," Trezise said. "Last year the wine grape crop was down about 30 percent from normal, while juice grapes were up. This year juice grapes are way down due to April frosts, and wine grapes are up to an average or above level, which we need because demand is skyrocketing and inventories are low."
The quality of the harvest varies by region and variety. The Lake Erie region (with 95 percent Concord grapes used for grape juice) has had a challenging year in terms of adequate ripening and crop size, which was small due to late spring frost. September hurricane-spawned rains caused some problems in the Hudson Valley, but the harvest was acceptable to excellent depending on variety and location.
Finger Lakes had a fine weather year leading up to harvest, when the weather turned variable with more rain than desired. "Some early ripening varieties had to be brought in prematurely, but the "signature" grape (Riesling) overall looks superb, as does Cabernet Franc (the red "signature") and most Pinot Noir," said Trezise.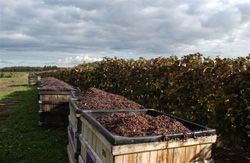 Grapes from the Lake Erie region.
Photo by Randall Tagg Photography
The quality on Long Island has been good to great, with white wines in the tank and reds wrapping up harvest, according to Steve Bate, executive director of the Long Island Wine Council. "Most vineyards are reporting average yields, between 1.5 and 3 tons per acre, with very good quality," he said. "Careful vineyard management throughout the year was considered key to a successful harvest. Most vineyards reported that extensive hand-picking and sorting was used this year to select the best fruit for their premium wines."
According to Trezise, a major issue this year in New York has been the crackdown on migrant labor, causing severe problems for many growers and wineries. "While New York is a tiny wine state compared with California, we rely heavily on skilled migrant workers for many aspects of vineyard work, and ICE's (Immigration and Customs Enforcement) activities have had a chilling effect," he said. "It is quite possible that this will sway many vineyard and winery owners to vote and work against public officials opposed to immigration reform regardless of their party affiliation."
This report is part of a series of harvest wrap-ups from different wine regions around the country and Canada. For upcoming 2006 harvest updates, visit the Daily News section at winebusiness.com/news. Past 2006 harvest updates include: Sonoma, Mendocino, Lake County, Alexander Valley/Marin/El Dorado, Paso Robles, Oregon/Washington/British Columbia and Texas.