Lookout Ridge Winery Takes Cult Wine to Another Level
October 16, 2006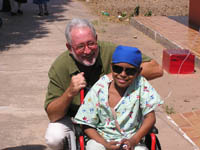 Gordon Holmes with a Bolivian youth after receiving his wheelchair gift.
Gordon Holmes
, publisher of
Research Magazine
and
Buyside Magazine
, achieved a dream with
Lookout Ridge Winery
. Now, Holmes is helping others dream with his
Wine for Wheels
program. For each case someone buys of his Lookout Ridge wine, Gordon Holmes donates a wheelchair, in the buyer's name, to a person in need.
Holmes sold his investment magazines and purchased a perfect spot for a winery, high on a mountainside on the divide between Napa and Sonoma where he planted a vineyard and started making his wines.
Around the time he started the winery, Holmes' wife Kari was diagnosed with Multiple Sclerosis. Eventually, she needed a wheelchair to get around. While attending a wine event, Holmes met Ken Behring, a Northern California philanthropist who gives free wheelchairs to impoverished, impaired people in poor countries around the world.
Seeing how a wheelchair impacted his wife's life, Holmes made a decision: As long as he owned Lookout Ridge, he would donate a wheelchair in the name of every person who purchased a case of Lookout Ridge wine. People who order a case of wine are sent a picture of the child receiving the wheelchair.
"There are several wineries doing wonderful charity work, raising money for various foundations and such," says Holmes. "This is more of a one-on-one approach, and it is extraordinarily rewarding when you provide life-changing mobility to someone."
Lookout Ridge emerged on the wine scene in 2000. The winery sports two high-profile winemakers: Greg La Follette, named one of the "five best Pinot Noir winemakers in the world" by Robert Parker, and Marco DiGiuolio, founding winemaker for Lokoya. Lookout Ridge wines have received considerable acclaim, including best Sangiovese of California, 90 point scores for its Chardonnay, and not only was Lookout Ridge named The Next Generation Cult Wine, but its Pinot Noir was the only one to receive the cult wine award.
Each year only a limited number of Lookout Ridge wines are produced. Wines are available exclusively via a mailing list (see www.lookoutridge.com).