Wine Industry Executives Positive About Future, With 85 Percent Projecting Revenue Growth in 2022
This week many of the top wine industry executives meet in Napa Valley for the Annual Wine Industry Financial Symposium. Though the industry has been wracked by wildfires, tasting room shut-downs, and supply and labor shortages over the past 2 years, a large percentage of executives are positive about the future. Results from the annual SSU/WBM Wine Executive Survey are in, and 85% of executives project revenue growth in the next 12 months.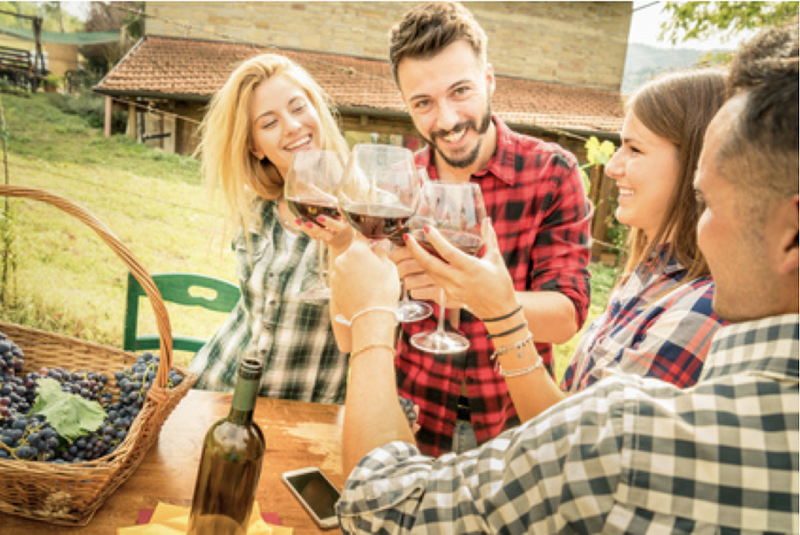 About the Survey and Executive Sample
The annual survey is managed by faculty and staff at Sonoma State University's Wine Business Institute, in partnership with Wine Business Monthly. The survey was distributed in October 2021, and 270 wine executives completed it – the largest response rate to date. Of that number, 55% were CEOs, 20% General Managers, and 25% other C-Suite executives. 67% were in charge of a winery and vineyard operation, 23% a winery only, and 10% from other wine businesses. Case production ranged from 1,000 to over 1 million, with 64% reporting they produce less than 10,000 cases; 29% between 11,000 – 500,000 cases, and 5% over half a million cases. Revenues ranged from half a million to over $50 million, with the most commonly reported revenue range of $1 to $5 million at 36% of the sample. In terms of location, 67% of the sample were from California, 9% Washington State, 5% Oregon, with the remainder from other locations.
Positive and Negative Impacts on Revenues for Wine Industry
When asked about positive forces enhancing revenues, the number one factor identified by 31% of the respondent was increased management of DTC/Consumer relationships. This was followed by digital marketing efforts at 18%, and new products and positive press, tied at 15%. On the flip side, negative forces included labor cost and availability as the number one issue (25%), followed by regulations (13%), wholesale consolidation (11%), and competition (11%). Table 1 illustrates major factors identified in the survey.
Table 1: Positive and Negative Factors Impacting Wine Industry Revenue in 2021

Other positive factors impacting revenues included price increases and new customer experiences at the winery estate. Additional negative factors included brand proliferation, decreased 3-tier sales, and global supply chain issues. One executive reported, ""I can see the glass out there on the water. Can't we send a boat out there to pick it up?"
Wine and Grape Supply Shortage Looming
Not only did wine executives report they were having trouble obtaining supplies to produce and bottle their wine, due to the currently supply chain issue, but there is also looming concern over a shortage of grape and wine supply. Only 61% reported they were balanced with it came to inventory such as case goods in distribution and for DTC, whereas 16% said they were short. Likewise, with the grape supply situation, 42% of executives reported they were short in grape supply and 32% short in wine in tank and barrel. Part of this was due to the loss of grapes and wine from the 2020 wildfires, but also because of smaller 2021 grape crop in some regions.
Managing Disaster Preparedness and Labor Shortages
When asked how prepared they felt to tackle the next disaster, such as fire, drought, and earthquake, only 20% of executives reported that they felt confident in their degree of preparedness. However, 35% said they felt better prepared than many, 36% reported somewhat prepared, and 9% admitted they had a long way to go.
Labor shortages were another issue, but many executives reported a variety of solutions they are implementing to address the situation. Most common was increasing compensation at 81% of the sample; followed by enhancing employee wellness/company culture at 63%; and increasing mechanization and other technology solutions at 53%. A smaller percentage of the sample (36%), reported they were implementing diversity and inclusion programs to help address labor shortages.
A Continued Focus on New Consumers and Products
Nearly 40% of the wine executives said they are pursuing specific initiatives that target Millennials and Gen Z, ages 21 to 40. There is also continued growth in new product development, including line extensions and new brands. The most common appear to be rosé at 47% of the respondents and sparkling wine at 19% – both double digit growth categories in the US, according to Nielsen. In addition, 14% of the executives reported they are producing low alcohol/low calorie wines and another 14% said they are launching wine cocktails/flavored wine.
About Sonoma State University Wine Business Institute
The Wine Business Institute serves as an intellectual and industry center for faculty, students, and the business community. Founded in 1996 as a partnership between the wine industry and the School of Business and Economics at Sonoma State University, the WBI provides cutting-edge research that informs industry best practices and program curriculum. The WBI offers online and in-person wine-focused degrees and industry certifications. For more information about our degree and certificate programs or our wine business research, please contact us at winebiz@sonoma.edu, or visit https://sbe.sonoma.edu/winebiz. For more on the 25th Anniversary visit: https://wbi25.sonoma.edu/