DTC Shipment Value up 15% to nearly $360 million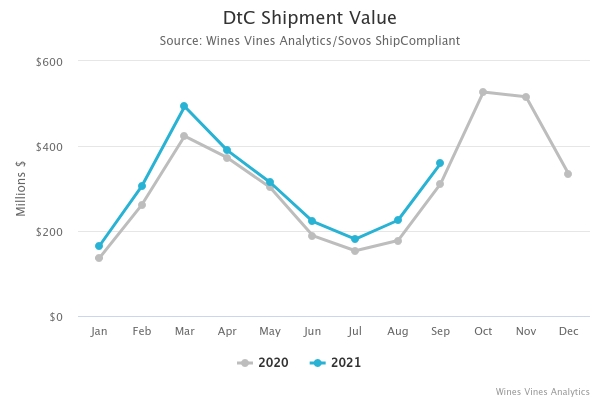 Total winery direct-to-consumer (DTC) shipment value rose 15% versus a year ago in September to more than $359 million, Wines Vines Analytics/Sovos ShipCompliant reported.
Shipment volume in September was up 5% to more than 710,000 9L cases and the strong increase in shipment value relative to cases lifted the average bottle price of shipments 10% more than at the same time last year to $42.14.
The latest DTC data is one of the regular Wine Industry Metrics reported each month in the Wine Analytics Report. The October issue, which was released Oct. 15, is focused on DTC and includes additional data on shipments by winery region, destination state, shipments compared to tasting room carryout sales and other data on the channel estimated to surpass $4 billion this year.
In terms of what was shipped DTC, three varietals held 59% of the channel by value: Cabernet Sauvignon led, with shipments worth nearly $1.1 billion, followed by red blends at $644 million and Pinot Noir at $639 million. With respect to growth versus a year ago, the numbers point to the resurgence of sparkling wines as the pandemic ebbs as well as the enduring popularity of red blends. Sparkling wine shipments rose 38% by value to $126.5 million in the latest 12 months while red blends were the second fastest-growing wine type with 16% growth.
But if red blends logged the greatest growth in overall dollars, Cabernet Sauvignon logged the greatest increase in terms of case volumes. The sheer amount of Cabernet shipped meant that its 9% increase translated into an additional 105,261 cases shipped, firmly above gains made by sparkling wines (up 32% by volume, or 82,595 cases), Pinot Noir (up 8% or 92,227 cases) and red blends (up 7% by volume, or 80,161 cases).
Other metrics include total U.S. wine sales, which were up 10% in the past 12 months according to market research firm bw166. The recent increase in sales helped lift the entire U.S. wine market 14% to $77.1 billion.
Off-premise sales, as tracked by NielsenIQ, approached $878 million in the four weeks ended Sept. 11, down 8% versus a year ago. Volume fell 12% to 8.8 million cases. The declines were consistent with previous months, suggesting that consumption patterns have stabilized versus a year ago while remaining comfortably above 2019 totals. Declines occurred in sales of both table wines (down more than 8%) and sparkling wines (down 6%).
CGA Strategy reported that on-premise wine sales in the 52 weeks ended Aug. 14 were just 15% off where they were a year ago, totaling $10.8 billion. The top performer was the sparkling wine category, down just 10% versus a 16% decline in still wine sales. The rebound in domestic wines, which account for 63% of channel value, has also been slightly weaker than imports.
Winejobs.com's Winery Job Index stood at 392 in September, up 129% versus a year ago. Strong demand for DTC roles, including tasting room and retail staff, as well as general administrative staff underpinned the index while vineyard labor saw the strongest overall growth in demand at 300% off a low base.
The Wine Analytics Report is a monthly, digital report on the U.S. wine industry produced by the editorial team at Wines Vines Analytics and based on information from proprietary databases and data supplied by partner research firms. The report and Wines Vines Analytics are part of the Wine Communications Group that also publishes Wine Business Monthly.