Wine Industry Salary Survey Report Shows Average Salaries Up Just 0.5 Percent from 2020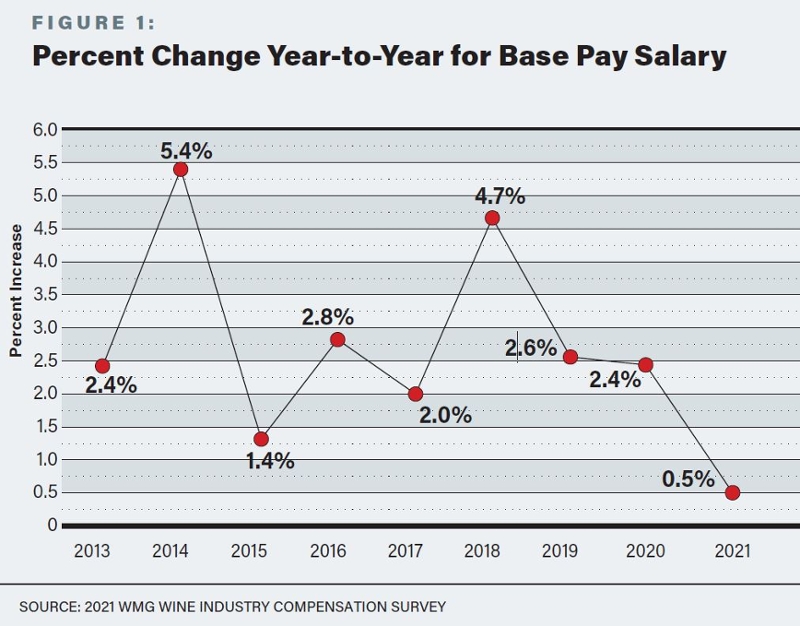 The hiring market has been on a roller coaster ride over the last two years, and it doesn't look like that will stop. It seems like a lifetime ago that employers had their pick of the best applicants and national unemployment levels were at a 50-year low, even though that was the case just as recently as January 2020. Obviously, times and circumstances have changed. Ask nearly any wine industry executive what the biggest challenge in 2021 has been, and you'll most likely hear that filling vacant positions has been a thorn in their sides.
Fluctuations in the labor market are nothing new. Like many other aspects of life and business, hiring and salaries rise and fall in reaction to any number of market forces. During these changes, the Wine Business Monthly/Western Management Group Salary Survey Report tracks base salaries in the wine industry across several positions.
When we reported the 2020 numbers—seven months into the pandemic—the results came with quite a large caveat: the data was collected in February 2020, a month before the COVID-induced economic shutdown. It was difficult to look at the 2.4 percent increase to wine industry salaries as representative of what was happening in the market when the news was flooded with massive layoffs, paycheck protection business loans, and few, if any, open positions.
Today, everything is the exact opposite, and the latest Salary Survey results more accurately reflect the effects the pandemic on salaries. This is the first year that we're seeing a full COVID year of data, and it is just one way to demonstrate the current difficulties in the labor market.
Average base salaries for wine industry positions increased 0.5 percent in 2021, as compared to 2020. This is the smallest growth seen since 2015, when base salaries were up just 1.4 percent—over the years, the average base pay increases ranged from 2 to 5.4 percent.
The minimal increase to salaries is not entirely unexpected in such an environment. Wineries lost on-premise revenue streams, and while direct-to-consumer sales made up for some of the deficit, it wasn't always enough. Cash flow and operational costs became priorities number one and two—and raises weren't exactly forthcoming when staffing cuts had occurred just a few months before.
Now, the applicant has all the power.
Despite high unemployment rates, wineries are struggling to fill open positions. To attract talent, slightly higher salaries, signing bonuses and other perks are being offered. Recruiters have their hands full trying to bring in new applicants from other areas of the hospitality industry. It's up to them to convince potential employees that pay is competitive, wineries are taking COVID seriously and that there will be job security—specifically: no more potential layoffs.
But as Amy Gardner, president at Wine Talent, said, hiring in the last year has focused more on the whole package and not just base salary.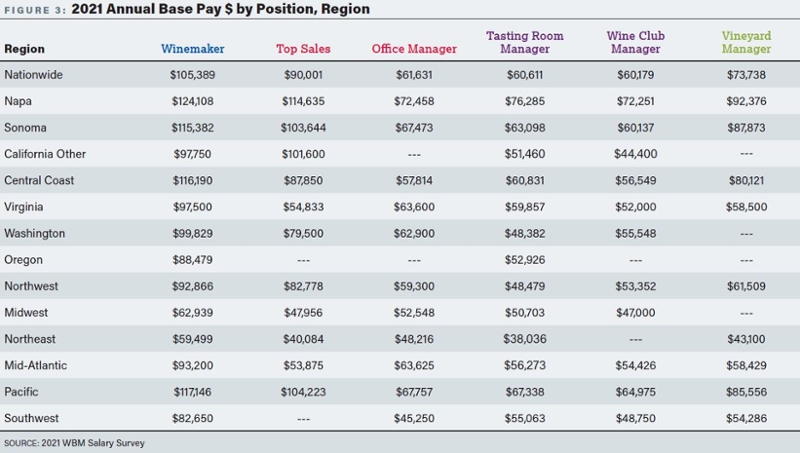 Other "Perks" Weigh More Than Salary
"People are more willing to talk about the whole aspect of a job or compensation versus just base salary, perks and what are they taking home," Gardner said. "More and more, people are looking for the company that they want to work at."
She added that employees are quitting in record numbers, leaving current positions to find a company that aligns more with their values or even to strike out on their own. "Employees are disgruntled, unhappy and are ready to find something else," Gardner said.
"COVID exacerbated it. You had companies that didn't have good leadership, weren't forward thinking and if you were someone who was, you might have chafed at some of the rules," she added. "Employee safety was a big part of why they were disgruntled. People don't want to work at a company where employers don't take care of them."
It seems that the effects of COVID-19, particularly on work-life balance, have reverberated around the industry and have taken hold within many positions. At Sokol Blosser Winery, director of human resources Julie Bensel has taken note of what her colleagues have asked for. She and company leaders decided to leave working from home policies in place, based on feedback.
"Working from home for our office staff was the other piece of the puzzle that became a work perk and that's one of the reasons we decided to leave that in place," she said. "If they really enjoyed that work-life balance, and we were saying, 'Okay, everybody come back into the office now,' we risk them saying, 'I've enjoyed this too much. This has become something that's very important to me and now I need to find a job where I can keep this. And I'm willing to take a lower salary to do that.'"
This is all part of a greater trend toward balance, reliability, and growth at work. "We rolled out a program called LifeXT—basically a business life coach—to our managers," said Bensel. "They have individual coaching sessions to help them deal with everything that's going on right now. There's a lot going on that makes it hard for them to keep positive. Those aren't always times they want to come talk to HR, so it's great for us to be able to provide that for them."
It's easy to offer these kinds of perks to office workers, but a bit more difficult to build in flexibility for positions in the vineyard, cellar and tasting room. Though not impossible, Gardner has seen that those who are looking for these types of positions want to know that they will be able to pay the bills. It's because of this that she's been able to make more top level placements for wine companies in the Pacific Northwest.
"It's the price of living, it's a lot more affordable," she said, adding wildfire fears have compounded the issue. "There's still that fear of fire but at least you have better quality of life, possibility where the cost of living is a constant."
To continue reading the rest of the survey report, check out the october 2021 issue of Wine Business Monthly at winebusiness.com/wbm. The issue is free to read with your Wine Business account.
by Erin Kirschenmann
Erin Kirschenmann is the managing editor for Wine Business Monthly and has been with the company since 2012. In addition to production responsibilities for the monthly trade magazine, she writes about business, technology, sales and marketing, and also oversees content and programming for WBM's conferences. She speaks on industry trends at numerous conferences, including the Unified Wine & Grape Symposium and the World Bulk Wine Exhibition, and guest lectures on wine, media and public relations. Erin has served as a judge in the international Concours Mondial de Bruxelles wine competition since 2016 and at numerous regional competitions. She earned her Bachelor of Arts in communications with a journalism emphasis from Sonoma State University. Reach her at erin@winebusiness.com or @erinakirsch.