August Rains Affect Finger Lakes Grape Harvest
Berries are bigger, soluble solids are lower, but prices are higher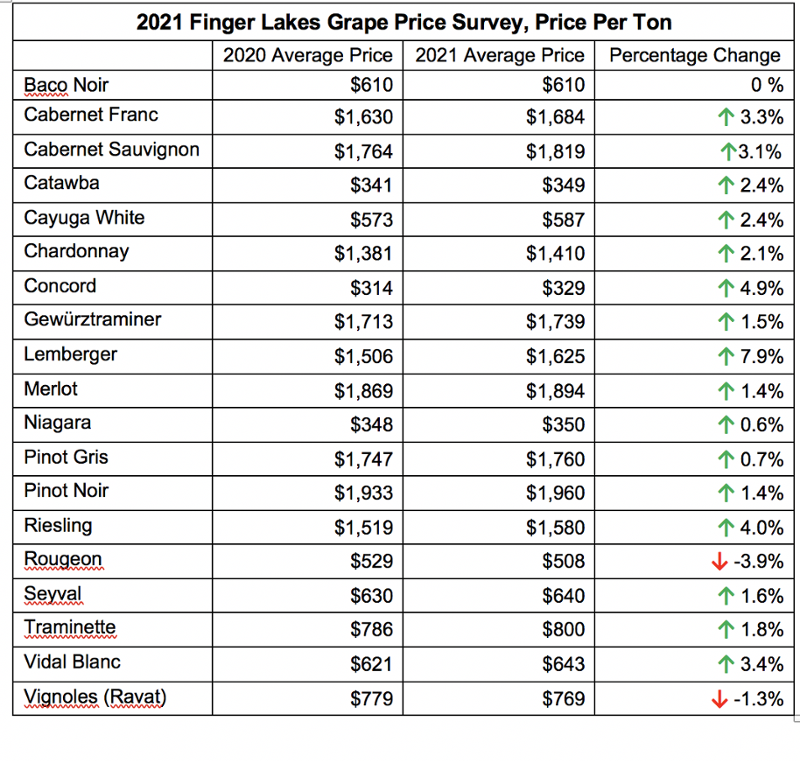 After the 2020 summer that was a "beautiful, hot and dry" growing season in New York, it's not surprising that the weather in 2021 was less than perfect. While June and July were appropriately sunny and dry in most areas, August brought considerable rainfall across the state. Hans Walter-Peterson, viticulture specialist with the Finger Lakes Grape Program at Cornell Cooperative Extension, told Wine Business Monthly that heavy rains during August caused splitting problems, especially with Cayuga White, an early-ripening white hybrid.
Many vineyards in the Finger Lakes received more than 5" of rain in three days in mid-August, and some growers picked their Cayuga earlier than planned, out of concern for the development of sour rot. Fortunately for those growers who left their Cayuga on the vine, Walter-Peterson reported that the first weeks in September "have been pretty dry, but if we have more storms, who knows?" He is concerned that rot may be more of a problem for other wine grape varieties, as berries are bigger in size than normal and Brix numbers have "lagged a bit."
Dr. Tim Martinson, senior extension associate at Cornell AgriTech's horticulture section of the School of Integrative Plant Science, reported to Wine Business Monthly that the Finger Lakes region has a "big crop," partly because there was "no winter injury to speak of, and it's been wet, so clusters have big berries." In the Véraison to Harvest, Update #1 on August 27, 2021 (the seasonal report edited by Martinson and Dr. Chris Gerling and published by Cornell's College of Agriculture and Life Sciences), he stated, "Yields look to be above average in most vineyards and for most cultivars."
The vineyards on Long Island, whose owners are always concerned about the threat of hurricanes, missed major impacts from tropical storms Henri and Ida. Alice Wise, viticulture specialist with Cornell Cooperative Extension of Suffolk County, wrote in Update #3 of Véraison to Harvest that TS Henri resulted in 2-3" of rain on August 22-23 and 3" in early September from TS Ida.
While most grape growing regions in New York escaped without major frost events this past Spring, the Lake Erie grape belt had three "critical temperature events" in late April to early May, according to Jennifer Phillips Russo, viticulture specialist at the Cornell Lake Erie Research and Extension Laboratory. Frost/freeze events in 2020 had resulted in a reduced crop of Concord grapes along Lake Erie grape belt from Ohio to New York. While the low crop reduced the stress on the vines and allowed them to recover, growers have been concerned about the shortage of Concord grapes and the resulting impact on price.
Martinson reported that he had heard about buyers wanting to line up contracts for Concord grapes in February. However, he stated that "There was no winter injury to speak of, bloom was early in western New York, it's been wet so the clusters have big berries, and prices are good." He has calculated that "each tenth of a gram of increase in berry weight equals an increase of ¼ ton per acre. If you have the same number of berries and the same number of clusters, and a Niagara grape weighs 0.8 grams more this year, that equals an additional 2 tons of grapes per acre."
Finger Lakes grape prices, 2021
If the yields on the New York wine grape crop are up for all grapes – vinifera, hybrid and native – why are grape prices higher on so many more varieties this year than last year? Martinson thinks that several factors are involved. Last year, many wineries held off on making purchases. They didn't know what the impact of Covid-19 would be and whether tasting room sales would plummet. Now, in 2021, inventories are down, because sales in tasting rooms have done better than anticipated. As a result, the demand for grapes is pushing prices higher.
Some of the best innovations in wineries, such as curb-side pick-ups, using reservations, serving food with wine and more personalized service, may remain even when the pandemic is solidly behind us. As a consequence, many wineries in New York have a much more positive feeling about the sales season ahead.
The complete list of prices for the 2021 harvest of 59 wine grape varieties in the Finger Lakes region of New York is available at 2021 Finger Lakes Grape Price List - Finger Lakes Grape Program - Cornell University - Cornell Cooperative Extension.
Wineries in New York that purchase more than five tons of any grape variety must provide the prices they pay for those grapes to the NY Department of Agriculture. Some of the prices reported are contracted prices between growers and wineries, while others are prices wineries pay for their own grapes. The Finger Lakes Grape Program requests those price lists from wineries and processors and then compiles the information from those willing to share into a single listing.
Walter-Peterson, who compiles the Finger Lakes Grape Price Survey for the Finger Lakes Grape Program, noted that in 2021, 39 of the 59 varieties "on the list had an increase of more than 0.5% in their average price. Some of this is due to changes in the numbers of responses that we receive, but there are definitely changes in prices as well." The following varieties had the biggest increases (Note: there were 11 grape purchasers who are included in the survey data):
Vinifera:
Lemberger: +7.9% (10 responded)
Riesling: +4.0% (9 responded)
Cabernet Franc: +3.3% (11 responded)
Cabernet Sauvignon: +3.1% (8 responded)
Chardonnay: +2.1% (10 responded)
Hybrids:
Vidal Blanc: +3.4% (7 responded)
Cayuga White: +2.4% (10 responded)
Traminette: +1.8% (7 responded
Natives:
Diamond: +10.4% (3 responded)
Concord: +4.9% (7 responded)
Catawba: +2.4% (8 responded)
Niagara: +0.6% (8 responded)
It is interesting to note that for vinifera grapes in 2020, Cabernet Franc increased by 4.2% over prices in 2019, while Lemberger dropped by -2.2% and Riesling by -1.2%. Of the 34 hybrid varieties included in the survey, in 2020 none had an increase in average price while this year, a total of 14 varieties went up. Prices also increased on 7 of the native varieties, while one was flat. Two juice varieties, Himrod and Lakemont, were flat in average price for the third year in a row.