Wine in Tougher Battle for Market Share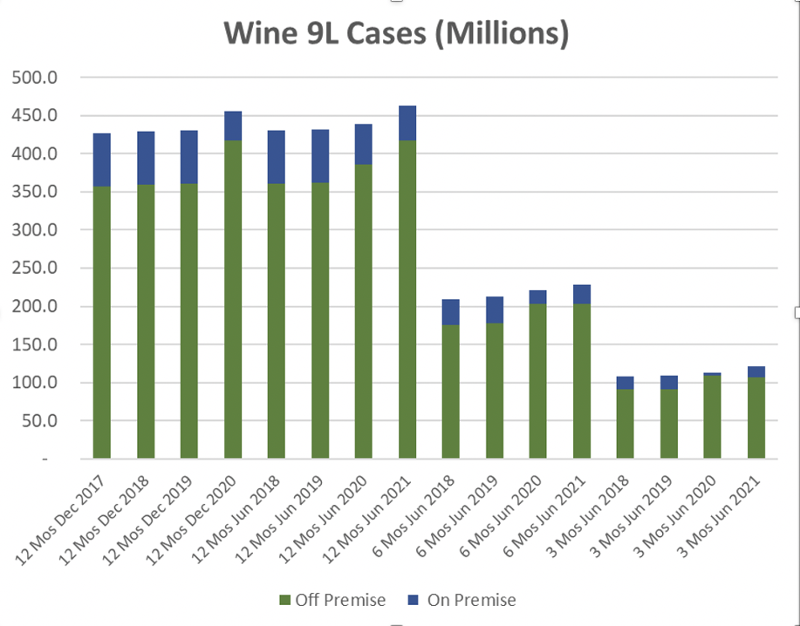 The US wine market is getting back to where it was prior to the COVID-19 pandemic but a full recovery won't mean business as usual like in 2019.
The on-premise market is smaller, while e-commerce is significantly more important and the fight for market share is even more brutal.
Reviewing the past year and looking to 2022, analyst Jon Moramarco said the main trend has been one of disruption. "There's been too many fluctuations to try and attribute the ups and downs of everything," he said.
Moramarco is the editor of the Gomberg-Fredrikson Report and managing partner of the market research firm bw166. In a Sept. 28 webinar, he said what is clear is that wine is going to be in an even tougher battle for market share with beer and spirits.
Based on off-premise sales data from the state of Texas, which Moramarco uses as an indicator of the channel overall, liquor has not only recovered from the pandemic it is in a stronger position than before it while beer and wine are still recovering. "There just seems to be a consumer shift in on-premise to spend more on spirits," Moramarco said.
He said he's heard from many people in the on-premise sector who say they have pared down wine lists and are offering fewer by the glass options. While it's been hard to get a definitive number on the loss of on-premise accounts, Moramarco said it appears there are now 10% fewer in the United States. Those changes, and consumer preference for cocktails, likely mean the on-premise share of the total wine market won't return to its pre-pandemic level of 16% but only get back to 15%.
The off-premise market remains much stronger than where it was two years ago, but digging into those numbers reveal that a significant share of growth can be attributed to the flavored wine niche.
Total US sales of all wines are up 5.5%, but Moramarco said if you remove vermouth and the imports of flavored wines from Mexico (up 81% in the past 12 months) that growth is closer to 2%.
Those wines really should be considered in a separate category competing with hard seltzers, and the softening of seltzers sales overall indicate to Moramarco that the category is about to see a reverse of several years of double digit growth. He said the industry will likely see the number of seltzers on the market steadily shrink to where it is dominated by just a handful of national brands.
And while Moramarco said flavored wines appear to be meeting a need for more single serve options, they have not proved to be as effective a bridge to better sales of traditional table wines.
Case shipments by California wineries in the past six months were up 3.6% to 125.3 million cases and are 2.5% to 3% over the same period last year. "Which is good news because last year it was almost flat but it's not very aggressive growth," he said.
At the winery level, however, Moramarco said tasting rooms are enjoying a rebound in business fueled by better per-visitor sales and club conversions thanks to a near universal adoption of reservation-based systems for tastings. "That is one positive that's come out of the pandemic," he said.
With the total beverage alcohol market limited by a slowing legal drinking age population, Moramarco said the entire sector likely will only see growth of 0.5% to 0.8% per year. That means beer, spirits and wine will be in an even tougher fight for share and the competition among wine producers is also going to get fiercer.
Moramarco said wineries need to continually examine how they move products into the market and strengthen their analysis of sales data to better navigate a changed market in which wholesalers have already adopted new technology to change how they manage their business. "How are they (wineries) using technology and people to fill the voids and develop better relationships directly with consumers rather than three tier although you still want to manage your relationships with wholesalers and retail," he said.