Top 10 US Wine Distributors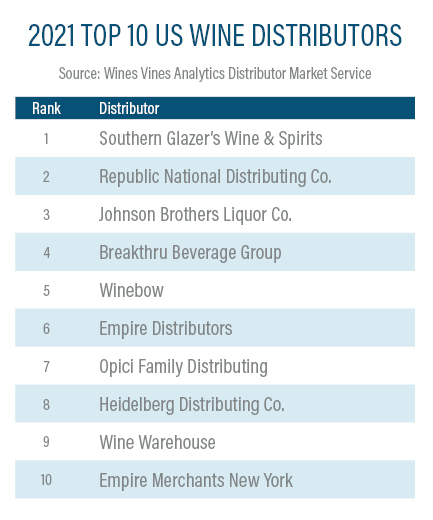 Despite all the changes in the wine market over the past year, the largest distributors solidified their positions as the top US wine wholesalers according to the 2021 Top US Wine Distributor rankings.
The rankings are based on a unique model incorporating proprietary data from Wines Vines Analytics' Distributor Market Service, as well as total market size, number of US wineries represented and other factors. The rankings do not include the wholesalers' beer and liquor business and include Washington, D.C. in the number of states served.
Last year was a challenging one for wholesalers who had to radically change operations to ensure employee safety, account for major losses from on-premise — while shifting resources and allocations to retail — and expand their B2B e-commerce platforms to meet surging demand. This year has not been much easier as the widely anticipated reopening of this spring and summer failed to bring a uniform return to normal as expected.
Most of the largest wine distributors had already announced major investments in online B2B platforms, or what they refer to as e-commerce, prior to the COVID-19 pandemic, and those departments have since been bolstered by more staff and a greater emphasis on data and analytics. The changes in consumer buying habits wrought by the pandemic mean that e-commerce will remain a top priority while the burgeoning growth of retailer and third-party delivery also represents a new source of sales growth. New technology is helping wholesalers work with independent and chain retailers to offer nearly seamless purchase and delivery.
These changes, however, have not altered who is at the top of this year's rankings, which remain dominated by the same firms as in previous years. Southern Glazer's Wine & Spirits (SGWS) remains No. 1 followed by RNDC at No. 2, just as they have since this feature first debuted in 2018.
The rankings released in an article published Sept. 27 were incorrect because it did not include Opici Family Distributing that retained its No. 7 position in 2021.
No. 1: Southern Glazer's Wine & Spirits
Miami, Fla.-based SGWS remains the largest U.S. wine distributor and the largest in the world given the size of the U.S. market; to retain its top spot, SGWS made several deals this year. The company's e-commerce platform, Proof has continued to expand, both in terms of total users and services offered. The company's other major initiative this year was the launch of SG+, a new platform focused on fine wine.
The "enhanced customer service and delivery model" went live in Florida and Texas with additional markets to be added through 2022. The company also realigned its fine wine and spirits teams into three national teams: Signature Fine Wines & Spirits led by Cindy Leonard, executive vice president and general manager of fine wine; Domaine & Estates Artisanal Wines, led by Laura DePasquale MS, senior vice president of sales and commercial operations; and the Craft Collection Luxury Spirits led by Ray Lombard, executive vice president and general manager.
In April, SGWS announced an expansion of its business with Terlato Wines into 10 additional markets, including New York, Texas, Louisiana and control states. The deal with Terlato followed a similar announcement with Rodney Strong Wine Estates to expand distribution into 16 additional markets. The company's other major deal of the past year was a national distribution agreement with Foley Family Wines and the acquisition of parts of Foley's distribution company, Epic Wines & Spirits of California.
No. 2: Republic National Distributing Co.
Coming in close behind the market leader, RNDC operates in nearly as many states as SGWS and works with just 40 fewer US wineries. Earlier this month, RNDC announced the launch of LibDiB@RNDC TX, which is a new sales division focused on Texas. The new Texas division is the latest development in RNDC's partnership with LibDib that launched in 2016 as a distribution platform for smaller craft producers seeking small volume distribution in key markets. In August, RNDC announced its expansion into the state of Illinois via a partnership with Heritage Wine Cellars. The company's e-commerce platform, eRNDC, is now live in 13 states, with six additional states, including California, Oregon and Washington, expected to go online soon. As eRNDC expands, the company also entered into five new control states; Iowa, Maine, New Hampshire, Pennsylvania and Vermont, and will be serving all control states this year.
Earlier in September, the company announced it was bringing its Platinum Luxury, Estates Group and Atlanta Wholesale Wine divisions into one new group: The Estates Group. The new group comes with three new senior vice presidents to oversee RNDC's fine wine business including Marin Blomquist who will manage The Estates Group's western region. Blomquist previously managed The Estates Group in California. Gable Abdo will manage the Estates Group in the Central Region and an eastern manager will be named later this year. By aligning its fine wine business under one group, RNDC plans to enhance its route to market by organizing multiple states together. "We currently have the Estates Group name established across 10 markets with a great history of building brands," said Chief Operating Officer Bob Hendrickson in the statement announcing the change. "We will now expand that name across all markets aligning our fine wine team."
No. 3: Johnson Brothers
Retaining its No. 3 slot in the Top 10 is Johnson Brothers based in St. Paul, Minn. The company announced an expanded partnership with Crimson Wine Group in late 2020. The deal expands Johnson's business with Crimson from just Minnesota and Iowa to Indiana, Wisconsin and the Dakotas as well. Heading up the firm, since 2015, is president Mark Hubler, who previously was the president of spirits for Diageo North America. In October 2020, Matt Colasanti joined the company as vice president of national accounts from E. & J. Gallo Winery where he was a senior director in sales. At Johnson, Colasanti is focused on expanding sales and distribution growth with chain retail and multi-state accounts.
No. 4: Breakthru Beverage Group
On Aug. 31 the fourth largest U.S. wine distributor, Breakthru Beverage Group, announced the appointment of Tom Bené as president and CEO. Bené replaces Greg Baird, who is retiring but staying on through the end of the year, as a consultant, to help with the transition. Baird assumed the role of president and CEO following the 2015 merger of Charmer Sunbelt Group and Wirtz Beverage, which formed Breakthru. Bené previously was the president and CEO of the National Restaurant Association; and before that, he was the chairman, president and CEO of food service distributor Sysco Corp. "Tom has a demonstrated history of leading organizations through periods of exceptional growth and innovation," said co-chairman of Breakthru's board Charles Merinoff.
No. 5: Winebow
Moving into the No. 5 spot from No. 6, Virginia-based Winebow bolstered its presence on the other side of the continent with a major investment in Washington state. In March, the company announced it would be moving into a new distribution center in Kent, Wash. to increase its warehouse capacity by 50%. Winebow President and CEO Dean Ferrell said in the past year the company adapted to channel shifting by redirecting sales teams and expanding chain and off-premise resources. "Additionally, we have launched an omni-channel strategy consisting of both marketplace solutions and a website based B2B e-commerce store that will elevate the customer experience with enriched content, heightened engagement, and best-in-class service."
A focus on import offerings and growth opportunities in craft spirits and the wines from the Pacific Northwest are helping to capitalize the new efforts that are further supported by improved logistics. "Investment in our distribution centers, like our new, larger facility in Washington state, have enhanced our operational efficiency," Ferrell said.
Earlier this month, Winebow also announced an expanded distribution agreement with Silverado Vineyards in Napa Valley. Winebow is now the exclusive distributor of Silverado in New York state and represents the winery in Illinois, Minnesota and Wisconsin.
No. 6: Empire Distributors
Headquartered in Atlanta, Ga., Empire Distributors is part of Kahn Ventures that was bought by a subsidiary of Berkshire Hathaway in 2010. The company was founded by the Kahn family, and David Kahn, who became president in 1994, remains president and CEO. Although the firm is closely linked to Georgia, it is quite active in three other fast-growing states, Colorado, Tennessee and North Carolina, where Empire represents several iconic brands including Caymus, Joseph Phelps, Stag's Leap Cellars and Duckhorn. The fact that Georgia, Tennessee and North Carolina are also franchise states provides another competitive advantage.
No. 7 Opici Family Distributing,
Even after selling its wine distribution business in Florida to No. 2 RNDC, Opici Family Distributing retains its No. 7 spot on this year's list as it continues to serve six major markets including New York and New Jersey. The family-owned company was founded in 1934 and imports and produces its own wine brands through Opici Wines & Spirits. In 2020, the company acquired the wholesaler Organic Vintages and had integrated its portfolio of organic and natural wines in New York, New Jersey and Connecticut. The company had also begun a project to enhance its operations with new technology prior to the pandemic and those changes, which include a new ERP platform driven by Microsoft Dynamics are coming online now. "We were ahead of the technology curve from a planning standpoint coming into the COVID period as we had begun to consolidate to an integrated system with new platforms for warehouse and delivery management, price planning, demand planning, sales CRM and e-commerce," said president Dina Opici.
No. 8: Heidelberg Distributing Co.
Serving the major metro areas of Ohio, Heidelberg Distributing is another family-owned company with a long history in beverage alcohol sales and distribution. During the past year, the company invested in an e-commerce platform powered by VIP Retailer Portal and supported by Salisfy.
No. 9: Wine Warehouse
With a single focus on the most populous state with the largest wine-consuming population, California, Wine Warehouse moved from the No. 10 spot in 2018 to its current position as No. 8. The Los Angeles-based company was founded in 1973 by brothers Bob and Jim Myerson and is now owned by Bob Myerson's son, Jim, and daughter, Linda Myerson Dean. Greg Akins is the firm's president and CEO. Earlier this year, the company announced it had added two of California's top Pinot Noir producers, Benovia Winery in the Russian River Valley and Bouchaine Vineyards in the Carneros AVA.
No. 10: Empire Merchants
New to the list this year is New York-based Empire Merchants, which serves the New York City metro area and the rest of the state. The company was created in 2007 through the merger of Charmer Industries Inc. and Peerless Importers. President and CEO Eric Pfeil is the former executive vice president of Breakthru's Florida division. Empire Merchants employs more than 700 workers and serves more than 9,000 outlets.