Kerne, Broto-Mur earn Master Sommelier diplomas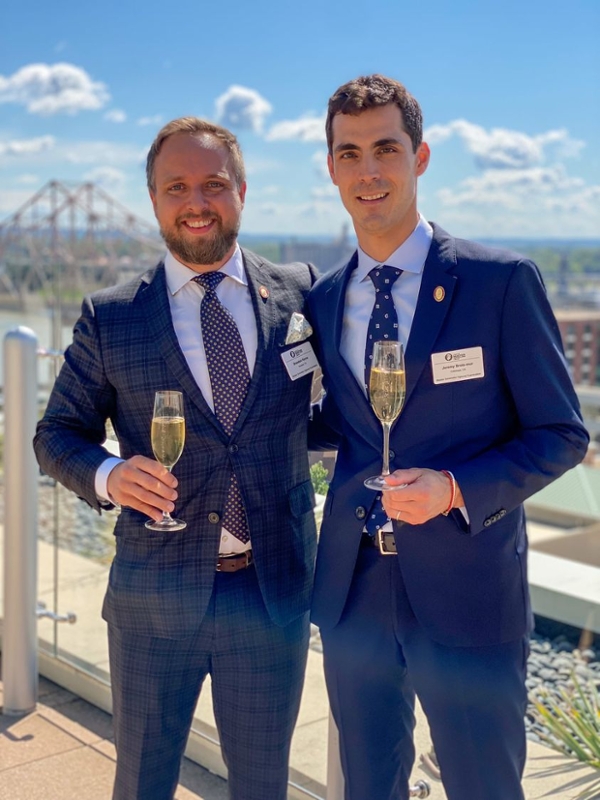 Brandon Kerne wasn't sure if he was going to sit for the Master Sommelier examination three weeks prior to the test. In the end he figured he had waited enough. This week was his sixth attempt at passing the wine service and blind tasting portion and he didn't want to put it off. The native of Hammond, Louisiana is one of two Sommeliers who this week passed what is widely considered the most difficult examination in the wine service industry. Frechman Jeremy Broto-Mur is the other.
A pep talk and some training with his father moved Kerne to commit to testing this week.
"There was a question whether it was smart, whether I should sit for tasting this week," Kerne recalled. "Up until three weeks ago, I was debating whether to take the test. Then, I started thinking, 'how do you walk in this year with a clear mind?'
"I felt more in the zone this year than I have in my life. I felt more mentally empowered."
Kerne and Broto-Mur were the only two candidates to pass the rigorous Master Sommelier diploma examination out of 29 who tested this week in St. Louis. Twenty four sommeliers passed the Master Sommelier test in 2018 only for the results to be later invalidated when it was revealed that one of the exam proctors had shared confidential test information with the candidates.
Kerne's former colleague and mentor Steven McDonald of Houston, San Marcos, Calif., based Josh Orr of Broadbent Selections and Chicago-based Jill Zimorski of LVMH are among the Master Sommeliers who successfully passed the Master Sommelier examination after their results were invalidated in 2018. McDonald passed in 2018. Orr and Zimorski passed in 2019.
Master Sommelier candidates first must pass the wine theory portion of the test. This week, Master's candidates who had passed theory previously were tested on service and blind tasting. This week's examination is only the second time that Master Sommeliers had sat for any section of the test since the pandemic. Master Sommelier candidates were tested in theory this July.
Kerne is the Operations Manager at Art of Cellaring (AOC), a Houston wine storage facility and wine retail store. He is also director of The Texas Wine School, which is affiliated with AOC. He was previously a Sommelier at Pappas Brothers Steakhouse in Downtown Houston. He was also Beverage Director at Bar Italia Ristorante, Wine Director at 33 Wine Shop & Bar and Assistant Beverage Director at Elaia & Olio, all in St. Louis.
Broto-Mur, who grew up in the French Alps, is currently a harvest intern at the Calistoga, Calif., winery Rivers-Marie. He has worked at Daniel Boulud restaurants for the last six years, first as Head Sommelier at Café Boulud in Palm Beach, Fla., and most recently as Sommelier at the flagship Daniel in New York City. He was previously a Sommelier at Gary Danko in San Francisco. He has also worked at Michelin-rated restaurants across Europe, including 3-star Restaurant Philippe Rochat in Crissier, Switzerland, 2-star Restaurant Patrick Guilbaud in Dublin, 2-star La Chevre d'Or in Eze, France and 1-star Hambleton Hall Hotel & Restaurant in Oakham Rutland, England. Daniel and Gary Danko have received two and one Michelin stars, respectively.
Both Kerne and Broto-Mur credit mentors and collegial wine study groups for their success.
Kerne was recruited away from St. Louis by McDonald to run the wine program at Pappas Bros. Steakhouse in Houston. Kerne also counts on Skyler Ring of Mastro's in Houston, Houston's State of Grace General Manager Matt Crawford, Danny Steiner of Mexcor Fine Wines in Houston, Master Sommelier Andrey Ivanov of Lazy Bear in San Francisco, St. Louis-based Advanced Sommelier and Certified Wine Educator Patricia Wamhoff, Dallas-based Master Sommelier Barbara Werley and James Watkins of Paul Hobbs Wines as his support group who aided in his Master Sommelier training.
Broto-Mur passed the theory portion in 2019. This week was the second time he was tested in service and blind tasting, a rapid rise for the 34-year-old.
"I prepared differently this time," Broto-Mur said. "I had to rethink the way I was studying. I prepared myself by tasting every morning. Then starting last month, I was tasting twice a day. I was trying to expose myself to as much wine as possible. I had to calibrate my palate for this exam. As for service, I read a couple of books. I have been a Sommelier for 10 years. For service I had to focus more the real meaning of hospitality. It was a lot of work.
"I didn't plan to pass. It is the type of examination that you give your best but you never know how you are going to do."
Including Broto-Mur and Kerne, 165 Master Sommelier diplomas have been issued by the Court of Master Sommelier Americas since 1973 and the first since 2019. Eddie Osterland, who currently runs an entertainment and wine consulting firm in La Jolla, Calif., was the first American to earn the honor in 1973.
Broto-Mur and Kerne are committed to their current jobs and looking ahead to more success in the future.
"I hope my life doesn't change much because I am very happy now," Kerne said. "For me earning the Master Sommelier diploma is more of a lifetime achievement. You've been told that this is the most difficult test in the planet and now you are told that you have achieved mastery in your field."
Late last year after a New York Times investigation on a culture of sexual harassment and abuse in the Court of Master Sommeliers, seven Master Sommeliers, including co-founder Fred Dame, were suspended. An eighth Master Sommelier, Geoff Kruth, relinquished membership and resigned from his position as Chair of the GuildSomm, an education organization affiliated with the Court of Master Sommeliers.