US Wine Sales up 10%, DTC up 27%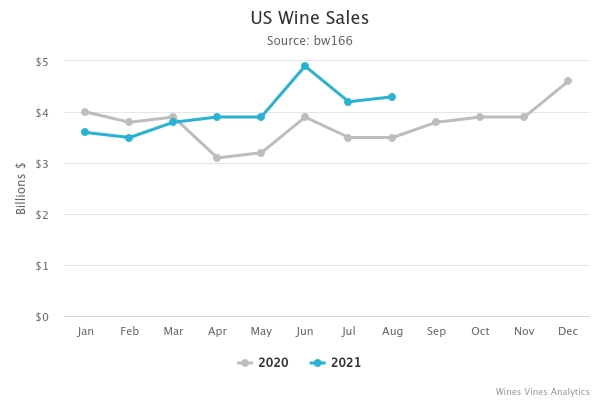 Consumer spending on domestic wine, including bulk imports, increased 10% versus last year to $51.8 billion in the 12 months ended August, market research firm bw166 reported.

The increase in total spending comes with improving on-premise sales, retail sales holding steady and an increase in winery direct-to-consumer (DTC) shipment value and volume in August, according to the Wine Industry Metrics released in the latest edition of the Wine Analytics Report.
Spending on table wines increased by more than 10%, while sparkling wines gained 2%. Bulk imports increased 9% while spending on other traditional wines – a relatively small component of total spending – fell 10%. Total case volumes for all domestic wines increased 3% during the period to nearly 313 million.
Jon Moramarco, managing partner of bw166 and the editor and partner of the Gomberg Fredrikson Report, will review the total US wine market and major trends in a Sept. 28 webinar register here.
Overall momentum in the market remained positive despite the spread of variants of COVID-19 and the impacts of new public health protocols. The value of the total wine market in the U.S. was $75.4 billion in the 12 months ended August, an 11% increase over last year. Spending on domestic wines drove the increase, accounting for an extra $4.6 billion in consumer purchases, but packaged imports posted stronger growth at 13%, adding $2.7 billion in sales to total $23.5 billion.
DTC shipment value in August rose 27% versus a year ago to total $225 million, Wines Vines Analytics/Sovos ShipCompliant reported. Volume increased 13% over last year to 533,423 cases. The strong increase in value relative to case growth lifted the average bottle price of shipments 12% versus last year to $35.20 a bottle. This was the highest average bottle price for August since 2018.
Sales of domestic table and sparkling wines through NielsenIQ off-premise outlets approached $861 million in the four weeks ended Aug. 14, down 8% versus a year ago. Volume fell 12% to 8.7 million cases. The declines remained in line with the previous month, suggesting that consumption patterns have stabilized versus a year ago.
While the latest data all point toward a sustained recovery from the pandemic, wineries continue to struggle to fill vacancies in winery hospitality, DTC management and production.
Winejobs.com's Winery Job Index, based on postings to the jobs board, stood at 530 in August, up 111% versus a year ago. Strong demand for vineyard labor as harvest began followed by general administrative staff and DTC roles, including tasting room and retail staff, drove yet another strong month for hiring activity. DTC roles represented the largest component of the index, with winemaking and production roles and general administrative positions tied for second. While demand for DTC staff has moderated as the new normal takes hold, the subcategory's index was 148% higher than a year ago at 906.
The Wine Analytics Report is a monthly, digital report on the U.S. wine industry produced by the editorial team at Wines Vines Analytics and based on information from proprietary databases and data supplied by partner research firms. The report, Wines Vines Analytics and Gomberg Fredrikson & Associates are part of the Wine Communications Group that also publishes Wine Business Monthly.