Scott Laboratories Receives North Bay Business Journal's Best Places to Work Award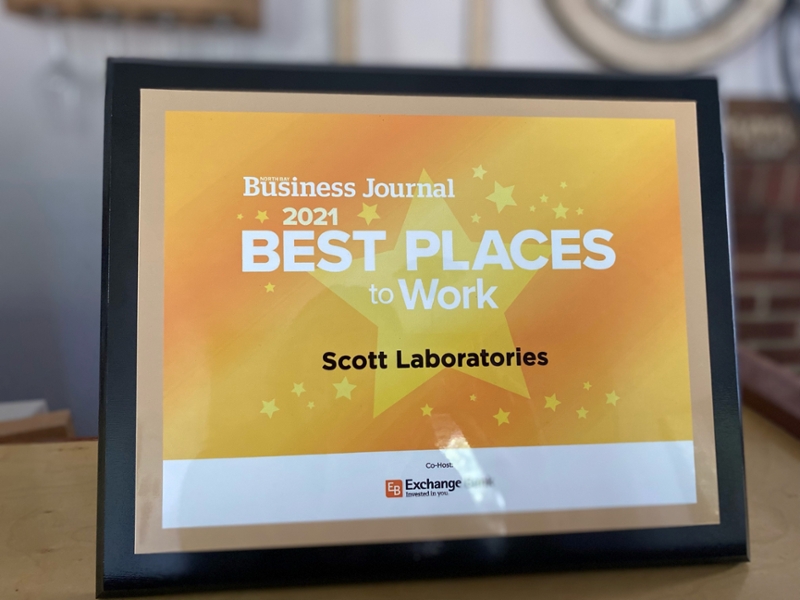 Petaluma, CA – Since 1933, Scott Laboratories has been supporting the wine and specialty beverage community with the industry's leading products, technical expertise, and unparalleled customer service. By prioritizing its people and putting customers first, Scott Labs is building a workplace that values, invites, supports, celebrates, and embraces everyone's differences. They believe that:
Everyone should feel valued and have equal and equitable access to make a positive contribution and develop their career
Challenges and differences are navigated with transparency and clarity by honoring each other's humanity and different perspectives
Their job is to empower everyone to show up authentically
They must act with fairness, trust, safety, and respect
Scott Labs is honored and humbled that these efforts have been recognized by employees and the North Bay community at large as one of the recipients of the North Bay Business Journal's Best Places to Work award. On September 15th, Scott Labs was invited to attend an awards ceremony honoring and recognizing this year's winners. As a first-time recipient of this award, the team at Scott Labs is thrilled to be acknowledged amongst some of the leading businesses in the local community, especially during these unprecedented times.
Kelly Browning, Communications Manager at Scott Labs, accepted the award on behalf of the company and comments, "We are grateful to our employees and the community for recognizing our dedication and commitment to people. The health, safety, and success of our employees and customers alike is always our number one priority, and we're thrilled that those efforts have not gone unnoticed. Considering what companies and their employees have been through over the past 18 months, this award feels especially meaningful this year. Scott Labs is a family, and we remain fiercely dedicated to not only the success and wellbeing of this industry, but of our extended family as well."
To be in the running for this award, companies based in the North Bay had to be nominated for consideration, and then receive enough anonymous votes from employees to remain in the running and be selected by the North Bay Business Journal after extensive review. Scott Labs was among 18 other first-time winners, including The Bundschu Company, Marin Humane and more.
About Scott Laboratories:
For over 80 years, Scott Labs has been the leading supplier for the North American wine and specialty beverage industry, providing fermentation products, filtration media, equipment, cork and packaging solutions. Scott Labs has been embedded in the wine community since 1933 where their story starts at the University of California, just days prior to the end of Prohibition. Scott Labs' vision is to provide the best customer experience to the specialty beverage community. Their mission is to advance the long-term success of the specialty beverage community by providing best-in-class products and services. They believe in education, honesty, and doing the right thing. Visit scottlab.com to learn more.