Kelly Fleming Winery's Efforts to Boost Visitation Caps Fail to Persuade Napa Planning Commission
Issues Raised Include Water, Noise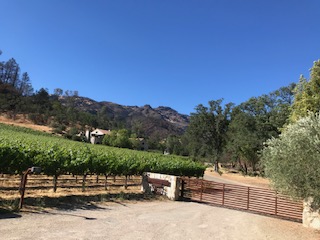 A winery near Calistoga should not see more visitors than currently allowed, the Napa County Planning Commission said Wednesday. Kelly Fleming Wines nonetheless can build a cover over its open-air crush pad, expand its wastewater treatment system and upgrade its caves to open them to visitors, the commissioners also decided in a unanimous vote.
The Planning Commission voted after neighbors and others addressed a litany of concerns regarding water availability during a drought, traffic noise from winery visitors , the lack of communication with neighbors and other issues. Nearby Simmons Creek, where kids used to swim in it, is now dry, some neighbors said.
One issue was Kelly Fleming Wines' request to double the size of its visitation program at the winery on Pickett Road – from 3,120 guests a year to 6,240, mostly by increasing the number of marketing events at the winery on Pickett Road. The winery was also referred as "Pickett Road Wine Company."
Robert Levenstein, who lives 600 feet from the winery, said he does oppose large, noisy celebrations at the winery.
"We're affected deeply," said Levenstein, who also raised concerns about the winery's extra water usage during a drought.
The winery's representatives told the Planning Commission that the increase in water usage anticipated would be negligeable. But the commissioners questioned winery's water analysis' reliance on 2010 data.
"We know we are in a water crisis and that we'll continue to be in a water crisis," said Planning Commissioner Joelle Gallagher, as she and the other commissioners deliberated before the vote.
The winery's visitation caps request is "quite a bit more" than what other wineries that produce 12,000 gallons a year have, she said. That "doesn't seem to be prudent," said Gallagher, who wondered if water usage could be monitored.
"I don't feel like the way it's presented to me that I can approve it today," she said, referring to the winery's requests to increase visitation number caps.
The commissioners did not oppose the winery's other requests, including allowing the winery to have six full-time employees and four part-time employees instead of six full-time and two pat-time employees .
The winery, which lost a vineyard in the Glass Fire, had made that request under the county's code compliance program which allows wineries to apply to resolve outstanding issues with their use permit. In this case, the winery's permit only allowed for three full-time and two part-time employees.
Wednesday's hearing was the second time the commission discussed Kelly Fleming Wines' use-permit application. The Planning Commission in June decided to postpone a decision to give owner Kelly Fleming time to meet with neighbors. The winery's initial visitation requests were subsequently decreased.
Proprietor Kelly Fleming, who purchased the property in 1998, said she had met with immediate neighbors. "I have nice neighbors all around me," she said, adding she wants to "continue to have a good relationship with everyone."
Fleming, who lives on the property, said she has been very mindful of noise and that her water use is "very, very modest."
Environmental activist Kellie Anderson of Angwin sent the Planning Commission photos of water trucks heading to Pickett Road but Fleming and her representative strongly denied these headed to her winery, though Fleming said three water trucks came after the 2020 fire to replace water firefighters used to fight the blaze. Fleming also said events would end at 9 p.m. so the staff could leave by 10 p.m.
One of the neighbors suggested that he would prefer Fleming sell wine online exclusively and not host any wine tastings at the winery, Fleming said. But Fleming said that is not possible.
"I wish I could sell everything online," Fleming, who said the winery is her life's savings "I built a beautiful, sustainable winery," Fleming said, adding that's her life savings. "I depend on people coming there."
"Not doing any tastings at the winery is not an option," Fleming said.
While she met with immediate neighbors, others said they had not been consulted. Mary Sue Frediani, owner of nearby Frediani Vineyards, asked the Planning Commission to delay a decision so there could be a neighborhood meeting.
The Planning Commission did give the winery some flexibility in its visitation program. Kelly Fleming Wines was allowed to welcome 10 visitors per day instead of eight. But the winery only can host up to 60 guests a week – as it does now. The winery on had sought to have up to 24 visitors per day and up to 120 guests per week.