California Wine Grape Crop Looks Light
State forecasts 3.6 million tons - Water an issue for some vineyards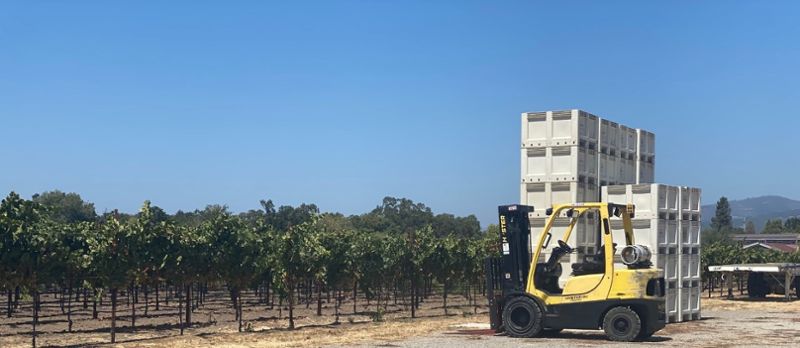 It's early in the game but as harvest kicks into gear with grapes for white wines coming in, some varieties are picking out light, particularly along the North Coast and even more so in certain specific vineyards.
With a lighter crop of whites, growers have been able to move through fields fairly quickly, and with inventory relatively balanced, scheduling and deliveries have been smooth so far.
Earlier this month, the National Agricultural Statistics Service released its Pacific Region Crop Production Forecast, estimating California is on track to harvest approximately 3.6 million tons of wine grapes in 2021. A more typical California harvest would yield close to 4 million tons of wine grapes.
The crop totaled 3.4 million tons in 2020, the smallest in nine seasons, but 200,000 to 300,000 tons weren't harvested because of concerns about smoke exposure. This year's harvest is looking similar in size to last year's.
"Overall, it's going to be on the lite side from what we can see," Allied Grape Growers president Jeff Bitter said.
Nearly three quarters of wine grape tonnage in California comes from the Central Valley, which skews the numbers. The total includes big varieties producing a few hundred thousand tons in the interior alone.
Yields in the Central Valley on the whole appear about average this year, but are lighter in the Southern Central Valley.
Some varieties are looking average in size along the coast, but some North Coast vineyards are way, way off in tonnage according to anecdotal reports. Some of that is being attributed to the drought. There are early reports of some North Coast vineyards with yields down as much as fifty percent.
Less Winter Rain
A lack of winter rainfall led to dry soils, which led to an uneven budbreak and uneven growth early in the season."You had the early uneven growth and that led to uneven maturation, and some people had to drop crop to even it up," Mark Greenspan, with wine-growing, consulting and vineyard management firm Advanced Viticulture said.
The drought may have positive consequences in terms of better quality this year, Greenspan said, but that could be offset by the uneven development. "It's not a slam dunk that the drought is going to yield better quality, but it could have a benefit."
The dry climate means fruit looks clean too - no mildew or rot.
Greenspan said he's seeing light looking Pinot Noir and that Cabernet looks average. "Most varieties look typical to me," he said. "We had a couple of heat waves early on, which causes sunburn issues but it really hasn't been ultra hot since mid July. So we've seen some pretty good ripening."
"We didn't get those rains coming out of winter and folks were hesitant to pour a bunch of water on, because even though the vines needed it they wanted to conserve water for the summertime," Bitter said. "You had a lack of desire to put a lot of water on early plus, when you put water on early, you encourage bigger canopies, which have to be supported later in the season with more water."
More vineyards have ample water at this point than not but some with finite amounts are just trying to get to the point where they can get grapes mature enough for the 2021 harvest. That includes growers in the Russian River watershed that had water allowances curtailed. Some haven't had water since May or June.
On the Central Coast, initial indications are crop size is average. "Most varieties look pretty good crop-load-wise," Greenspan said while standing in a vineyard in Paso Robles. "There was a little bit less rainfall than usual, but not drastically lower. These guys, they're used to dry years."
The lack of water hasn't had much effect on the overall wine grape crop in the Central Valley yet either, Bitter said, but he said on the west side of the central southern interior some growers had to make tough choices because there's not enough.
In Sonoma, Ned Hill manages vineyards on both sides of Carneros throughout Sonoma Valley up into Kenwood and Bennett Valley. Hill said the low yields he's seeing aren't all because of water issues and said yields thus far vary widely by variety but also by clone. He noted that the fruitfulness of buds is affected by pruning style - cane pruning versus cordon pruning – and by weather conditions the previous year determining the size of buds.
"The feeling is it's going to be an average harvest at best, up to pretty far below average harvest," Hill said Tuesday. "But again, we've got a long way to go to figure out exactly how it is. In an average year, we pick 3500 tons. So far, we've picked 30. We haven't picked any Sauvignon Blanc yet ourselves but we're hearing Sauvignon Blanc is a horrible crop."
Sangiacomo Vineyards had finished sparkling pinot noir, and was into picking sparkling Chardonnay, and rose Pinot Noir, this week "Things are trending 10-15 percent below the five to ten year average on yields, but are looking good," Steve Sangiacomo said. He said the lower yields put less stress on vines so they used less water. ""There's good vine balance considering the drier conditions we've had all season. Mother nature gave us a pretty ideal crop considering the conditions we're dealing with."
Bitter said the crop is looking average in Lodi and along the Delta, where about half of the Chardonnay is already harvested and Pinot Grigio is all in. "We've seen decent yields in Chardonnay and Sauvignon Blanc out of Lodi but I can't say anything we've seen so far has been above average."
"It is a lighter crop, and the drought or lack of water has contributed to it, no doubt, but it's not the only reason, Glenn Proctor with the Ciatti Company said. "There was weird spring weather, and a winter freeze in November. A lot of things contributed."
Finite water to Irrigate
"There are some growers that couldn't irrigate all this year or who irrigated once or twice, compared to those that can irrigate almost normally, because of the groundwater," Greenspan said. "I'm worried about the groundwater stability."
"There definitely are vineyards that we're dealing with where there's a finite amount of water, they're just trying to get it to the point where they can get to the vine, and grapes mature enough to get them to harvest," said Bitter. "The impact seems to be more coastal and more in the central and southern interior. In the south, along the west side of the valley, there are growers that had to make choices of what to put their water on, because there's not enough to go around, Bitter said. "I do know of a couple of vineyards that were abandoned this year."
Backing into Balance
The bulk wine market usually shifts near the start of harvest as people get a sense of the potential crop size. It remains active, but buyers are cautious. Bulk supplies are tight out of the Central Valley with more juice available from coastal areas. For growers, the light yields may boost pricing, but there are fewer tons per acre and nobody's overpaying because they're cautious. There are questions about restaurants; how travel and tourism will rebound in what's left of the summer; and about the holidays. U.S. wine sales could be flat or even down by half a point this year, which creates an interesting, dynamic.
Proctor said there's hesitation because many buyers don't completely know what they're going to sell in the next six to twelve months.
"We were pretty short on whites before going into harvest," Steve Fredricks with Turrentine Brokerage said. "That's going to make it even more short, which people are okay with for certain things because they're selling less wine."
"Certain companies are going to continue to be active," Fredricks said. "Those are the companies that have a strong retail presence that have been doing well since the start of the pandemic. The rest of the group isn't sure what they're going to bring in but they're not super confident in what they're going to sell."
"I think it'd be different if we had a clear vision of the future," Proctor said. "It feels balanced. We're backing into being balanced. We're not getting there the right way but we'll take it. We're not getting there necessarily by selling more wine."