Drone Technology to Spray Vineyards Gains Popularity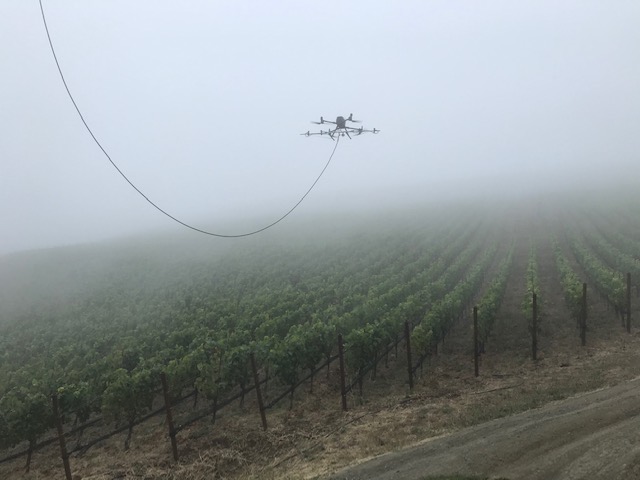 The use of drones to spray vineyards where labor is scarce and expensive is gaining popularity.
Automodality has been testing drone spraying technology since 2020 at an estate vineyard at Clos de la Tech in the Santa Cruz mountains, according to the winery and the company. The drones have been flown at Domaine Lois Louise, a 35-acre, steep vineyard.
The San Rafael-based business is among an increasing number of companies that are either testing—or already commercially flying—drones to spray vineyards.
Like other companies, Automodality is developing the software technology to run on drones. The drones are manufactured by other companies such as DJI. Traditionally, vineyard workers walk vineyards carrying backpacks and manually spraying rows of vines. Automodality's tests indicate the drones' spray had better coverage than manual sprays, according to the winery.
Automodality is using water at Clos de la Tech during test flights, said James Halliday, director of aviation at Automodality. The system entails flying two drones, with one connected to a mobile tank holding the liquid to be sprayed with 300 to 400 feet of hose, Halliday said. The two drones are connected with a hose. A pressure washer pressurizes the hoses with sprays the liquid, two rows at a time.
The drone system is "semi-autonomous," Halliday said. "The operator has manual control of the drone's path relative to the rows of vines while the drone is autonomously following the elevation of the terrain while maintaining a consistent velocity," he said.
Testing indicates a drone can spray more than half an acre in 15 minutes, using a single set of batteries.
Altogether, the drones used at Clos de la Tech require three operators. Two pilots fly the two drones while one operator manages the hoses and the flow of the spray, Halliday said.The system will need to be certified by the Federal Aviation Administration before chemicals are used.
Clos de la Tech, which farms three vineyards and produces 4,000 cases of Pinot Noir annually, prefers to spay oil, sulfur and potassium bicarbonate, said Valeta Massey, Clos de la Tech's owner and winemaker. One of Clos de la Tech's goals was to reduce labor costs, though the steepness of the terrain was another reason to try a new technology.
The test flights at Clos de la Tech "proved out the value and efficiency of using autonomous drones for such agricultural applications," Halliday said. The company plans to commercialize the system and make it available to other vineyard and farming companies, he said.
The Aerial Fight Against Pests
Drones have been used to release biological agents in the United States against such insects as mealybugs.
Stephanie Bolton, research and education director at Lodi Winegrape Commission, said drones "can launch beneficial insects in vineyards much more efficiently than humans can distribute them."
"The company we've worked with, Parabug, can deploy both Cryptolaemus beetles and even the fragile Anagyrus wasps this way," she said, referring to two insects used to control mealybugs.
D. Ken Giles, professor emeritus at UC Davis and a consultant, has studied pesticide spraying technologies for years. He helped test Yamaha's RMAX system to spray a fungicide against powdery mildew. Challenges facing the use of drones to spray vineyards include a limit on how much liquid the unmanned aerial vehicles can carry and how long batteries can last per flight, he and others explained.
Companies Look to Launch Drones in U.S. Market
Other companies that have developed technology to spray vineyards with unmanned aerial vehicles of various sizes include Yamaha Motor Corp. In 2016, Yamaha introduced to the public its RMAX, a helicopter drone that usually sprays hard-to-reach prime vineyards in Napa and Sonoma counties. The technology was first introduced in the 1990s to spray rice fields in Japan, according to news reports.
The company, which now flies two helicopter models, is looking at expanding its services in Napa and Sonoma counties, said Bill Coy, AgTech business development manager at Yamaha Motor Corp.
Another company, Brazil-based VOA, plans to enter the U.S. market this year. Like Automodality, the company develops the software and does not manufacture its own drones.
In Brazil, VOA is commercially spraying a variety of crops, including sugar canes, soybean, corn and grapes, said Nei Brasil, chief executive officer at VOA. VOA's drones spray both pesticides and biological agents such as beneficial bugs to control pests and fight diseases. Agronomists determine what to spray.