Spotted Lanternfly, Late Season Bunch Rot Research Covered in VA Vineyards Association Technical Meeting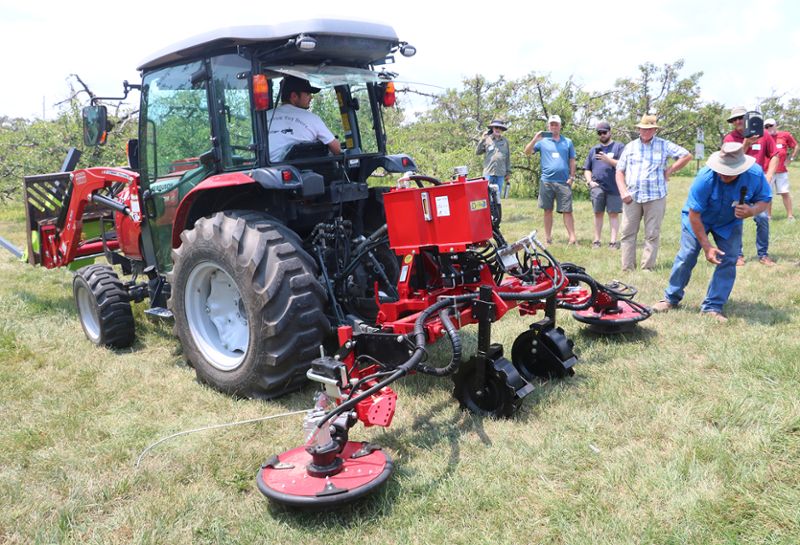 The Virginia Vineyards Association's Summer Technical Meeting on July 28 included more information than detailed technical reports on research at the Agricultural Research and Extension Center (AREC). Attendees heard the latest news on the invasion of the spotted lanternfly and on the response of bunch rot fungi to different fungicides, saw a demonstration of a new under-the-trellis mower, and participated in a hands-on assessment of canopy metrics of shoot density, leaf layers and fruit exposure. After several hours in the hot, sunny/cloudy weather in the research vineyard, they also had the opportunity to taste three Petit Manseng wines under the shade of a tent while learning about that grape's viticultural and enological challenges.
Update on Spotted Lanternfly in Virginia
The planthopper known as the spotted lanternfly (SLF) was first found in southeastern Pennsylvania in 2014, but in spite of quarantine efforts, this invasive insect arrived in Winchester, Virginia in January 2018. According to Dr. Doug Pfeiffer, professor of fruit entomology at Virginia Tech, SLF has now been seen in 11 counties and the city of Lynchburg, with the heaviest infestations in Frederick, Clarke and Warren counties in the northern part of the state. While SLF will feed on more than 70 plant species, it is of great concern for vineyard owners because they are especially fond of grapevines as a food source. Ailanthus altissima (a.k.a. tree of heaven), an invasive tree species often found in woods near vineyards, are also a favorite feeding and breeding site for the SLF.
The only good news about SLF is that they lay eggs once a year, not multiple times. The first instar, or nymphs, appear in late April or early May, then progress through three additional instar stages before becoming one-inch-long adults during the late summer months. Pfeiffer requested that Virginia residents who find SLF use the free app iNaturalist on their phones to photograph and upload records on SLF to Virginia Tech's insect identification laboratory.
[Author's note: For more information on spotted lanternfly and the research conducted on it over the past six years, go to the article "Coming Soon to a Vineyard Near You" in the May 2021 issue of Wine Business Monthly. The article is also available online at www.winebusiness.com.]
Late Season Bunch Rot Research in Maryland
Scott Cossebaum, a PhD candidate in plant pathology at the University of Maryland, discussed his research on late season bunch rots in the Mid-Atlantic region. He has primarily focused on botrytis, as it has the largest number of isolates. He tested 92 isolates for sensitivity to commonly used fungicides and found that most isolates were resistant to pyraclostrobin (FRAC11, one of ingredients in Pristine); cyprodinil (FRAC 9, an ingredient in Switch); and thiophanate-methyl (FRAC 1, found in Topsin).
Cossebaum has also done research to determine which of three fungi (Aspergillus uvarum, Alternaria alternata, and Neopestalotiopsis rosae), commonly isolated from rotten fruit, caused the greatest amount of late season bunch rot damage in vineyards. He inoculated grapes with these three fungi or with water at bloom, veraison and pre-harvest. Clusters were also either wounded or non-wounded. The results showed that Aspergillus uvarum caused severe damage on non-wounded fruit, which indicated its role as a primary pathogen. The other two fungi could be primary pathogens in different conditions, but Aspergillus appears to be a greater threat in the Mid-Atlantic region.
In the research vineyard: hands-on canopy assessment
Dr. Tony Wolf, professor of viticulture at Virginia Tech, Tremain Hatch, research and extension associate at Virginia Tech, and Dana Acimovic, extension associate in horticulture at Cornell University, discussed the common canopy metrics of shoot density, leaf layers and fruit exposure. Attendees were then divided into three groups to assess the canopy of different plots in the research vineyard.
Canopy metrics included the percentage of canopy gaps, leaf layer numbers, the percentage of exterior leaves, and the percentage of exterior clusters. Easily visualized canopy characteristics included:
Foliar disease rating of primary leaf area, from 0 to 100%
Nutrient deficiency: absent, noticeable, moderate or severe
Shoot density, with 3-4/foot of canopy being ideal
Shoot length, with 15-20 nodes as optimal on a VSP trellis
The sum of lateral leaves at nodes 3-7 of primary shoot (<10 is optimal)
Shoot tips actively growing after veraison, from 0 to 100%, with few, if any, as optimal
Ratio of crop yield: canopy surface area (0.2-0.6 lbs of crop/ft2 of exposed canopy)
Crop yield estimates can then be determined, depending on the time of the growing season.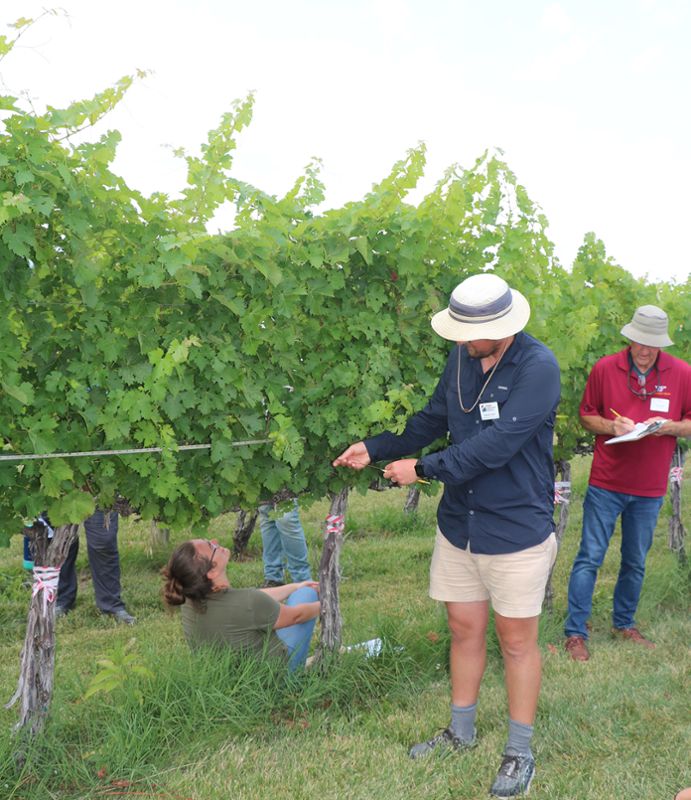 Tasting of Three Virginia Petit Manseng Wines
The final session for the day was a tasting of three Petit Manseng wines which was held in an open-air tent outside the AREC center. Dr. Joy Ting, research enologist and director of the Virginia Winemakers Research Exchange (WRE), and Dr. Beth Chang, enology extension specialist at Virginia Tech, led the discussion of the viticultural aspects of Petit Manseng and the different winemaking practices by three Virginia wineries. Ting noted that Virginia has the second largest planting of Petit Manseng in the world, after Southern France (according to Jancis Robinson).
The three winemakers included Jeff White, owner and winemaker at Glen Manor Vineyards, Front Royal, VA; Michael Shaps, owner and winemaker at Michael Shaps Wineworks, Charlottesville, VA and Shenandoah Vineyards, Edinburg, VA; and Ben Jordan, winemaker at Early Mountain Vineyards, Madison, VA. The three winemakers agreed that one challenge with Petit Manseng is its tendency to produce grapes with high acidity and high sugar levels. White noted that one advantage to growing Petit Manseng is that birds don't like the grapes because of the acidity level, and therefore the vines don't have to be netted.
Glen Manor's Petit Manseng vineyard is in northern Virginia on a plateau with an elevation of 1,300 feet. Initially White found the grapes to be low yielding, with small clusters and small berries. He modified his VSP vine training to add two more canes 8 inches above the original two canes. That increased the crop somewhat, with sugars that were more manageable, while the acids remained high. White prefers to have a wine with some sweetness to balance the acidity, which helps to lower the alcohol level in the wine. White harvests the Petit Manseng at night in early September, puts the grapes in a cooler, then sends them to a sorting table before crushing. The juice is separated into two tanks, each of which is inoculated with a different yeast, which adds complexity to the final wine. The Glen Manor Petit Manseng at the tasting had a residual sugar of 3.6 and a total acidity of 13.
Early Mountain has some Petit Manseng on their property in Madison and also gets some from a vineyard in the Shenandoah Valley. Jordan has found that when a vineyard is farther south in Virginia, the soils are heavier, and the result is Petit Manseng with lower Brix readings and lower acid levels. He tends to pick Petit Manseng when they are not busy picking something else, which can result in several different lots with varying degrees of acid and sugar. In 2019, Early Mountain participated in a WRE trial in which he kept three lots in separate vessels throughout the winemaking process. Jordan found that three lots were too much work, and he now combines his Petit Manseng lots for fermentation, with a goal of producing a dry wine, with balanced alcohol and acidity so that the wine tastes good. In addition, he has found that keeping the wine on the lees for 18 months can help to moderate the acidity.
Shaps sources Petit Manseng from several vineyards in central Virginia, a region with heavier clay soils than farther north in Virginia and hotter weather in the summer. He picks the grapes as if he were going to make a sparkling wine, based on acid level and not letting the sugar level get too high. He also looks for some tropical notes in the berry flavors. In making the wine, he treats Petit Manseng more like a red wine, also with the goal of reducing the acid level. The grapes remain in skin contact for a minimum of 6-8 hours; he uses ambient, not commercial yeast, and ferments in barrels, one-third of which are new barrels and one-third are French oak. Shaps has found that over time, the alcohol blends into the wine, which is not bottled for about 12 months; the bottled wine also needs held for some time before it is released. The 2017 wine at the tasting had 10 percent Roussanne in it to lower the acidity a bit; 2018 was a rainy harvest, and there was no need to add any Roussanne to the Petit Manseng for that vintage.